This week, Emily dives into more detail on her artwork!
The first piece of mine is a rainbow-colored, lemon-shaped head. I drew it using colored pencils and fine point markers. The drippy element was a last minute addition.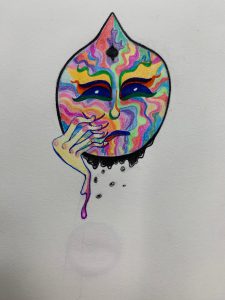 The second piece is a colorful portrait with a large flower in the mouth, and thorny vines encircling the face. I used colored pencils, fine point markers, Sharpies, and watercolor markers.
What inspires your art?
I take inspiration from the human body and nature, specifically flowers.
How long have you been creating art?
I've been into arts and crafts my whole life, as long as I can remember.
What is your favorite art piece?
I really don't have a favorite because all of my pieces reflect very different parts of myself and my emotions. To pick a favorite art piece would be like picking a favorite piece of my life.
Why do you choose specific people and things to put in your artwork?
I choose to draw people and faces because I love the beauty that lives inside of people.
Tune in Next week for more on Emily's artwork!