"Hurry," Helen said. Through the phone her voice was shaky, scared.
I ran to my car and drove the 10 miles into town like a crazy man. A black-and-white was on the scene, she'd called the cops after calling me. Her car was in the middle of the lot, rear bumper still kissing the front bumper of a pickup truck. A rangy redneck with a mustache and a mullet was arguing with a ginger-haired officer while a little girl sat, looking pale and scared, in the front seat of Mullet's pickup. I parked nearby at the Rec Center. Helen had run there for safety, in fear. She said she'd barely nudged mullet's precious truck, and when she got out to apologize, he came at her fast, screaming and swearing in her face–so close she could smell his foul breath and body odor.
Helen is not scared of much, but this yokel shitheel had her running. 
I wanted to strangle him. I'm no hero, but pity the bastard who does this to her. I swallowed my anger, to be there for Helen, relieved she was okay. We held each other. The ginger cop came in. Helen made her report. "The guy's a menace–his reaction out of proportion. He physically threatened and verbally abused me in front of his little girl, poor thing looked terrified."
"We know him," ginger cop said. "He's a hot head, but basically harmless."
"Is that his daughter in the truck?" I asked.
The cop's look took me by surprise. "Best to let this one go," he said. "Give him what he wants and call it good."
My wife protested, but he interrupted. "We'll contact you with the details." He left. 
Small town thugs. Small town cops. The cop is probably his goddamn brother-in-law.
A week later at the repair shop, I grudgingly paid for a new bumper for the pickup. I told them to send me pictures of before-and-after installation. They said sure, but never did. Mullet guy–his name was Phil–evidently picked up his shiny new bumper and drove away, saying he'd install it himself. When I called bullshit, the repair shop guys just shrugged. 
So Mullet Phil had terrified Helen. The ginger cop had protected him. And the repair garage screwed me around.
Fuck them. I'd get satisfaction, somehow.
Helen left me that winter–for the big city, the big paycheck. Or maybe for someone without a big chip on his shoulder.
Life got dark. In my imagination I went to terrible places. It was like a looped movie where I endlessly exacted revenge on everyone who'd ever wronged me. Violent intentions tempted me. Eventually, I settled on a single target. Phil. I decided that he'd started this whole ball of shit rolling downhill. And when I learned he'd sold the new bumper online, my need for justice became white hot. Pin-point focused. 
Night after night, I parked down the street from his house–watching, waiting.
I saw the ginger cop the first week. He showed up at Phil's house as the streetlights were coming on. He went inside for half an hour and looked around as he left. What the hell? During the first month, he was there four times. 
And there were others. All men.
When someone arrived, they would be let inside, and a minute later Phil would come out and stand on the front porch, smoking. Smirking. The men left in a hurry, heads down. 
The cop had said, "Leave it alone."
One night, from up the block where I was hunkered down in my car, I watched Phil on the porch. The pickup sat in the driveway, the little dent still in the bumper. Our first point of contact. He lit up a smoke. From the bay window, TV light flickered through the sheers. It was cold. Phil stamped his feet. Five minutes passed. With a quick flick, he shot the cigarette butt into the air, its ember tracing a looping arc above the dead lawn, landing in a splash of sparks at the edge of the road. 
Someone's late. 
Phil pulled out his phone. Behind him, the living room curtains parted and the little girl peeked out. She looked at Phil's back, then up and down the street. Phil coughed. She ducked away. I could just make out her vague form as she darted deeper into the house.
What's she up to?
My answer came a moment later. I caught sight of a blur of blonde hair as she darted out the side door. From my position, I was able to see both Phil and the girl at the same time–him still on the phone, and her, flitting from shadow to shadow, getting further and further away.
I started the car and circled the short block, intercepting the girl. I leaned across and opened the passenger door. She stopped, wide-eyed and breathing hard. She wore pink pj's and unlaced sneakers. She held a ratty teddy bear tight around its neck.
"Get in," I said.
She took a step back. "Are you one of my uncles?"
"No."
Her chin trembled. "If Daddy finds me he'll hurt me."
"He won't find you."
"Really?"
"Hurry."
---
About the author: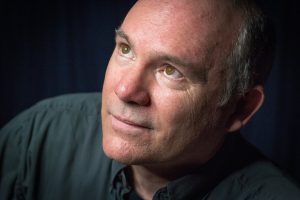 Robert Bockstael has written for television, theater and film. When not travelling the world, he makes his home in Ottawa, Canada. Find him on IMDb and at his website, robertbockstael.com