Boston by Susan Dilisio
Birds jabber outside my window
New light
Pulls me from
Warm layers of sleep
Steamy shower
Rinses skin clean
Not this shadow inside
Walking along the town road
Past the budding Magnolia tree
Up to the train station
Seated by the window
Outside rushes past
Like the night's racing thoughts
Doors open at North Station
Feet strike the pavement
Brisk air stings
Chafes tenderness within
As that change in you
Robbed us.
Closeby
An old man,
Gray trash bag on his back,
Head low
As we glide past
Arms of the city
Open wide
Sun shines again
On City Hall's many steps
Look back – there he is
Gray bag bobs, back bent
He slips away
Walking on
A young man stands
His back toward the waterfront
The ocean his stage
Dressed in casual black
His sure, smooth fingers move along
His guitar
Body sways
Blending with the others that line the wall
Facing him
His music carries me in song.
---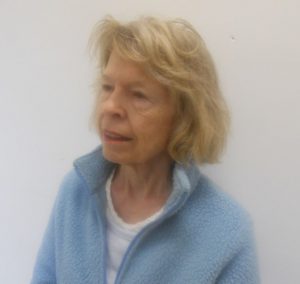 Susan Dilisio is a long-time member of the North Shore Writers Group.  She contributed a short story in compilation with these writers. Her genre is poetry.  In 2017, her poem 'Morning Field' was published by Muddy River Poetry Review. Susan currently resides in the Boston area which inspired her idea for this poem.