You're not a loser until you quit trying, Coach thought to himself, watching as his players pissed and moaned their way to another loss. They seemed half asleep, committing lazy turnovers on offense and arguing with one another instead of hustling back on defense. Thirty years coaching high school basketball and he couldn't remember a more disappointing season.
In the locker room after the game, Coach was greeted by the stench of stale sweat and body spray. He cleared his throat, preparing to deliver the usual speech on grit and determination. Some of his players were still arguing. A few sat sulking in their folding chairs. Two sophomores wrestled on the floor while their teammates stepped around them, pulling off jerseys and changing into team-issued sweatsuits. Someone farted loudly.
Coach slammed his fist into a nearby locker.
The room went silent.
The teenagers staring at him believed they had futures filled with limitless potential. They were boys who knew nothing about the responsibilities of adulthood.
"You don't understand!" Coach shouted. He paused, grasping for the right words. "You have to care. It's as simple as that."
***
"Maybe you're getting too old for this," his wife suggested at dinner that night. She'd given him an ice pack and a couple of Tylenol, then wrapped his swollen hand with an elastic bandage she kept under the bathroom sink for such occasions.
An untouched burger and fries sat in front of him, his practice notes sprawled across the kitchen table.
"Shawn called," she said. "He got a promotion at work."
His wife was always going on about their son, talking about him as if he were some exotic creature.
"He and Claire are getting pretty serious," she continued. "They're thinking about moving in together."
A memory of eleven-year-old Shawn wedged itself into Coach's thoughts, pushing aside the defensive drills and offensive sets swirling through his head. Shawn, his face streaked with tears, saying he'd rather play trombone in the school band than another basketball game for his father.
Coach squinted at his practice notes. Their next game was Tuesday night against Lincoln, currently undefeated and ranked second in the state. Tonight would be a long one. He'd stay up late, breaking down Lincoln's game film, looking for some flaw that could be used against them.
His wife sighed and took a bite of her burger.
***
The faint smell of concession stand popcorn hung in the Saturday morning air. Over the years, Coach had grown to love the smell. It was a reminder of hot gyms, rowdy fans, and winters spent trying to reach perfection.
To his players, the smell of popcorn must've been nauseating. Practice was running and more running. Several of them stopped their sprints to vomit in the trash cans scattered around the court. Puking was fine with Coach; that's what the trash cans were for.
He sat in the first row of bleachers, absentmindedly massaging his sore right knee, a nagging reminder of an old hoops injury. "Team before individual!" he yelled as his players' sneakers squeaked against the hardwood floor. "Without discipline, success is impossible!"
After an hour, he stood. His players eyed him, hands on knees, sweat dripping off their exhausted bodies. If he wanted, he could accept their pain and end practice early.
But people played basketball the way they lived their lives. Every minute on the court was a lesson. He nodded to the baseline.
"Again!"
***
Sometimes referees needed to know when to swallow their whistles. Coach tried explaining this basic fact to the official after one of his players was whistled for an offensive foul. Granted, the Lincoln defender had taken the contact with his chest, his feet firmly planted to the floor.
"Give me a fucking break!" Coach screamed. "That's a bullshit call!"
The referee blew his whistle and made a capital T with his hands.
Coach felt fire rising inside of him. He knew he should take his seat at the end of the bench, focus on the game, and let the rage pass. Instead, he grabbed the referee's arm. "Are you fucking deaf?"
Again, the referee blew his whistle, signaling Coach's second technical foul, an automatic ejection.
The home crowd, a sea of angry high schoolers and parents, booed in unison. The referee motioned toward a security guard standing courtside, pointing in Coach's direction.
His players watched him go, hands on hips, waiting for the referee to put the ball back in play.
***
Coach let the water in the locker room sink run. In the mirror, he saw a wet-faced stranger, a tired old man with a balding head and a graying goatee.
Thirty years ago, when he'd first started coaching high school basketball, he'd been fresh out of college, ready to make a difference. Excited to build something greater than himself. His teams were winners. There were championship banners hanging in the gym rafters to prove it.
He dried his hands on his polo shirt and sat down in one of the folding chairs. Staring at the floor, he remembered his players' blank, emotionless faces as he was being led off the court. It made him think of Shawn and how everything between them was his fault. They hadn't spoken since their last fight; although when he tried to remember what they'd argued about, he couldn't.
The crowd roared. This time with real energy and hope.
Coach hurried to the locker room door, listening as the fans stomped their feet, clapping and cheering with every play.
After the final buzzer sounded, Coach heard his team celebrating in the hallway as they neared the locker room. He wanted to hug each one, to tell them all how proud he was, that they could have practice off tomorrow if they wanted. Of course, he'd caution them to keep a level head. To eat right and get a good night's sleep. To start thinking about the next opponent. Later, when the locker room was empty and he was alone, he'd call Shawn.
---
About the Author: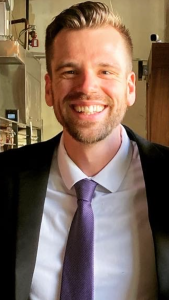 Logan Markko lives in southeastern Michigan with his wonderful wife, their infant son, and a 100-pound American Bulldog named Sam. He loves writing character-centered stories.