Back at You by Fleta Vincent
"Stop hollering at me!"
his voice roars like thunder
from the top of Mt. Kilimanjaro.
"I'm not hollering at you," I say
up from the valley below,
"I just want to know why
you waited until the last minute
to do your science project!"
He kicks the laundry basket
with all of his might on a way-back
Hank Aaron swing across the ugly
resignation of sinking burgundy carpet,
looking as if he wishes it had been
me making contact with the tip
of his shoe and deposited rage
screaming "You shut up!"
In a second, the casket I bury
deep when I die every day to parental
failure rises to the surface
to be hurled with reckless abandon
at his face I scream words unleashed
"You shut the fuck up!"
and the freedom of letting go
feel like wings unfurling ready
to fly away from this place
of moderating tone and inefficient
mediation of the family's days
and nights controlled by this one
lost sheep I can't make
come home.
His face mirrors stunned disbelief,
at the lack of habitual tenderness,
for the cursing words never hurled
in maternal prophecy over him
or his brothers' lives.
Fury moves too fast to see the front
door open until sound slams my ears
and makes my eyes flinch to see
the fragility of shells cracking reminiscent
of toes tipping through the mines
of his father's explosions and I want it out,
I want his father's spirit out of my house.
---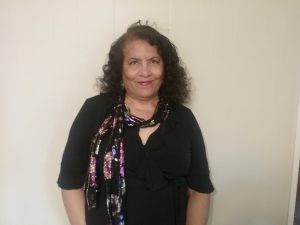 Fleta Vincent's work has been published in Nailed, Voice of Eve, Bloodletter's, and Miller's Pond.  Her work has also appeared in The Raven's Perch, Chantwood, Cottonwood, and The Voices Project.  Writing poetry gives her strength, connects her to the Divine, and brings her immense joy.  She is a native of Georgia and is currently working on her first book of poetry.