For the month of November we will be interviewing artist Silas Plum about his artwork, inspirations, and styles!
Artist Statement
Silas Plum lives and makes art in the woods. He believes strongly in the tired old maxim that the true value of an object is more than the sum of its parts, that the gut is a truth-teller, and that the Aristotelian notion of learning-by-doing is the best teacher around. Judge his worth at silasplum.com.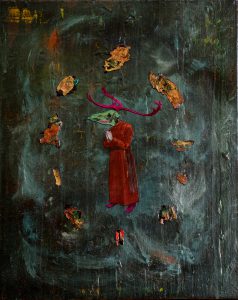 When and how did you first start getting into art?
There is probably a distinct moment when Art went from being background noise to a full point of focus, but it's long passed from memory. Art was always there. Is always here. I can say that my folks had a Chagall print hanging in the kitchen for most of my youth, and I logged a fair amount of time studying during meals. Calvin and Hobbes is another odd touchstone. The full color pages were always so saturated and oddly proportioned. If you are asking when did I start making art, then the answer is off and on forever, but in earnest for about the past seven or eight years. Initially, I started with pen and ink illustrations, then I moved to digital art before I finally settled in 2D mixed media art about five years back.
How would you describe your art style?
This is a question that absolutely requires a pretentious answer, so here it goes. The Dao De Jing opens with these lines:
"The way that can be spoken of
Is not the constant way;
The name that can be named
Is not the constant name."
While these words are meant to convey the nature of indescribable universal truth, I think that they are just as useful for an artist describing their style. It is inherently visual, and fairly malleable, so a description would always be essentially inadequate. That said, my art style would probably be some hybrid of surrealism and pop art; it is more poetic than novelistic, if that translates.
What are your favorite mediums to use?
My favorite mediums to use would be found objects, old illustrations, coins, photographs, and broken things of all types. Powder Pigment. Glitter. Lots of paint. Acrylics. Gouache. Oil. If you give me a burnt stick and some cardboard, I'll make it say something. It might be nonsense, but it'll speak.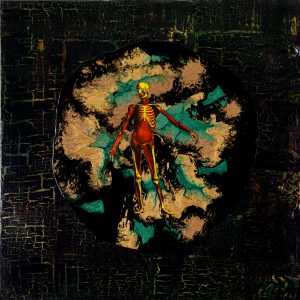 Tune in next week to find out more about Silas Plum and his artwork!