The Last Time
Lying cuts the tongue,
Taste – torched and twisted
Hiding heat repels resolution
Leaving lies leaves lament,
The truth triumphs,
I've taken too much time.
And with time lent and spent
I've riddled with discontent,
Granted time is torment.
Penalized for two centuries
And forty-five decades, to compensate,
For the soul to break.
Chained to a monument,
My work carved in cement
The right choice was to not circumvent.
And so shall stay I,
My skin and scars blued
Busted and bruised.
I appease the Old Man,
Gaining little, losing,
Largely as long lost is lost.
His Light scorches scales and sea,
Bleaches white to light
All day and all night.
It is never ENOUGH!
Carved creations–snuff!
Ponders were mere gruff!
But I was taught to be resilient,
Bask in the work that dictions and dictates the meaning of brilliant,
Borrowing the strength of winds of Whitman,
Bringing about the wisdom of Berryman,
Consuming the culled fruits of Cullen Bryant,
Cucumbers, cabbages, carrots, and currants,
Downing down, drinking drops of Dickinson.
Determine —do not. I shall send, and you, respectfully receive.
Persevering pressure, the powder keg, boiling and bursting from its seems.
Relishing rage as veins circulate copper—and through the tips that touch shall mend the key,
But without your yesses,
It wouldn't be.
After all abandoned,
The time to take,
Space stored, savored
You heard my plea:
Break the chains that bind me
I want to be free!
I want to be free!
I want to be free!
I want to be free!
Want to be free!
Want to be free!
Want to be free!
Want to be free!
To be free!
To be free!
To be free!
To be free!
O be free!
Be free!
E Free!
Free!
---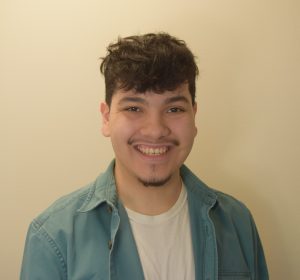 Emiliano Torres is student majoring in English with a concentration in film and cultural studies at the University of Wisconsin-Parkside, creating fiction works emphasizing great detail and story telling.