Shades of Departure by Dirk James
Life, designed as a rose flowering layer upon layer, petal over petal.
The story of creation coming into full bloom.
A blueprinted moon
placed in motion over this handmade earth
moving through the transparency of air.
At dawn, one shadow squared across acres of light. The hum of another day
buzzing out of a dark sky. A first sip of sunlight
poured from music of the wind,
and in that hour, all the stars will melt into one great sun.
I awaken singing that same song. I will pack the day away
like wine into a Bota bag. Come and drink
with me, spread the words into the vapor
vanishing from sight.
Everyone comes prepared. We are all players
in the Theatre of Shadows. Rehearsed, and staged at the base
of those steepened, and upholstered slopes. The Play:
'Reality; At The Velocity of A Blur'.
---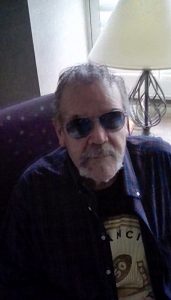 Dirk James lives in San Leandro, California where he worships Jehovah God and his son, Jesus Christ. Dirk loves putting the finishing touches to a poem or a story, relaxing with his Beautiful Wife/Muse while sipping Pina Coladas and listening to jazz music on the box. He has been published in many literary journals.