On Finding God by Diana Sher
On Christmas Eve,
I brought two 9 X 13
Containers
Of coleslaw and macaroni salad
To my synagogue
To feed four homeless families
We were sheltering for the week.
Before dinner we said a prayer
I took the hand
Of a young black woman
And gently squeezed.
When she squeezed back
I felt the god in her
Move into my heart
And share my sorrow
And
I knew she felt the god in me
Move into her heart
And share her sorrow
And suddenly
We were not alone.
---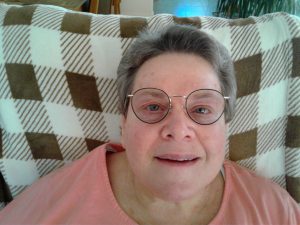 Diana Sher has published in over 80 literary magazines including Soundings East, Foliate Oak Literary Magazine, and Midway Journal. Her chapbook, "After I Cut the Cord," was released by Finishing Line Press in 2003. She is currently retired from the English Department of Metropolitan State University of Denver.