God Is Probably A Water Tower by Robin Gow
Everywhere I've lived
you can always see one
peering over the foreheads of buildings.
This water tower is blue
and wants everyone to drink deeply
from re-usable water bottles.
We're killing the earth,
I think and I take inventory
of the beautiful debris in the grass
shreds of paper, a foil tangle,
crushed plastic bottle caps.
I'd like a soda but it's only morning yet.
Somewhere my dad is probably
prying open his first can of
Diet Coke.
God is probably a water tower.
There's an autobody shop and I love
those because all the cars are dismembered
but in a gentle way.
Tires lay stacked in piles and I know
I could climb them—maybe be tall enough
for the water tower to get
a good look at me.
How old am I?
I feel like I never got to be a boy
though I'm sure I was a few afternoons
at least.
I stop on no corner in particular
and say a prayer to the water towers.
Wind tugs at the trash
in the grass.
---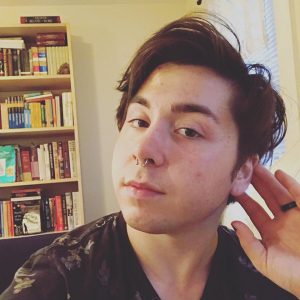 Robin Gow's poetry has recently been published in POETRY, New Delta Review, and Roanoke Review. He is a graduate student and professor at Adelphi University pursing an MFA in creative writing. He is the Editor at Large for Village of Crickets and Social Media Coordinator for Oyster River Pages. He is an out and proud bisexual transgender man passionate about LGBT issues. He loves poetry that lilts in and out of reality and his queerness is also the central axis of his work.