Anniversary by Justin Reamer
Silent screams in an empty vacuum,
Plexiglass blocking oxygen,
Tears fall from vulnerable eyes,
Asphyxiating in the water below.
Repeatedly the affliction recurs,
The perpetual plight of the patient.
Lungs know violent respiration,
Hypertension in capillaries and veins;
Anxious mind, profuse perspiration,
Arrhythmia to cardiac arrest.
Indigestion in the intestines,
Feces the faucet of fear.
Flashbacks forego the fiasco,
Overreactive neurotransmitters;
Overwhelming inundations,
Linear time an erasure.
Every sound a century,
Every minute millennium.
Congeniality is a chimera,
Felicity phantasmagorical;
Annual events, sheer atrocities,
The body keeps the score.
Trauma isn't a wedding dress,
But matrimony never restored.
---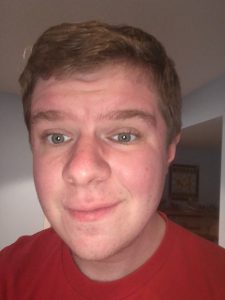 Justin Reamer is an aspiring writer from Holland, Michigan. Ever since he was six years old, he picked up a pencil and never looked back. He is currently working on his M.F.A. in Creative Writing at Central Michigan University.