5
The first months passed surprisingly quickly. The daytime narrowed by just over thirty minutes every week, and he was determined to make the most of this time. Soon there would be only five-and-a-half hours of sunlight between sunrise and sunset, when the sun would make a gloomy arch through the sky and leave the tundra and everything in it with nearly nineteen hours of darkness.
When the snow finally stopped, his cabin still wonderfully inoculated from wind and depth charge temperature drops, Thomas set out to explore the environment. He stood beneath his front door gripping his trekking poles and saw above him a large snow owl. It had hundreds of black marks that looked like faraway birds flying against a white sky. Its eyes were large and orange, and it looked at him with a liveliness that seemed to reflect Thomas's surprise.
"Well, how do? What's your name?"
The owl and Thomas stared at each other. When he walked beneath the owl's perch, it replied with a low, musical hoot.
"Who? Who?"
"Why, I'm Thomas!"
The exchange tickled him, and Thomas practiced the owl's call as he looked around. His cabin was tucked away about a quarter mile below where two hills converged. Beneath them, a wide valley full of trees opened up into an expansive meadow with small lakes in the distance, and untouched wildlife filling the space between. A single redpoll was perched atop the long, snowy arm of a birch tree, staring off into the all-day sunset before rushing off to join its flock. A well-prepared gray jay flew for fun before returning to its hoard of winter food. An arctic squirrel shifted on a branch, embracing a small nut and then throwing it at her lover. Foxes dug holes and eyed a suspicious human from behind a nose lightly dusted with snow.
Vague memories returned from when he had come barreling through there weeks before. The direction from which he had come was full of great, rippling furrows of mountain masses that wrapped themselves in mammoth grace along the edge of the meadow. His calves ached as he walked, and heat pulsated beneath his hat. After twenty minutes the rifle upon his shoulder had become very heavy, and the weight of the magnum on his hip was burning down his thigh.
A grey jay made a wide, horizontal arch around the edge of the lake, and small birds chirped in the trees. After switching his firearms to the opposite shoulder and hip, he caught his breath before moving along the edge of the forest. He walked several paces and stood still while the wind blew around his clothing. Birds hopped on branches and some flew in great flying bundles of fluttering feathers as they jerked through the air and clustered themselves in the treetops.
Over the course of several hours he saw a ptarmigan—a bite-sized white snowbird—walking across the ground beneath the woods, a ram loping across a distant outcrop, two mice, and moose tracks. What he didn't see, or see any sign of, was game. An Alaskan hare could carry up to ten pounds of meat and entrails that he could stretch out over a couple days. Even a spruce grouse could provide a single meal if he were in dire need. He had planned for one shot per week, each one yielding between two to three days of food, and he was already behind. Hunting that way was completely illegal, as Officer Gretchen had informed him, so he intended to hunt only to diversify his diet and keep his morale high.
He hunted the area several times, and even spent a day on the roof of his cabin waiting for something to come along. But there was nothing worth killing, and nothing to rely on. One day he did manage to shoot a hare but required several shots to do so. His dad had made him quite the sharpshooter when he was a boy, but the cold wreaked havoc on his marksmanship. When he spotted game, he had to steady himself in the snow, preferably on one knee, then remove one of his winter gloves and successfully shoot the animal he had marked before his fingers began to sting. The distraction of the cold and the desire to hurry blurred his focus and ruined his aim.
Each miss represented days without food, and he felt each of them in his stomach as the emptiness grew. When he finally landed a shot, cleanly removing the head, the beast turned out to be only a few pounds of palate-dulling mess. Skinning it nauseated him, chewing cost him as many calories as he swallowed, and the taste was vulgar.
He shot and ate a grouse on another occasion, again after several shots. All that remained was a pile of feathers and a wanting appetite after spending an entire day to shoot, clean and eat it. Even if there were enough available foul to eat very day, the payout in calories wasn't enough to keep him alive. If there was, he had nowhere near enough bullets.
Hooter watched with wide, unblinking eyes as Thomas reduced one of its fellow, feathered creatures into to a bloody mess. Thomas's sense of failure surfaced like a warm blemish as Hooter stared at him with wide eyes.
He supplemented his shame by compensating in other ways. Over the course of a week he gathered and sawed branches of identical length and wound them together to produce a long, flat surface. He stabilized it with branches that ran widthwise every twelve inches and fastened to it six posts that securely held the platform him about sixteen inches above the ground.
He lied on it and was shocked to discovered that, by some miracle, it was flat.
"Hooter! Hooter!" he screamed, running out the door. The owl looked at him knowingly. "I finished my bed! It works great!" He smiled and looked around, elated. "I wish I could make one for you!"
He made a small platform for his bucket showers, replaced his clothes-drying line with a horizontal branch descended from the ceiling, and a rack to hang his boots and wet clothing. He built shelves to store his food, a nightstand to hold his books, and a special chair with a square hole in its middle which he placed over his pit latrine.
As the daytime continued to narrow, Thomas at last distracted himself from the absence of sustainable food by doing a favor for his only friend. He fashioned several traps out of small branches and placed them near vole holes he had noticed during the vain search for game. Near one of them he dug a hole and started a small fire. He covered it with one of the lids to his cooking tins and waited as the tunnel filled with smoke.
Then he ran to the traps he set. The first one was empty, as was the second and third. The fourth and final trap, however, contained a tiny, terrified little creature, like a mouse but better groomed.
"Hooter! Hoooooooter!" Thomas ran back to his cabin with the vole clutched in his hand. His feet stomped upon the tarps covering his pathway and he held his catch up to the sky. Hooter turned its head more quickly than usual and stepped sideways upon its branch. "Check it out! It's for you!"
Hooter fluttered its wings and Thomas threw the vole into the distance. As soon as it left his hand Hooter's giant wings spread out, and it attacked the ground in one graceful swoop. Seconds later, Hooter was gone. Thomas was alone again. The sensation of the wriggling creature and its sinewy muscles faded from his hand. He stood alone, with shorter days ahead, and the bitter bile of uncertainty churned deep within him. Then the strong smell of sulfur singed his sinuses as the fumes of a struck match swirled up and twisted inside his nose.
"Still waiting for that miracle, I see." His dad's voice was piercing in the quiet of the woods. The sky began to turn colors. His father stood there in the lilac evening in a green, plaid button-up and worn corduroys. His hair was messy but damp and that gave him the veneer of an old, tired, drunk gentleman.
Thomas knew his father was right. It was time to face the lake. On the one hand, fishing was a safety net—something anybody could do. On the other hand, he had no idea how to cut through inches of ice and hadn't brought the tools to do so. It was something his dad never taught him.
"Yeah. Blame, blame, blame." His father put his lit cigarette into his mouth and tossed the match into the firepit. "I told you not to do this. I may be a sonofabitch but by gum I don't talk just to enjoy the sweet sound of my own voice."
"You'll be telling all your friends about how I made it back alive. You'll see." Thomas hung his head and kicked snow into his fire. Then he walked to his front door to prepare a meal of dried meat and lentil beans. "You'll never stop telling this story."
6
Thomas stood upon the lake. Beneath and between his boots was nothing but bright white. The fish that he dearly hoped were swimming beneath him held between their bones the very possibility of his future. Every opportunity that awaited him in life had first to be freed from their multicolored scales or drown and left forever in the deep. Thomas imagined then what it would be like to stand in that same spot during the summer and what his reflection would look like in the still water. It occurred to him that there were really no fish swimming there or anywhere else in Alaska; only the infinite, swirling fragments of Thomas's soul encased in a shell of ice.
His walking poles stood in the snow while he removed the ropes of his sled from around his chest. For the next hour he cleared a circle around six feet in diameter and two feet deep. When he was finished, he stabbed at the ice a few times with the shovel and barely chipped its rock-hard surface.
Thomas looked back at the line of trees and saw Hooter perched upon a branch. They exchanged eye contact and Thomas waved limply as he took up his axe. He held his breath and swung it in a smooth, expert arch over his head. The axe head pivoted sideways when it hit the ice and it sprayed frozen water chips against his face and sunglasses. He swung into the ice again and again and continued to do so until the shadow of Mt. McKinley crept into the horizon. The hole he made was hardly a hole at all, less than six inches deep, and he returned to his cabin cursing.
After two days of swinging his axe into the ice he still had not succeeded in breaching the water. He could only work in short bursts, and the number of hours he had available, with the regular chores of maintaining the wood pile and cooking and keeping clean, were few. After yet another day of hacking at the ice to no avail, he returned home in a rage, vowing with absolute determination to get a damn hole through the ice if it killed him, since not doing so certainly would.
"You don't even know if that lake has fish." His father took a drink from a bottle of Ten High and walked alongside him as Thomas straddled the earth with his snowshoes.
"Every lake in Alaska has fish."
"Might not." Thomas began to sweat beneath his layers, puffing plumes of frost as he breathed beneath his heavy woolen mask. He was going home to eat, stretch, and try again. "Then what are you going to do?"
"Then I'll jump in that hole and become one!" Thomas shouted, sending birds flying from the trees.
The next morning Thomas set out an hour before sunrise. His head was airy and the whiskey he drank the night before dirtied his nerves. For breakfast he took half a pint of hot powdered eggs with Tabasco sauce and became drunk with resolve.
The stars in the sky seemed digitally enhanced; pure blinding radiance that leapt out at him. The moon was in full bloom and green and purple ribbons of aurora light danced in the sky. He walked with great purpose in his snowshoes, wishing all the while that he had brought skis.
Hooter's great wings moved the air as it flew over him. By the time dawn crested on the horizon, Thomas was sitting on a log he had picked up and drug to his circle on the lake. A small fire of twigs atop its exterior heated his morning cup of coffee, and he sipped it as sunrise came around ten-thirty in the morning.
"Who? Who?"
"A fisherman!" He cried. "Possibly a dead one!"
His mistake had been an attempt at precision. He had wanted to remove the least amount of ice with the fewest number of swings. After mulling it over in his sleep the night before, he decided to go wide—wide enough to swing the axe at full velocity and impact with full blade contact against the ice. Every time he needed to go deeper, he would use his icepick to carve out a hole about the width of the axe head and then continue as far down as he was able.
He hacked and stabbed at the ice for hours.
"How is that hole coming, Boy?" His father stood nearby in his ugly, green shirt and a bottle of sour mash. "If there are no fish under there you realize that means you are going to die, right? Who's going to be my son then?"
"There's fish, old man! And if not, there are other lakes! And if not, I can eat voles until I puke, because I very surely will!"
"Voles!" The smell of his father's cigarette stuck inside the cloth on Thomas's face. "You would need to eat them all!" Hooter flew from its branch and soared away. "I'll bet you Emerson wouldn't have put himself in this position. What do you think?" Thomas continued on his hands and knees, stabbing at the ice. "This lake is the last chance you've got, was the only chance you ever had, and you have an axe and an icepick. You might as well have a baseball bat!"
Thomas stood up and threw his ice pick on the ground. The hole that was still less than two feet deep. He was hungry, but something much more immobilizing tore at him from within his gut. His father was right.
"You got a better idea, old man?"
Thomas's dad sat down in his old, coarsely woven, sand colored recliner atop the snow.
"Yeah! Go back into the past and be smart!"
"Anything else?!"
His father took a drink of whiskey and began pouring it onto the snow next to him. The liquid cut through the snow and disappeared beneath the surface. When the bottle was empty, he opened a pack of Camel cigarettes from his shirt pocket and lit a cigarette by striking a match against his thigh and cupping it around his mouth. Then he sucked in his cheeks like a fish and stared at him, dropped the match onto the snow, and blew a thin stream of smoke into the afternoon breeze.
The flare of the red phosphorus lit up his father's face and unleashed a memory. His father told him years ago that in the trenches of World War I, when a soldier wanted a smoke, he would not ask for a match or a light, but for a lucifer—the light-bringer. The first heavenly light of morning lit your cigarette and helped you breathe like a dragon before the death in the afternoon. His father took another drag and stared at him with red eyes. The cigarette lit up his face again, crimson and glowing behind the small inferno upon his lips.
Thomas returned home slowly. The weight of his sled, rifle, and magnum seemed extreme as he sulked, retracing the path he had worn in the snow. His head hurt and he suddenly felt the need to lie down. When he got home the stars and the lights were out and glimmering, again accompanied by a full and brimming moon.
That night he dreamt of Mt. McKinley exploding as though it were a great, dormant volcano suddenly sprung to life. Hot rock and lava spewed into the sky and sent flaming, car-sized meteorites crashing into the ground around him. One smashed into his cabin and set it aflame, and all he could do was run slow motion through the snow until it was up to his shoulders. He clawed through it, naked to the waist, and about the moment it occurred to him to dig a tunnel, a flash of fire came over his head and pulverized him into wakefulness.
Thomas sat up sharply. The sound of his screaming vanished, and he wiped sweat from his forehead. Embers glowed in the fireplace and he checked his watch. Five-thirty. He rose from his giant sleeping bag and poked some sticks into the coals. Before long they began to smoke, and when he blew on them, they popped into little flames. His head still hurt, and he feared facing the day and its recipe for failure, misery, and possible death. His father was waiting for him on the ice, and he had no choice but to confront him.
He added more wood to the fire until it warmed his toes. When he filled his metal cup for a drink, he cracked through a thin layer of ice atop the drinking water in his tin bucket. It steamed next to the fire while he prepared a sleeve of instant coffee and a bottle of whiskey to make it Irish. The water in the cup began to steam, and when it bubbled, he picked it up with his towel to protect his fingers from the heat of the metal.
He planned to drink that cup slowly, let it set until seven-forty-five—exactly one hour later—and then have another. Then he imagined that he would not need a rag to hold the cup because by then it would be cold. But wouldn't it be so ever so slightly easier to break through that little layer of ice in his tin bucket if his cup was blazing hot?
An idea came upon him in a flash. His body seized such that he nearly spilled scalding water all over his lap. He emptied the instant coffee crystals into his cup and set it down and put the whiskey away.
An hour later he was outside dusting the snow off of his sled. He stacked kindling, twigs, and logs onto it and held them down with parachute chord and a basketball-sized rock. The colors of the sky were lost above the cloud cover, but he easily followed his own tracks to the lake.
Thomas arrived at the edge of the lake and saw his father sitting in his recliner. He acknowledged the old man with a nod and dug through the snow until he hit frozen dirt. He created a circle in the snow and assembled in it a large pile of kindling and branches. Then he removed one of his outer gloves and set the twigs ablaze after soaking them in lighter fluid.
"Well, this is your last bottle! Have you learned to rub sticks yet?"
"Nope!" Thomas was deeply focused on growing his fire, watching without blinking as flames engulfed the small pieces of wood. He stacked a few bigger pieces in the shape of a square and the fire quickly peaked above the level of the snow. The sticks burned as he added two logs and then cleared a short path, the same width as the fire, for a place to sit. He filled his metal cup with snow and placed it near the fire.
"Now we'll make it Irish!" Thomas produced another strip of instant coffee and his small metal flask. The sweet warmth of the liquor fumed out warm and slow from his nostrils. The clouds began parting.
Thomas tilted his head back and faced the sky. The lights were faint, but the stars still sparkled and threw him kindness since their heat wouldn't reach. The moon smiled and its sad, wise eyes looked upon him approvingly. He toasted the heavens, took another piping hot sip, and relaxed.
When the fire died, he went through his old mudpack routine, dumping snow onto the flames until they stopped hissing and then mixing the hot slush with the thawed mud beneath. He created a dirt floor atop the ice that was thick enough for a fire to burn unmolested by melting ice beneath. He started again, building a fire of twigs and underbrush, followed by a square shaped box of slightly larger branches, until finally he was able to place three logs on the fire and watch them burn.
He prepared another cup of coffee, made it Irish, and stared hard at the fire. Once the flames died down and a nice layer of hot coals had been established on the mudpack, he repositioned the fire, added more logs, and carefully placed the basketball-sized rock on top of them.
"Let's get this devil going!" Thomas shouted as loud as he could without tearing his throat. "It's Iriiiiiish!" His father's face was aglow, the low red light from his cigarette reflecting fine points in his motionless eyes. "Cheers, Pop!"
The old man just stared.
Another hour passed. Thomas made some small adjustments as the logs broke down, but the weight of the stone kept everything in place. The bottom of the rock glowed red as the flames began to fade. He slid smaller branches into the spaces created by the ashen logs and blew them until they burst into hot flames. He exhaled long, slow breaths through tight lips until the coals turned from red to white, and then from white to pure light as the wood incinerated and disappeared before his very eyes.
The heat from the rock became so intense that it nearly burned his face. He leaned back and looked at his father who nodded surely and took a pull from his whiskey bottle. Thomas sat on the side of the fire that was opposite the hole in the ice and kicked it with both feet as hard as he could. It rolled off the fire and thudded into the ice hole with a sharp hissing sound. He sat on his log and watched as the stone slowly sank into the blue surface.
"What would you do without me?" His father lit another cigarette. Thomas shrugged his shoulders, red and yellow light of the fire flickering across his face.
"I don't know." Thomas took another drink from his flask. "I would have no light, that's for sure."
---
About the author: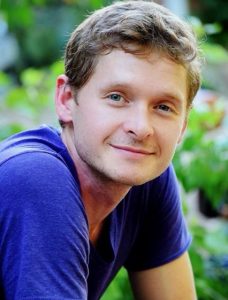 Karsten is a world traveler, veteran, and outdoor enthusiast who has
traversed the mountains of Japan, the Ozarks, and the Colorado Rockies.