This week, we asked Jacob how long he's been creating his artwork, and who is in his art.
How long I've been making my art
I have been making my art now for about 2 or 3 years. The collages I've been making for the last year, I'd say. I drew a lot when I was younger, though. I've always wanted to be a tattoo artist. My uncle was actually apprenticing to become one, and he had flash stencils laying around that I would use for reference when I would draw. But in highschool, I stopped drawing after a while.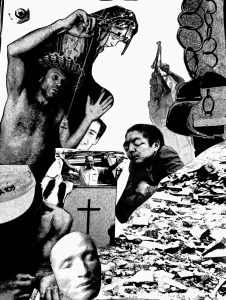 I was also too busy in college to really do anything till I decided to make time for it. I drew a skull during Thanksgiving break a few years back and was really impressed with how it came out. So I've kept at it since.
Who is in my art?
For the most part, it's really dark images in my collages, people in surgery, or even Vietnam vets. I like to use deep dark images that show the reality of life for some people, and how terrible it is/can be. I don't really use too many people on purpose other than to create a feel for the work itself.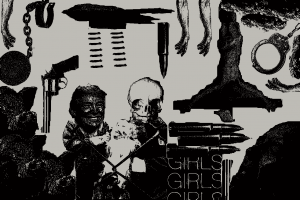 One of the only times I can think that I've used a very specific person was when I used Trump in a collage, 'cause fuck him. I made a collage with him that showed greed and materialism; it felt fitting. Oh and once I drew Mike Pence on fire with an arrow through his head for a tape cover.
Stay tuned to our social media to know when we upload! For the next and final week, we ask Jacob his plans for the future, and what he recommends for other artists!