Video Games and Story
Join us for a podcast on video games and story, during which we hold a public World of Warcraft intervention for Sarah, Molly tells us just how much she likes Fire Emblem: Three Houses (hint: it's a lot more than a lot), and Dean admits to his Care Bear ways in Eve Online. Oh, and we talk a little bit about how story works in games, too.
Cast
Hosted by Dean Karpowicz, with Sarah Willis and Molly Krasel.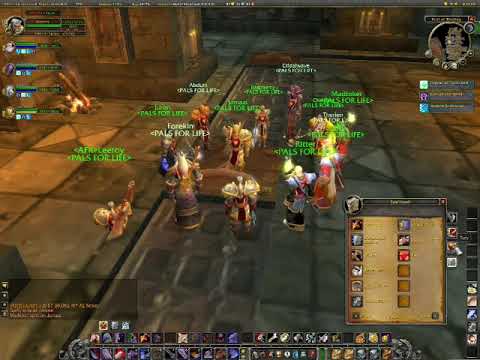 Content Discussed
"And I'm ridin' around on a giant bumblebee!"
–Sarah
The drums of war thunder once again… Return to a lost era of Azeroth and enjoy the timeless stories that defined this world at war.
World of Warcraft Classic is a faithful recreation of the original World of Warcraft. Combat mechanics, original character models, and skill trees all contribute to a truly authentic experience.
"It wants you to think it's a visual novel but, spoiler alert, it is so not!"
–Molly
Hi, Monika here!
Welcome to the Literature Club! It's always been a dream of mine to make something special out of the things I love. Now that you're a club member, you can help me make that dream come true in this cute game!
Every day is full of chit-chat and fun activities with all of my adorable and unique club members:
Sayori, the youthful bundle of sunshine who values happiness the most;
Natsuki, the deceivingly cute girl who packs an assertive punch;
Yuri, the timid and mysterious one who finds comfort in the world of books;
…And, of course, Monika, the leader of the club! That's me!
I'm super excited for you to make friends with everyone and help the Literature Club become a more intimate place for all my members. But I can tell already that you're a sweetheart—will you promise to spend the most time with me? ♥
This game is not suitable for children
or those who are easily disturbed.
"It doesn't make you feel good about yourself in any capacity!"
–Molly
FREEDOM HAS A PRICE
Detroit 2038. Technology has evolved to a point where human like androids are everywhere. They speak, move and behave like human beings, but they are only machines serving humans.
Play three distinct androids and see a world at the brink of chaos – perhaps our future – through their eyes. Your very decisions will dramatically alter how the game's intense, branching narrative plays out.
You will face moral dilemmas and decide who lives or dies. With thousands of choices and dozens of possible endings, how will you affect the future of Detroit and humanity's destiny?
"I love the setup for these games. I can't play them because I am a big baby, but I love the setup."
–Sarah
Until Dawn
When eight friends are trapped on a remote mountain retreat and things quickly turn sinister, they start to suspect they aren't alone.
Gripped by fear and with tensions in the group running high, you'll be forced to make snap decisions that could mean life, or death, for everyone involved.
Every choice you make in your terrifying search for answers – even the seemingly trivial ones – will carve out your own unique story.
Man of Medan
Switch between the perspective of 5 playable characters – All of which can live or die in your version of the story
Multiple ways to play including 2 player online coop mode
Hugely branching storyline that changes based on the decisions you make
Each game in the Dark Pictures series is a complete and original story in its own right
"You play it for the first time, and you are figuring everything out, and everything is helter skelter. And then you go back in, and that's when the sketch paper comes out."
–Sarah
You're moving to the Valley…
You've inherited your grandfather's old farm plot in Stardew Valley.
Armed with hand-me-down tools and a few coins, you set out to begin your new life
"You're just a Care Bear! You're not good enough to fight!"
–Dean
EVE Online is a community-driven spaceship MMO where players can play free, choosing their own path from countless options.
Experience space exploration, immense PvP and PvE battles and a thriving player economy in an ever-expanding sandbox.
Participate in many in-game professions and activities, including war, politics, piracy, trading, and exploration, across 7,000 star systems with hundreds of thousands of other players.
"I have put 300 hours into Fire Emblem and I LOVE IT."
–Molly
Three Territories. Three houses. Your decisions.
To listen to the episode, click below, and if you want to listen on your phone, we're available on Spotify, Google Play, and Stitcher. You can also find more episodes of The Pub right here on Straylight, including more discussion of video games and story.
Podcast: Play in new window | Download