16
"Who? Who?"
Thomas opened his eyes. He wasn't afraid.
"Who? Who?"
"Hooter." He whispered, his voice too weak to vibrate. "Good to see you."
"Who? Who?"
"I'm bear bait. But not its dinner."
The rain had stopped. There was no sound besides the owl.
"Who? Who?"
"I'm a stupid boy. I'm ignorant. I am pride. Self-satisfaction. Vanity. Everything Dad says I am. That's me."

17
The voices of shrill songbirds pierced his aching head. They shouted into the morning like starving children and aroused Thomas from a deep sleep. He was very hungry. The tarp above him glowed blue beneath the sunlight and his head felt warm when he poked it out of his shelter. The light reflecting off the snow burned his eyes so he put on his sunglasses and packed up his bedroll. He thought if he moved very slowly, and conserved as much energy as possible, he might make it to the next meal.
The upper layer of the snow had turned to slush and sloshed beneath his boots. The whole terrain was soaked and getting wetter as the trees dripped. When he zipped up his jacket and clipped on his snowshoes, he turned dreamily to the left and saw Charlie sitting in the sunlight a few yards away. The bear was calm and beautiful. It held its head upright over its forepaws and they looked at each other like former soldiers during peacetime.
"You could put one between his eyes and light a fire and eat him until you can't move!"
"I'll need two to kill him," Thomas's voice was prosaic and even. "Won't be any way to cook him if I do that. Just a waste."
"Come on, Thomas! This is the moment!"
Thomas turned away from Charlie and began walking east.
"I would rather go home," said Thomas. "That handsome beast is my brother."
He walked slowly and methodically, electing to swallow whole what remained of his uncooked rice. He figured it would expand in his stomach and cook itself like noodles left in a cold pan of water. In only one and a half days he would be in Healy. One and a half days from his father's smoke-filled house and dirty grill. Absolute heaven.
A strange feeling was coming over him, something beneath the tiredness, that weighed him down and knotted up his stomach. A figure moved in the corner of his eye. He had noticed it a moment before, but not consciously; a negligible blur in the activities of springtime. Now, as he looked directly at it, he saw the flat, bone-colored antlers of a bull moose waving its head around in the air. Its massive frame strode in one direction and then the other as it boasted its tremendous bravado.
Thomas's vision was blurry from the snow and his focus shifted and shook involuntarily. He postured toward the moose and lifted the magnum from his hip.
"Come on!" he shouted. The moose bowed its head and then thrust it into the sky. It trotted towards him and a second later was in full gallop, charging across the distance between itself and Thomas. He heard its hooves pounding into the earth and felt the earthquake sensation of its massive weight shaking the ground. He closed one eye, exhaled to steady his hand, and pulled the trigger.
The moose's head disintegrated into a flying mush that spread out between its antlers. Its enormous frame collapsed to the ground and rolled in the snow for several feet before stopping and pulsating blood onto the tundra.
Thomas didn't think of what a great addition to his story he had just experienced. He didn't think about Healy or The Spike, or how he had managed to beat fate yet again. Thomas didn't think of anything at all.
He walked to the carcass of the slain animal and plunged his knife into its chest. He knew Charlie was on the way. He located its liver, something he and his father had done to countless deer during his childhood, and cut out part of it and bit into it as he walked back to his sled. His body was heavy and he sweat more than normal.
The liver tasted metallic and awful, but it was fresh and it was the only food he was going to find. He ate it in great bites and chewed it in front of his sled. Several hundred yards away Charlie was trotting with great pride toward the smell of blood. Thomas put the last piece of liver into his mouth, washed the blood from his hand and knife, picked up the ropes to his sled, and began making distance from the carcass.
Thomas looked back and watched Charlie sniff at the moose before tearing a great, red bite out of its steaming flesh. He watched with a sense of satisfaction. Thomas wiped more sweat from his forehead and his clammy hands dampened his gloves.
A minute later, with the sun positioned behind him, a powerful gripping feeling seized his gut and his mouth watered and produced the taste of dry rice. The flavor was so strong that it gagged him and the pain in his stomach sent him to his knees. He held the handles of his poles and his pounding head bent down towards the ground. His energy was gone.

---
About the author: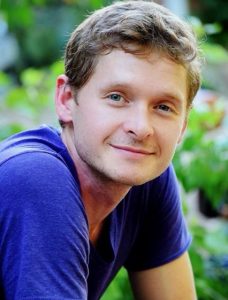 Karsten is a world traveler, veteran, and outdoor enthusiast who has traversed the mountains of Japan, the Ozarks, and the Colorado Rockies.