1
Thomas was hungry. He had been hungry before, but this was different. During community college he dizzied himself with a restricted diet of instant noodles and peanut butter that did nothing but prevent the walls of his stomach from eating each other. College hunger was a rite of passage, and even a source of pride. Malnourished and dizzy for the sake of illumination—a state no less lauded than the fasting monk of India or the Muslim standing up after evening prayers during Ramadan.
But this wasn't college hunger, nor was it suffering in the name of religious devotion. It was his sober choice. His headache had long passed, as had waves of nausea and weakness. He was in a simple state, driven by a quiet autopilot that removed from him the privilege of preponderance. His mind only allowed him a faint focus on the objects within his field of vision, the torment of regret, and the torrential onslaughts of reprimand from his judge.
"You stupid, stupid boy. You stupid, stinking, wretched, sorry excuse for a human being. You prideful, ignorant, self-satisfied, narcissistic sonofabitch. You didn't listen to anybody, did you? You had the privilege of being surrounded by experts, were given the very best advice that money could buy—and for free—and instead of taking it you decided to stick yourself out in the middle of nowhere, alone and without any means of return, so that you could prove to yourself that you are some kind of a wild man. Bravo."
He heard his father's voice clearly and could see him clapping slowly and sarcastically. The old man paused to strike a match and light the cigarette hanging from his mouth. "Way to go, Thomas! Thomas-Goddamn-Rambo, everybody!" Thomas looked hard at a thin, green fern sprouting out of the snow. It might yield a nutrient or two, maybe a milligram of protein, but it wouldn't give him any more energy than it would take to chew. The chances of it being poisonous, which was any chance at all, was too high.
"I can't very well eat you, can I?" Thomas slowly moved his eyes across the horizon of tundra. "I'll be home before you know it, Dad."
He needed to move forward and eastward until he reached something other than the nothing he had been living in for months. He had come to the Alaskan wilderness, the smack center of Denali Park, north of Mt. McKinley, with a mission that ran deeper than language. It was in his blood.
Thomas did not want to be one with nature. He did not want to be a bushman, although such a transformation would be a bragging right that he could hold like a trophy above the heads of his friends and like mistletoe above the heads of pretty girls. He did not want notoriety, fame, money, or even adventure, which was a word that always tickled his tongue and teeth to say. Much like the ascetic, spiritual recluse which he in no way resembled, the journey upon which he wished to truly embark would never take him beyond the confines of his own flesh.
What he wanted, more than anything, in a world of complacency and undeserved comfort, in the ever growing dependency on the progress of science instead of the individual, where people devote themselves to the worship of their own preferences and costume their pretensions as cultural refinement—he wanted to dig down and find the source of his mettle, actually hold it in his hands, and test it. Forge of himself something yet unknown. He wanted to do something legendary; to live out the myth of himself. He wanted to find the true light hidden within the deepest darkness of his soul and carry it behind each eye like glinting war medals until he died.
He did not see himself as unprepared. There was a cabin where he would live, and in it he would store enough rice, dried meat, and whiskey to last him through four months of the six-month winter. This two-month discrepancy drove his friends, his father, and the few folks who helped him plan, absolutely nuts.
"You may think its nuts," said Thomas, "but I think it's necessary. What is the point of six months of food? What a bore! 'Hey, how was it out there, staring at the snow and preparing for nothing?'
"I don't want to watch the winter pass like a bus full of old women—I want to know it! I want it to know me! There is a specter of deadly doubt looming in February, when my food will run out, and I will have four months to prepare myself to face it. Don't think I am going into it unaware or absent of fear. The truth is that I'm terrified! That terror is what will keep me vigilant. I will face the terror every day and find inside of it something that men these days don't have anymore."
It was his last night in his hometown of Healy, Alaska. A lightly cushioned chair supported his modest frame, and he drank with his mentors in The Spike—a small dive in a hidden pocket of town that was mostly frequented by park rangers and otherwise experts on the outdoors.
"There isn't a professional mountaineer on this earth who would do what you're doing. They could plan for years and still not be prepared for everything." Mr. Angus, a park ranger with twenty-five years' experience, adjusted his grey Stetson and wrung his hands around his beer glass. He stared into the foamy liquid and felt ill.
"Mr. Angus," said Thomas, "you are a good man. A friend of my father's. I don't doubt you and I don't know better or more than you do. Nor will I ever. But wouldn't you say that the professional in this situation would be guaranteeing his chances of survival?"
"Of course! Anything and everything to keep from starving to death."
"That sounds like the same reason I went to college. Spend years planning on how you won't starve, then end up staring at the walls someplace in exchange for food. That's why I quit and joined the oil business. Even that feels lacking. I want to get up, get out, and feed myself."
"Fine. Fine. Go have your adventure. Nobody can stop you. Just remember that every time a young kid like you strikes out to find himself, the price is paid in the hearts of those he leaves behind." Mr. Angus curled his lip and bit at his moustache.
"Have another one, Mr. Angus. On me!"
"I'm fine, thank you." Mr. Angus pushed his beer away and the everyone at the table looked up at him and shifted awkwardly in their seats. "Good luck, kid." His chin trembled as he leafed through his wallet. Thomas tried to protest but could not find the words. Mr. Angus placed a large bill on the table and walked out into the cold, October night.
2
            The next day Thomas paid a man with a snowmobile to haul him exactly forty-six miles west of Healy. Not as a crow flies, but by the snowmobile's odometer as it drove into one of the hidden pockets of Denali Park. It was the maximum distance, counting for weight, that the snowmobile could be trusted to go while still having enough fuel to return.
He sat on the back and felt the icy breeze cut through his fur hat. Every second on that machine placed another great chasm between himself and the opaque society he was leaving behind. Stress leapt off of him every time they hit a small bump. The sight of the great mountain made him feel like he was returning home.
Thomas grew up on the south side of Mt. McKinley, in the outskirts of Anchorage, often shielding his eyes from the reflection of sunlight on its phosphorescent peaks. It was a life-force; a waypoint, a clock, and a one-billion-gallon water fountain. During the day, an immortal obelisk pointing the way to heaven. At night, a voice of sleepy comfort whispering in the arctic wind.
Being on the north side of it was like traversing the dark side of the moon. The great peak erupted into the horizon, the terrain around it, a powdery painting of grey, blue and white, as if Monet had smeared the atmosphere with blurry impressions of pristine beauty and quiet. Thomas turned occasionally to keep an eye on the sled that towed his equipment but kept losing himself in the majesty that surrounded him. He was finally there, in it, and he would return as a new, wiser man in full possession of his spirit, or not at all.
After several hours the snowmobile came to a stop. Snow-covered trees surrounded him, great friendly ghosts beckoning him into their glorious silence. He fastened his snowshoes to his boots and hopped onto the virgin snow. The navigator did the same and unhooked the tow sled from his machine.
"It's another four miles that way," said the driver, pointing. "I would take you, but I don't want to get stuck and have to call someone. You can make it by sundown if you keep a good pace."
He was talking about the old cabin, abandoned for many years but still standing. It was made of small larch trees that had been felled decades before by men who had long since died. It provided almost no insulation, but it had a stout roof and the walls could not be penetrated by grizzlies. The bears would be all be asleep until after Thomas returned home, anyway. Thomas shook the driver's hand and tucked the pull-ropes of the sled under his armpits.
"You know," said the man, "if people see you with me when I return, they are going to be relieved. Nobody is going to think you are weak. They are going to think you are smart and all of them will sleep easier." He had charged Thomas double to try and discourage him. When his effort failed, he promised to return half of the money when Thomas made it back alive.
"Thank you for almost saying something very dear." Thomas inhaled deeply and looked around with great satisfaction. "I am going to find that cabin tonight, and by week's end I will have it chinked and toasty. By the time you get home I will be having hot coffee and whiskey by a roaring fire. I'll drink and extra one for you!" Thomas smiled brightly beneath the sunglasses and balaclava that covered his face.
The man would have smiled back if he thought there was a chance he would see Thomas again. He dearly wished he had refused to take him. Instead he snorted, just shy of a chuckle, and sat back down on his snowmobile to take off his snowshoes.
"Just follow that bend without gaining altitude. A blind man couldn't miss it." He threw a leg over his driver's seat and revved the engine. "I'll tell everyone you looked great."
Thomas waved, hardly hearing him, and set off, dragging the sled behind him and smiling like he hadn't since he was a child.
It was snowing lightly, and he kept his eyes on the ground, winding around the trees in his path. The shadow of Mt. McKinley stretched across the landscape to his right, like the arm of a titan reaching out for a glorious stretch before bedtime. The temperature dropped and he compensated by picking up his pace. He was deep into his thoughts, into the source of his joy, when he looked up and was surprised by the sight of the dark cabin tucked away amongst the trees.
"Hello, neighbors!" He all but galloped towards the ancient-looking structure. He stepped into the yard and dropped the towropes. The front door was made of bound branches and he easily lifted it and pushed it inside. The cabin's interior was nearly pitch dark, but he could make out an old, primitive chair and a table made of a tree stump. With his headlamp and saw an old, cast iron cauldron sitting next to a charred burrow of earth and a small stack of firewood. The chimney and fireplace were constructed of loose stones and the wood around it had been charred black.
"Yes!" He reached into his pocket and found the lighter and tealight candle that he had prepared for exactly this moment. "This will do just fine!"
He lit the candle and placed it on the table. Back outside, still in his snowshoes, he dragged the sled to the edge of the front door. After freeing his feet he quickly unloaded his sled and piled his things inside the house: two twenty-pound bags of rice, a box containing four bottles of whiskey, a metal flask, five tins of coffee, nearly fifty pounds of dried meat, one fifty pound bag of lentil beans, two liter-sized bottles of lighter fluid, four twenty-pound bags of dried fruit, twenty small bags of powdered eggs, five books of poetry, an axe, sixteen-penny nails, a foldable utility shovel, several tarps of different sizes, a bison skin, a bag of salt and spices, two liters of castile soap, one change of clothes, several empty tins of varying sizes, some cookware, fishing gear, a fully loaded Smith and Wesson magnum, a Winchester rifle with a twenty-cartridge box of ammunition, five-hundred feet of parachute chord, toiletries, two bottles of multivitamins, one field knife, and a dirty magazine. What he did not have, to the dismay of his friends and family, was a distress beacon.
Out there, in the middle of the quiet forest, he could hear his father somewhere in the shadows. They had talked before his departure in his father's home. Thomas could not be persuaded and, seeing the distress he was causing his father, decided to leave.
"There he is! A goddamn Grizzly Adams off to face the great mother without the proper equipment or a goddamn clue!" His father sat in his old recliner and screamed at the television, a half-empty bottle of whiskey in his hand. Thomas turned back around to make his point one last time.
"A rescue beacon means that no matter what happens I have a button in my pocket to save me! I don't want deus ex machina to be a part of my myth! No messiah! I am not going to try as hard if there is a safety net. I have to need to survive or I'll never discover what I am capable of. For a veteran you don't seem to value the purpose of capitalism very much!"
His father had fought in Vietnam and he came back perpetually angry—especially when he was right. If he was sober enough to hear what Thomas had said he might have had a sharp response. He was stuck in a rage and had been for forty years.
"Do you know why I named you Thomas?" He leaned forward in his recliner, a burning cigarette between two of his fingers. "No miracles! And you're going to go out there and expect one! Need one! What the hell kind of asinine garbage is that? Is that what I taught you? 'Go out into the world against odds that will certainly crush you without a stick to lean on'? No! I taught you how to survive!"
Thomas opened the front door and cold air rushed inside.
"You will be proud of me when I return," he said.
Two days later, Thomas was gone.
Darkness was around twenty minutes from settling firmly as Thomas's first night in the wilderness came to a close. Soon the temperature would fall like a pebble in the arctic sea until the sun rose again. Thomas secured the front door with a piece of parachute chord and hung his bison skin over it with the use of three nails and the flat end of his axe.
Minutes later he started a fire and laid out his sleeping gear. After blowing out the candle he crawled into his sleeping bag and ate dried meat while the fire told him a small tale. It was a great romance spun upon the walls, the ceiling, his fingertips, and the end of his nose. It had no plot, no syntax, no great villain, no hero, no beginning or end, and no timeless lesson—but it was captivating. A story of light and sound and warmth. He hoped it would never end.
---
About the author: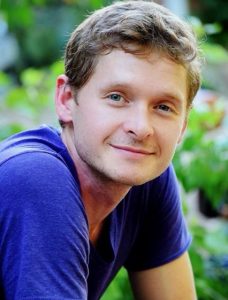 Karsten is a world traveler, veteran, and outdoor enthusiast who has traversed the mountains of Japan, the Ozarks, and the Colorado Rockies.