There was banter at the dinner table. People laughed at somebody's jest. These boisterous gestures of joy distracted me. There were at least twenty people seated here, and the clamour of cutlery and talks rose to high-pitched peals. Then the butler entered with a tray in his beefy hands. On the tray, I saw many bowls of pewter brand. He placed them in front of each person. Most people knew what to do with them. I only had a foray of inkling. I looked away from everyone. I looked at the bowl before me. It held some water and a slice of lemon. I picked up the bowl in my hands and slowly brought it up to my lips. Between my lips, I placed the pewter rim, and drank the water straight off its brim. Dead silence dropped in the room. People who didn't even steal a glance until now, inclined their heads all towards me. I wasn't sure what I had done to become the centre of this sudden attention. My perplexity compounded, when I saw what they did. Finger bowl it was. A mistake made by me. They did just what they were meant to do, dip their nimble fingers into them, and rub them elegantly. I looked at my fingers and deemed them to be clean. 
I noted that my hostesses, Nancy and Mark suppress a smile. There was nothing I could do now or anyone else for that matter. No amount of cover-ups could cover what I had done. Oh! I wanted to cut those fingers off, pull out the nails that were meant to be in the anointed water of the holy grail. I felt like running away. But I couldn't do that either. I couldn't make an egress, because something had pinned me to the chair. Dried butterflies encased in collector's possession, I just sat glumly like a frog on a lily pad, in the wake of a rain. Yes, I sat, sat through it, while they watched me in shock and horror and ridicule me. Inwardly they said, I wasn't sophisticated. I didn't know the decorum of the kingdom. I knew exactly, every odd thought that crossed their heads. An anomaly had occurred, an oddity took place, right before their eyes, at this dinner table tonight. As much as I fancied to not to appear crude, the brute in everyone, the jury was still out. I knew what they thought, but I didn't know what they would do to me. I, still sitting, becoming, and gradually coming to my senses that the socialites would perhaps abandon me, kick me out. How dare I brushed shoulders with the creams and the gleams of these bunch of elites. While they wondered what to do with me, I thought of a ruse. I decided enough was enough, I was going to save myself from this humiliation at any cost. I wanted to normalize. I still wanted to be in. I allowed some fleeting seconds of these petrified moments. Then I stood up on my two heels. I pushed my chair back hard; it fell resoundingly on the floor, to their surprise. I walked up two steps to the door and asked a man standing here, to fetch me a pen and sheets of white paper rolls. 
While my audience floundered, I waited for my ammunition. The pen and the papers arrived, I took them in my stride. I quickly laid out rolls of papers on the floor and etched a few parallels and disjointed poles. I connected the dots and sketched a tall picture in its opulence, not to mention the ambience. It was a sketch of this dinner table, and every one seated here in calm demeanors. The frozen confused expressions and detailed images, replete with lavish foods, this festive occasion. The pewter bowls were there too, the cause of the faux pas but the picture worthy to behold, although I took a heavy toll.
When my sketching was complete, I held it up in the lights. The disbelief in their eyes said it all. That I could paint a picture of this magnitude. Some lauded, and others screamed out, 'say, did you do that on purpose, so you could catch the moment on canvas?' I took this opportunity and bowed low to ask for forgiveness and to tell purportedly, 'that it was indeed the intent all along.' The crowd cheered, they clapped and forgot about this splendid faux pas. I titled the painting, faUx paS, and then gifted it to my host. This painting received a prestigious award. Another version survived in the gallery of modern arts. However, it was never for sale, because it was the painting which had saved my soul, a re-entry ticket into the world unknown.
It wasn't the elites that I feared, but my defeat, I wouldn't consider a feat. My painting may have saved me from one faux pas still, many may await in the future repository. After all, it was the few odd faux pas that sent the Boleyn sister off to the gallows to her beheaded misery. The one who spoke her mind, her tongue a shaper bind, in a less forgiving world, faux pas could cause enormous abuse. Transforming Henry's love into fatal discontent, surely, her faux pas were made at countless social events. 
People didn't know the environment which bred them. Atonements may follow, friendships may mend, to define Cleopatra as not a pretty woman. Or referring to Wales as "part of England," regardlessly, histories will not relent. And neither would records bend, just because faux pas are an embarrassment.
---
About the author: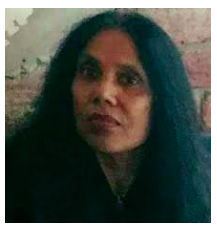 Mehreen Ahmed is an award-winning, internationally published and critically acclaimed author. She has written Novels, Novella, Short Stories, Creative Nonfiction, Flash Fiction, Academic, Prose Poetry, Memoirs, Essays and Journalistic Write-Ups. Her works have been podcast, anthologized and translated in German, Greek and Bengali. She was born and raised in Bangladesh. At the moment, she lives in Australia.