I met my new roommate, John Clark Hoover, on the first day at college. He was spread out on a multicolored quilt reading Slaughterhouse Five, smoking a joint. He greeted me with a simple wave of his jointed hand without taking his eyes off the book's page. He eventually offered me a toke, which I readily accepted. I unpacked my belongings and sheeted my well-used mattress. John passed some gas. We laughed. Welcome to college, gentlemen.
The following month, John and I went backpacking.  On our first night, while roasting hot dogs and marshmallows, I asked him about his family. His glare at me suggested: You don't want to know. My look said: Give me your best shot. He lit a joint and proceeded to tell me a little about his world.  
"First off, I'm the son of Del Hoover, probably the most hated politician in California history. He made a ton of enemies during his lifetime. He was on his third marriage when he conceived his only child, yours truly. He was probably hoping I would follow in his corrupt ways, but a bullet to the back of his head ended all that nonsense. He named me after two other Hoovers, the first name of J. Edgar, the FBI guy, and the middle name of Herbert Hoover, the President. My mother had no say in the matter. She never did. Hoover's stick together was his motto. His political opponents laughed at this loyalty to a family name, countering with Hoover's suck together, referencing the vacuum cleaners."
John went off to relieve himself. The campfire was on its last few breaths when I felt his presence behind me.
"I forgot to mention one other thing," he said. "I was the one who put that bullet in the back of my father's head. I was just so sick of the way he always treated my mother."
"Jesus," was all I could come up with.
"Sometimes I just need to get this thing off my chest, you know? It's a burden. I've told only two other people about this. And now you. You know what's funny? Neither of those people are alive to repeat the story. I just couldn't allow that to happen."
I felt the cold steel come to rest against the back of my neck.
"Sorry, buddy," he said. "Nothing personal. Just something that needs to be done."
I shut my eyes and heard a bang.
Nothing.
My eyes popped opened, staring at the dying embers.
"What the hell?" I said.
"My folks are park rangers," John said with a laugh. "They taught me to carry a gun filled with blanks whenever I'm out in the woods. You know, to scare off bears and such. I just love campfire stories, don't you?"
I realized I had been sucked up by his imagination. I had been hoovered.
---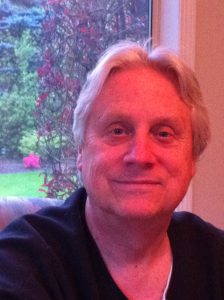 Fred Vogel has been published in Literally Stories, Straylight, Crack the Spine, Clever, Literary Orphans, Unbroken Journal, and elsewhere. He lives in Oregon.