For nearly forty years, the builder-grade split-levels had squatted side by side in a cul-de-sac south of Atlanta. Only skeletal remains of shrubs dotted the perimeter of the house on the right. Extravagant rosebushes adorned the house on the left, where Joan knelt with pruning shears, her cutting making a reassuring sssst-sssst sound as she moved among the flowers. Far from wilting in the heat, the roses arched their flame-bright petals to the sun. One of Joan's yellow gardening gloves caught on a thorn. She left it there, blending in with the flowers and, sitting back on her heels, dabbed her face with the back of an arm.
     It had gotten so that she could sense when Katie was headed her way. Sure enough, the young woman was crossing the flat patch of grass that separated their houses, the puny boy trotting behind. Joan decided she couldn't avoid her and went back to caring for her roses. Katie stopped behind her, and Joan turned in her shadow.
     "What is it?" Joan jabbed her shears into the ground to boost herself up.
     "Can you watch Blaze?"
     "Where's his daddy? He doesn't seem to work much anymore."
     "He's gone." She frowned at the boy, who was spinning in circles next to her legs, then turned back to Joan. "Can you watch him?"
     Katie had such stunning eyes, the color of emeralds. Now, her shiny pupils nearly masked the green. Joan knew where she was going. "All right," she said.
     Blaze didn't watch his mother drive away. Instead, he squinted up at Joan. His white-blond hair made her think of dandelion fluff that floats off the stem on a puff of breath. Blaze. What kind of name was that?
     "How old are you now?"
     The boy stuck his left thumb in his mouth and held up four fingers with his right hand.
     "Tell you what, I've been meaning to weed the lawn." Joan plucked an intruder from the grass. "You pull these out. Find as many weeds as you can, like a game, while I finish with my roses. Then maybe we'll have sweet tea and ice cream."
     As she turned back to her roses, the shears in her right hand grazed the boy's cheek. She hadn't realized he was still standing there. Droplets of red beaded on his pale skin. While she cleaned up the mess, thinking about what she'd tell his mother, Blaze's wheezy crying passed into hiccups and pleas for Blankie.
     Joan figured the back door would be unlocked. It led into the kitchen, just like at her place, but the houses—slapped together at the same time—were mirror images of one another. The exact same rooms, but flipped around in a way that disconcerted her. Blaze led her down a hallway, past framed photos of younger, beaming Katies hugging and hoisting trophies from long-ago swim meets. Katie at six morphing into Katie at twelve. A wall of smiling Katies. Blaze found the treasured blanket and sat on a little car-shaped bed, sucking his thumb. Sunshine through a missing shutter slat cast a streak of light across his shirt.
     Back at her place, Joan fixed them some tuna salad on celery sticks and talked about roses. "You know, you can't be sentimental. When it's time, you need to deadhead them. Know what that means? You cut off the dead blooms and dispose of them. More beautiful flowers will grow, you'll see. Your grandmother, your mama's mama, you never knew her, but she was a good gardener. She lived next door when I moved in here. Now, your mama . . ." She chose not to finish the thought.
     Katie didn't return that night. Blaze asked about her just once. When he fell asleep on the sofa, she tucked a magazine under his little body and hoped it would save the upholstery—not new, but still nice—if he had an accident. He'd never stayed the night. She left the TV on, in case he woke up and needed company.
     The next morning, Katie was still gone. Joan had errands to run. A gardening center in the city was closing shop, and she hoped to get some steep discounts. She buckled Blaze in the back seat and drove a good while to get there. The boy sucked his thumb until, pink and sweaty, he fell asleep and slumped against the door.
     At the nursery, cavernous as a cathedral, Joan took her time wandering up and down the aisles. She stocked up on supplies and splurged on some aromatic Sweetheart roses. Then she had a long conversation with the owner, whom she'd gotten to know over the years. When she was done browsing and shopping and talking, she wheeled everything she'd bought out to the car and loaded it into the trunk. Then she wheeled the cart back to the store. It was when she was getting in the driver's side that she caught sight of Blaze's foot. It looked like a doll's foot. For a split-second Joan wondered what a doll was doing in her car.
     She drove to a secluded part of the parking lot and made sure no one else was around before reaching back to press her middle and index fingers against his neck, though she didn't really believe he was sleeping. The whole way back, she kept a close eye on the speedometer. When she reached home, she wrapped the body in shade cloth and carried it into the house. Then she waited until it was good and dark.
     Katie never returned. When the Sweetheart roses had begun to bloom, a police officer came by to ask if Joan knew anything about the neighbors. Tiny driblets of sweat slid down his forehead. She shook her head no.
     On his way out, he bent to finger the skin of a rose and breathe its scent. "Nice flowers," he called back to her.
     "They do well in the heat," she said before going back inside.
---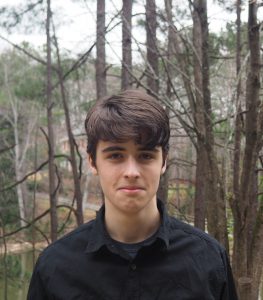 Stephen Thomas Fuller lives and writes in Marietta, Georgia. He has studied writing at the University of Iowa. Stephen is an avid backpacker and eavesdropper.