The day I move from Black Bottom to Dreher Park, I've got on my favorite shoes, green Converses with yellow laces. From the Dreher Park preps watching us move in, a few whispers and pointing at my shoes. At 12, I give a shit, but things are going to get a lot worse than a few fingers of derision.
My family moved to Dreher Park after some long-lost and great-uncle, Uncle Broadus, gave his fortune to my mom. He'd hated the rest of his family, who he called freeloaders, even though most of them worked at one of his department stores at some point. Since she was the only one he'd never met (we weren't invited to the family reunions), he didn't hate her, and so, he left it all to her.
Flashlight Tag in the Trees.
That first night in Dreher Park, I go out to play Flashlight Tag. A lot of the kids had big flashlights, those heavy camping ones that would throw a bright beam half the length of a football field, so you could see who was up in the dogwoods or in the tall, graceful shrubs that ringed most of the homes. The streets were all paved and sidewalked, with the streetlights being the new sodium kind, so they cast an orange light over all the BMW's and Benz's. The other guys wear white Nikes—white, leather Nikes even. You can see them, even in the dark. Not so with my Converses, plus I've got from all those nights of Flashlight Tag in Black Bottom, where we played with dark tennis shoes and plastic flashlights from the drug store that never lasted more than a summer. Turns out I'm always the last person to be found, so I'm never it. They stop ragging on my about my kicks. Here's the thing, though, I stopped wearing them.
Flashlight Tag.
The streets and yards of Black Bottom were all in-bounds: no fair going inside anybody's house. On deep summer nights when the electricity got shut off—we never knew why—there would be no faint-blue light from the old streetlights, and in our houses, just candles and maybe an old kerosene lamp shining through the windows and front screen doors. Up in Dreher Park, all the lights were still burning. Our small, red plastic flashlights were the only lights outside, but in the pitch black, they could shine all the way across the river. Some nights—real late when we were still wet with sweat from playing for hours—we thought we saw the three kids who had drowned, swimming toward us.
Mapping the neighborhood.
We didn't need a satellite to do it, just a wide river and a prison. To the south ran the Congaree River; to the north ran the high walls of the South Carolina State Penitentiary. With rolls and rolls of concertina wire on top of its walls. In summer, when the sun got Columbia in her sights, the flashing from the roiling concertina wire looked like waves on the Congaree.
Black Bottom: that's what our neighborhood was called because of how poor we were and how most of us—but not my family—were black. We played in our orange-clay yards, with some dustings of sand left by the Congaree, back from when Black Bottom was all underwater. The streets were also orange clay. We stayed in tin-roofed, unpainted shotgun houses that had seen more than their share of shotgun blasts.
Bravery Tests.
Barbara Funchess was my best friend in Black Bottom. We played with Hot Wheels cars and the orange track our moms had picked up at the cheapest thrift shop in Columbia: the Soul Consignment Shop. In winter, we'd head down to the Congaree, with the rhododendron trees in a line on the near bank. The far bank was all oaks and hickories and maples and supposed to be full of whiskey stills.
The rhododendrons, with their green all year long, were a great place to do bravery tests. We used to bet the new kids a Coke or a Milky Way that we could do the most awesome bravery test: walk 100 feet without ever touching the ground. Get in any of the rhododendrons—really just big bushes more than trees and planted so close together—and you could climb into the next one. In some places, you were even hanging over the river. Some kids complained it was a trick, but we won those bets.
Once, when Barbara and I were playing Hot Wheels and not there by the Congaree, these three kids tried a bravery test, one with no trick to it. They bet a case of Coke or a box of Milky Ways—a huge bet—if they swam across the river. Paying for it would've meant emptying all the piggy banks in Black Bottom. Besides, if Barbara and I had been there, we would've said no way. Too dangerous to try to get across after the city released the water upstream at Lake Murray, which made the water go from see-the-bottom clear to a churning, orange-clay color. The three kids never made it. After that, we stopped the bravery tests.
True Blue.
Black Bottom had another color besides the orange and tan of the streets and yards and houses: blue. Sure, on late summer nights, there was the faint blue of the old mercury streetlights. But this other blue was a true blue—the blue the color that the sky gets after a summer storm goes through. It framed the windows and doors of most of the houses. We painted them blue to keep evil spirits from getting in.
Black Bottom works in Dreher Park.
Ree Ree was our maid for a number of years after we moved to Dreher Park, where the wealthy lived behind high brick walls, snuggled in tight by constant police patrols. Dreher Park sat up there on the bluff that had been cut by the Congaree about a million years ago. Ree Ree had lived in the house behind ours in Black Bottom. When I was a kid, I remember seeing her doing the wash for other white people late at night, after she got home from being a maid and then feeding her own family. She had an old washing machine on her porch, the only light coming from inside the house. The white peoples' clothes she hung up on the line went from the back corner of her house to one of the tea olives.
Blue Devils.
When I started going to private school with the rest of Dreher Park, our team was the Blue Devils. I represented the Blue Devils at the statewide high school Latin competition my senior year, where I saw Barbara again, who went to Columbia High, the big public high school. We hadn't seen each other since I'd moved to Dreher Park. Fast and quick, we looked at each other, fast and quick, to make sure the other one was really who we thought, and to make sure nobody else at Dreher Park or Columbia High saw us. It was mutual, which might seem smart and brave in high school, but it hurt, at least to me it did. I couldn't tell anybody this but you.
---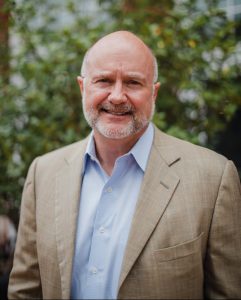 Charles Israel, Jr., teaches creative writing at Queens University of Charlotte. His poetry chapbook, Stacking Weather, was published by Amsterdam Press. His poems and stories have appeared in Crazyhorse, Field, The Cortland Review, Nimrod International Journal, Zone 3, Pembroke Magazine, Eleven Eleven, Journal of the American Medical Association, and North Carolina Literary Review.