How long you've been creating your art?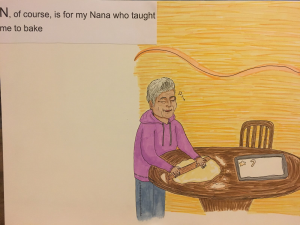 I've been making art for as long as I can remember. I was convinced for all of my elementary school career that I was going to become an artist; I would constantly get in trouble for drawing in class. My parents signed me up for additional after-school and summer art programs starting in 1st grade; probably in an effort to stop me from playing video games and actually leave our house for once, but the classes definitely strengthened my interest in art.
I didn't really get into making original art until after my mom died my freshman year of high school though. My grandparents bought me an easel that year and I started painting nonstop.
Who are the people in the art?
I do a lot of self-portraits. Human anatomy isn't a particular art strength of mine, so I end up drawing myself for practice more often than not.
For my children's book, I drew my Nana for "N" or course, and my partner's unamused face for "J is for Jokes, I promise I'm funny." My partner is probably my favorite person to draw, his features and expressions make for fun drawing practice. Otherwise, I draw people from imagination, but the results always seem better when I'm drawing the people I love.
Emily will show us all of her finished pages of her children's book, ABC All About Me, next week along with what she has to say to other artists and what she plans for the future.