The Old Green One by Holly Day
I will make you a music box from a porn star
fill her insides with gears and whistles, a key
that comes out of her navel for turning
in the hot summer sun
or under the stars at night.
When our daughter is older, I will explain the porn star
in the basement, tucked away with your dirty magazines
your crumpled, dented trombone. I will tell her how even music
can be base and indecent, and all that I know
about lonely breasts and constellations.
---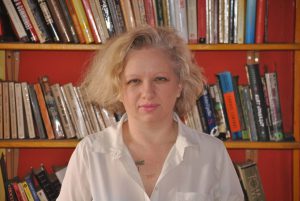 Holly Day's poetry has recently appeared in Asimov's Science Fiction, Grain, and The Tampa Review. Her newest poetry collections are Into the Cracks (Golden Antelope Press), and Cross Referencing a Book of Summer (Silver Bow Publishing).