Coffee Shop Girl by Christopher Linforth
She looks over my poem and tells me to replace slugabed
with a word the common people will understand. I can't tell her
it's part of my style—she knows I'm all surface, that I carry
a DVD about a Michael Jackson impersonator in my messenger
bag, that I pretend not to wear deodorant, or even care about
my two-week beard. The poem has no heart, she says. I know
she's being truthful. This critique isn't about the girl I slept with,
her friend visiting from Santa Fe, or how she kicked me out
of her apartment for smelling her arm hair. She reads poetry
every night; she cares about white space and when to break
a line. I can learn from her—I know that—even when she hands
the poem back, the title replaced with Americano.
---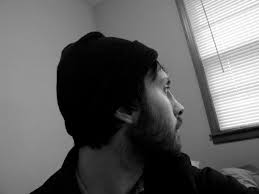 Christopher Linforth has recently published work in Epiphany, Gargoyle, Hotel Amerika, and other literary magazines.