7
It took one more try, as the ice was very thick, but after the second firing the rock wore the ice down and finally broke through to the bottom. The sun was up then and Thomas had been tapping his foot after consuming two more cups of coffee. When the glowing hot rock bubbled and disappeared he leapt up and yelled to the birds, shaking his fists in the air. A family of foxes near the edge of the lake watched him with bowed heads.
He kicked and punched the air and jumped up and down and slammed his feet into the floor of ice. In the middle of the clear blue ice was a lightless void that extended down, down into a portal of endless black. The ice was nearly four feet thick.
Thomas compacted a snowball in his hands and dropped it into the hole and listened as it plopped into the water below. He took a quick drink from his flask, assembled his fishing pole, rolled his log up to the edge of the hole, and settled in. Everything was within arm's reach so he wouldn't make any noise by stepping around. The lure sank into the water, and he sat very still. Three more hours of daylight remained.
Thomas went through waves of tension, of stark and vivid death anxiety, and then reminded himself that the hole was real, that he was sitting next to the black crevasse of his success, and relaxed again. The specter of death dissipated like a thundercloud after rain, and he cried.
"No bites yet!" The old man stood next to the hole and stared down into it with a bottle dangling loosely from his thumb and forefinger. "Nothing! And here you are celebrating. What are you going to do if there's nothing down there?"
"There's something down there."
"Minnows, maybe!"
Thomas took the flask out of his pocket, unscrewed the cap and held it in the air.
"Steps, old man! Rome wasn't built in a day!"
"Your hole wasn't dug in that time, either."
"Well, it's dug now!" Thomas took a quick drink. He pulled some jerky from his pocket and tore off a piece with his teeth and chewed it. Thomas sat there in near perfect stillness, so as to not scare the fish away, and his dad stood over the hole, looking down into it and occasionally shaking his head. Thomas realized that he left his cup near the other fire pit and smacked his lips from thirst.
"Don't move," his dad ordered, taking a pull from his bottle. Thomas froze, relaxed his shoulders, and prepared to wait all day. And then, a bite.
Thomas grabbed his pole and pulled as the line vibrated and dragged. Oh, it was big!
"That's no minnow, old man! You see that!"
"Don't get excited! Pull too hard and you'll lose him. Finesse, Boy! Turn that reel real slow and pull up until he fights you. Now lower it and reel, then lift a little more! Yeah, like that!"
Thomas lifted and reeled, allowed the line some give, then lifted and reeled some more. Soon the line moved quickly between either side of the hole and Thomas could feel that his catch was near the surface. Be a monster, Thomas thought, be the biggest damn catch this side of McKinley has ever seen!
He reeled until he heard the fish break the surface of the water, squirming and slapping and trying to set itself free. Thomas lifted and reeled until up from the icy depths emerged very muscular rainbow trout, freckled with a beautiful raspberry stripe across its side.
"Look at that python!" His dad nearly dropped his bottle.
"He's a beast, ain't he?!"
Thomas felt pride in his face and shoulders. He stepped onto the powerful fish and in one quick movement plunged his hunting knife right behind its head. With the spinal cord cut, the fish's valiant swings for life became small, futile twitches. Then he sliced the connective tissue beneath its jaw and slit the tiny creature along its stomach. He stuck two fingers into its throat, took hold of the cartilage there and removed its entrails with a single, effortless pull.
He turned around, smiling, guts in one hand and knife in the other, standing over his kill. Over his very life.
"Not bad, eh, Pop?"
His father was gone.
The fox family had moved in a little closer, taking a keen interest in the flesh they smelled. Thomas threw the guts onto the snow and carried the fish back to the hole. He triple hooked it with his meanest lure and lowered it back into the water to clean it off. Afterwards he laid it onto a patch of ice and set his line for another catch.
He caught four fish that day. The foxes tested how close they could get to Thomas's growing pile of fish guts. Whenever they got too close he stood up and waved his arms, careful not to move his feet. After rinsing his last catch he packed up his tackle, his extra logs, and no less than twenty pounds of trout. Before he wrapped the ropes of the sled around his chest, he tossed the guts to the foxes, watched them recoil in surprise, and then encircle the putrid mess and begin pulling it apart.
Hooter was waiting for him on its branch when Thomas got to his cabin.
"Howdy, Hoot! You catch anything today?" Hooter looked at him, blinked slowly, and turned its head around.
A half-hour remained before the impenetrable darkness sank into the atmosphere. He put away his tools and washed everything that touched the fish. Then he looped fishing line through the eyes of each fish, save for the one he planned to eat, and hung them from branches in the front yard. The fish would freeze within the hour and remain solid until he cooked them or they were thawed by the warmth of late March—four months away.
The fire glowed after nightfall. He warmed water for rice and carved a spear out of the straightest stick he could find. When the fire got going he stuck the spear into the mouth of his fish, pushed it out its back end, and held it over the fire. It sizzled as it thawed. The skin blackened and curled in places as the flesh beneath it dripped delicious oils. He turned it carefully, preferring to err on the side of burnt versus raw. Once the head was black and the tail crispy, he laid the fish across his only plate and flaked off some of the flesh with a dinner fork. He put the steaming fish flesh into his mouth and bit down, carefully feeling for bones, and rejoiced.
"Well hallelujah!" He filled his plate with fish and steaming rice, doctored them both with black pepper, powdered cumin, and salt, and ate quickly. As he chewed he looked up at the sky and saw Hooter's eyes floating in the darkness, flickering in the firelight.
"Got any lemon up there?"
Thomas ate two platefuls, finishing most of his rice and nearly two-thirds of his trout. He removed the rest of the meat from the carcass and placed it in a small cooking tin with the leftover rice. Once the meal was dressed with spices he sealed it shut and sat it on a snowy branch above his head. It would freeze and retain its moisture. When he was ready to reheat it the oils from the fish would keep it from sticking to the pan and it would be ready to eat in minutes. It would be his first instant meal in months.
8
The log in his fishing circle became his homing beacon. It called to him when his morning coffee brightened his eyes and he looked forward to the short daylight hours on its surface, fooling large trout onto his hook and hauling them back to his cabin. The trees surrounding his cabin were full of fish and hung there like giant Christmas ornaments.
Occasionally he spent the day chopping wood, washing clothes, airing out his cabin, cleaning the firepits, cleaning himself, clearing snow, or just taking a day to sip whiskey and read. Instead of walking into the great shadow of Mt. McKinley, he was able to sit on his chair of branches and watch in reverence as the opposing hillsides were imbued with majestic purple.
Sometimes he read poetry when he fished. He so enjoyed reading in the bright surrounding of snow that he sometimes wished he wouldn't catch anything. The foxes always showed up at the lake, waiting patiently for the entrails of the day's catch. He named them all after the authors he continued to reread: Ralph, Henry, Walt, William, and Emily—his favorite.
One day he caught a trout and looked at it, felt the confidence of a man who knew he would survive, and tossed it, alive and thumping, to his family.
"There you go, Ralph! Make sure everybody gets some!" The foxes ripped it apart and fed in pairs. He walked home feeling triumphant, generous. Hooter's wings beat the air as it swooped overhead.
"Who? Who?" Hooter landed in its usual spot.
"A hunter and tamer of beasts! I am the dawn of civilization!"
That night Thomas awoke to the sound of rustling outside. It didn't impact the earth the earth the way a fifteen-hundred pound moose would, nor did it have the gravitas of an equally giant grizzly awoken early from hibernation.
The magnum hung in his right hand as he pulled back the bison skin and looked through the cracks in the door. It was still pitch dark outside. He pushed the tip of the magnum through the door and aimed at the sky. He pushed his right ear into his shoulder, plugged the left one with his forefinger, and fired. The shot thundered into the woods and in its wake he heard the fading patter of small paws. He listened for a while longer, drank a small sip from his flask of whiskey, and lied back down to sleep.
The next morning he found ashes from his firepit scattered around the yard. He walked outside with his headlamp and found, in the midst of the mess, the skeleton of a fish that hadn't been incinerated, and the tracks of little fox's feet. William, thought Thomas, picking up the fish skeleton and tossing it back into the firepit. In the darkness he saw the warm glow of a cigarette and waited for his dad's voice to cut through the silent night.
"You're killing that whole family, you know." Thomas kicked at the ashes and swept his foot over his ruffled tarp.
"I know," he muttered.
"Killing them like a mother who would rather eat her kids than set them loose."
"I know."
His dad smoked and leaned against the house.
"Animals always get used to the nicest thing you do for them. It's the only thing they have in common with people. If you do something one way for one hundred years, and then try to be nice for a split second, they go on expecting a new normal until the end of time. You raise the bar and everyone expects you to keep it there."
"That was never a problem for you, Dad. Nobody could reach your bar. Or even see it."
"You're right! And I made you strong! Now you don't need me or anybody else."
"I know," Thomas hung his head and went back inside. "And nobody needs me."
Thomas went to the lake again that morning, but he didn't bring his sled or any fishing gear. He only carried a few books, his firearms, and some kindling for a cup of coffee. His legion of poets was waiting for him, resting in the snow on the edge of the lake while he sat on his tree and read. John stood up and walked a few paces towards him, then bent its head down and pawed at his nose. Then Ralph joined and they wrestled for a moment before positioning themselves upon the lake and stared at Thomas.
The sky turned dark and light snow began to fall. It quickly intensified and heavy flakes began to fill in the tracks he had made. He zipped his books into his breast pocket and attached his snowshoes. When he stood up, Walt and Henry stood on their paws and the rest looked at him eagerly.
"Sorry guys." Thomas shouted to them, the clarity of his voice muffled behind the warm layers on his face. "Emily, I am especially sorry to you." He could feel the magnetism of their friendliness for him, and he hung his head while he walked home. Behind him he could hear their shuffling and playing, following him for their meal of gizzards. Thomas stopped. He stuck his right pole in the snow, pulled the magnum from his side, and fired it into the sky. His ears rang and the concussion of it shook his vision.
Snowfall soon blocked all visibility further than an armlength away, and he kept his eyes on his disappearing tracks for navigation. He ground his teeth and prepared his mind for another week of living beneath sunless days and moonless nights. It was late January. There was no getting out.
---
About the author: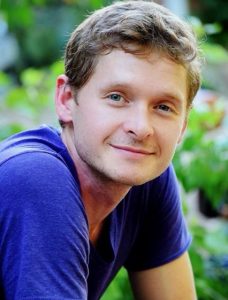 Karsten is a world traveler, veteran, and outdoor enthusiast who has
traversed the mountains of Japan, the Ozarks, and the Colorado Rockies.