14
Charlie.
Thomas bolted upright as the name of the feral beast licked his eardrums. He put on his boots and gloves and opened the tarps with his hands and walked outside. Snow still fell lightly then and the fresh layer of it was soft on the frozen sheet beneath. The whiteness of the snow created an ambient glow, as though emanating its own light, and all he could see against it were the silhouettes of trees and dead bushes that would soon spring to life.
He walked several steps down the slope until he felt he was far enough away to relieve himself. Before unzipping he turned around and made out the dark, quiet mass of Charlie standing on its hind legs, towering over him. Suddenly the voice of his father echoed in his mind, a memory from years ago. "Those bruins are stealthy. Don't let their size fool you. They can be as quiet as the kiss of death."
The bear's eyes glowed red in the night. Its massive teeth shone like ivory daggers against the flat darkness of its body. Thomas reached for the magnum on his hip but found nothing because he left it in the shelter. He stepped backwards as the bear came down from its hind legs and clawed through the snow to Thomas's body. Thomas fell as he scrambled backwards and a second later the great beast was upon him.
Thomas tried to push himself backwards but his hands kept disappearing beneath the snow. The bear bit down and crushed the bones in his feet as its great claws flayed the flesh from his shins. Thomas tried to kick at its face but his foot was a gelatinous mess of bones and the pain in it was almost worse than being eaten. The bear's fur rippled and shook as its muscles flexed and tore at his body. He held up his hands to protect himself but the bear pushed its giant face through them and opened its massive jaws. The last sound Thomas heard was the popping sound of his own skull while warm, viscous fluid ran into his ears and down his face.
Charlie.
Thomas shook himself awake. He kicked off his sleeping bag and the cold air of the night brought him to full alert. The fire was smoking delicately so he placed more sticks over it and blew softly until the light of the flames returned. The cold air bit into his toes so he put them back into the sleeping bag and held his magnum close to his chest. Charlie was near, but Thomas had his magnum and it was loaded. He had his magnum. It was loaded and firepower was in his hands.
The tarps rustled and moved swiftly as Charlie opened them with one great sweep of its paw. It reached down into the snow pit and its giant claws shone black and deadly in the light of the fire. Its arm flexed to support its weight and stood there suspended like a statue of marble and fur. Its other arm followed and with its head and glowing red eyes. Its mouth oozed a great river of saliva and its nose inched ever closer to Thomas's face.
Thomas lifted up his magnum and pointed it between the bear's eyes. He pushed the barrel of it against its fur and pulled the trigger. Click. He pulled the trigger again and again but all that followed were more impotent clicks as the beast appeared to smile. Charlie took in a great breath and roared as it opened its jaws so wide that its red eyes squeezed shut. Hot fangs dug into Thomas's flesh and pierced his eyes and muffled the sound of his screaming.
Charlie.
Thomas gasped as he sat up and clutched his magnum. He reached out of his sleeping bag and placed more sticks onto his smoldering fire. A familiar sound came to him with the memory of eating fish next to his old firepit and enjoying the company of an old friend.
"Hooter!" Thomas shouted into the night. "Hooter, you old scamp! I was having a bit of a terror there! How the hell are ya?" He was hungry in spite of having eaten too much. Hooter's voice was rough and grumbling, a low tenor reaching for the pitch of a somber bass.
"Who? Who?"
Thomas felt in his pockets for any meat he may have forgotten thinking that Hooter might like a snack. There was none. The fire grew steadily and Thomas checked his watch. Two hours until sunup. He sat there for a moment and thought of what he would eat when he got home. First, he would eat a steak, and his father would grill it for him. The old man always had meat in the freezer. He would walk into the one-story house through the front entrance and see his father sitting there in his old recliner, face white with a hangover and eyes dark from drunkenness. The old man would rock forward a few times until he stood out of his chair.
Thomas would take off his fur cap and jacket and hang them both on the tacky coat rack made of antlers. Then they would go to the kitchen where his father had an electric grill and listen to frozen meat sizzle while Thomas told him about how the first snow buried his cabin and everything in sight and how he still managed to eat and stay occupied. And how the tree shelter his dad taught him to make him kept him alive one night while a hungry grizzly bear roamed the area.
"Who? Who?"
"Thomas! You must have forgotten. I'm the son of a wild man."
That night he would go to The Spike and smile like a kid. Everyone's eyes would be white with relief and envy, and they would embrace him and tell him how glad they were that he was back. He would tell them that they weren't as glad as he was but they could all buy him a drink if they felt like it. Then he would settle into his favorite chair and sit back and sigh in deep satisfaction with himself. His friends would bring him drinks and he would tell them all about what it's like to face yourself and wring your hands around the throat of who you really are.

15
Thomas spent the remaining dark hours cooking lentil beans and cursing their unsalted flavor. Most of the two logs he brought with him were used up and he hoped his sled would feel lighter as he drug it across the tundra that day. He thought heavily about whether to eat another instant meal, but the sight of his father shaking his head in grave seriousness gave him his answer.
He emerged from his shelter with his magnum drawn. He kept it drawn as he relieved himself and looked around. The snow finally stopped and small slivers in the clouds showed brief glimpses of the dawn above them. He looked down and saw, to his total surprise, that he was emptying his bladder onto one of Charlie's fresh pawmarks. The bear had come through in the night, not more than thirty feet from Thomas's tent. It was in this exact spot that the grizzly attacked him in his dream.
The tracks led to the tree that held his tins, and those he had placed upon the branch were several yards away. He hadn't heard a thing.
"How you are alive I will never know." His father stood over one of the empty tins and shook his head.
Thomas lowered his instant meals and carried them back to his sled and packed up to move. He looked around for any sign of Charlie, but saw none.
"Don't worry," said his father, "you can just let him come to you."
Thomas wrapped the ropes of his sled around his chest and watched as the clouds suddenly parted. With a breath of determination he started off again and his right side continued to ache and pain him. After the soreness arrested his attention, when the agony in his muscles became the only thought in his mind, pushing onward became a matter of pure will. Unable to avoid the pain, he dove deep into it until he drove it like a separate machine. The pain became his fuel.
When it was reasonable to do so, every hour by the alarm on his watch, Thomas would stop and lean on his poles to rest his legs. He let the sunlight warm him and listened to water drip from the trees. Each time he stopped he turned around and looked at the trail he was carving along the blanket of pristine white. And there would be Charlie, rummaging for food as it kept its distance.
"Too far to shoot, to close to ignore." His father stood upon the snow with his hair nicely combed and wearing black button-up. Now the old man wore black slacks and nicely shined wingtip shoes. He smoked in the sunshine and a small bead of light crawled across the part in his hair.
"Patience is his greatest weapon, and he knows how to use it. It's like he knows how to stay out of range until the night falls." The old man's voice was velvety and pleasant. It came as a great comfort to Thomas as he sat there and marveled at the majestic creature.
Thomas pulled off his outer gloves and fur hat and rubbed his sweaty hair. It was afternoon then and his head hurt from exertion and lack of food. Keeping a close, calm eye on Charlie, he lifted the tarp on his sled, steadied himself from the dizziness of standing up, and pulled out one of his remaining meals. The lid of the tin popped off with a faint, percussive noise and he was accosted by the stench of rotten fish.
"No!" Thomas scolded his foul food as though it were a disobedient dog. "No no no!" He buried his face in it and inhaled, desperate to persuade himself that what he held was edible. He tossed it aside and grabbed another tin. And another. The tops all popped off as the pressure from the fermenting fish pushed the odor of putrid death into the air.
Blood pounded his temples and shock radiated from his spine. He suddenly struggled to breathe and fell to his knees as the gravity of his situation pulled tears down his face.
"Stop!" His father stood over him. "You waste energy sobbing like that and you won't have enough left to figure this one out!" Thomas nodded and stood up, choking on the air. Charlie had begun a slow, deliberate walk in his direction.
"Come on, wild man! Either shoot him and eat him or get moving!" Thomas removed all but one of the logs from his sled and threw it to the ground. The bison skin, his fishing tackle, the empty whiskey bottles, everything but his sleeping system and his shovel were laid to the side. Even his axe fell beneath the surface of the snow and disappeared.
He drank the rest of the water in his bottle and filled it back up with snow and zipped it inside his jacket. He walked off with the bear closing in steadily.
At the hour before sunset he dropped the ropes to his sled and unhooked his snowshoes. He dug a deep rectangle out of the snow that was about two feet longer and one foot wider than his body.
"A coffin shelter. How appropriate."
"I'm still above ground."
The shelter was finished by sunset. Thomas pulled a tarp over it and pinned it down on three and a half sides with wet logs from nearby. The dried grass easily caught fire as he set it ablaze on the exposed ground of his shelter. The bag of lentils was nearly empty and he watched deadpan as he shook the final legumes from their bag. He actually wished he had more. He cooked and ate all but a few ounces of rice, and by the time he realized that the lights and the moon and stars were all hidden, it began to rain.
He flipped his sled upside down and receded into his shelter. He locked his shovel at ninety degrees and used it to create a pitch near the opening of his tarp to allow airflow. The magnum rest heavily upon his chest and he fell asleep with his thumb and forefinger lying loosely around its handle.

---
About the author: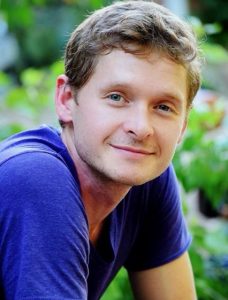 Karsten is a world traveler, veteran, and outdoor enthusiast who has traversed the mountains of Japan, the Ozarks, and the Colorado Rockies.