12
The coffee cans clamored in the night. Thomas's shaking hands pointed his magnum towards the doorway and his bones felt like they were turning inside of him while he listened.
"Charlie's back, Boy." His father sat next to him with elbows on his knees, bottle in hand.
The sound of the bear's frustrated moaning and grunting vibrated Thomas's skull. He trained his eyes on the bison skin, bright brown in its center and dark at the edges, like the bird's eye view of a mountaintop, and waited for it to move. It hung there in terrible stillness until, beneath it, Thomas saw a puff of breath rise from beneath the door. The door shook as the bear swiped at it. The shadows on the bison skin rippled like a slow ocean wave. Thomas struggled to breathe, his hands and armpits wet and tingling and his stomach felt like it was melting.
He set the magnum down, picked up the rifle and fired a shot towards the wall. He pulled the bolt back and reloaded and listened. The bear huffed, frustrated, and Thomas fired three more shots in succession. The bear sauntered away again, blowing into the air. Thomas held his sphincters tight, his kidneys cramped and surging.
"That was okay. You're not dead yet." His father took a drink. "Hit him with those rounds and you would have an injured bear to deal with instead of just a hungry one. Shoot with the magnum and the wooden door might stop or deflect your bullet just enough to keep him alive and angry. How many do you have left?"
"Rifle: two."
"Well, if you can hit him between the eyes it'll probably have old Charlie seeing stars if it doesn't turn him into one. Ain't a chance of that happening with your fingers, though."
Thomas's watch showed five o'clock. Just over two hours until sunrise. He set the last pieces of broken wood onto his fireplace and crawled out of his sleeping bag. Outside the snow continued to fall but the flakes were like tiny pinpoints in the air. With his headlamp he could almost see for almost one hundred yards, and he decided to go home.
"What you should do is wait until that beast comes back and then blow its brains out. Then you can hold out for another couple of weeks until breakup[2] has dried a bit and head out."
"No," Thomas put his cooking tin next to the fire for his last breakfast. "I want the ground to be frozen. If it's not frozen it will be wet, and that's worse. Plus, my food will spoil more quickly in the heat of mid-spring. My tarps are trashed. I have five meals left. My firewood is gone. My furniture is gone. And now, I'm gone."
Thomas waited until the colors of dawn crested over the distant hills. He retrieved his tin meals from the tree he had strung them in and packed them along the aluminum floor of his sled. Over the top of everything he laid his bison skin. When he had pulled it off the wall the sight of the bare door struck him as powerful and marvelous, like a coffin door before the last viewing, and he thought it ironic that it should provide him with three more nails.
When his lentil beans finished cooking he was fully dressed, rifle around his shoulder and magnum on his hip. The front door was wide open and he stared through small, floating crystals down the path that he and the bear both followed. He ate slowly, careful not to burn his tongue in haste. He added the last of his salt and threw the empty container into the fire.
He drank as much water as he could before emptying his tins and loading them beneath the bison skin on his sled. He secured his tarps with parachute chord and wrapped the ropes of the sled around his shoulders and drug it out into the front yard. In the trees stood a familiar feathered figure whose image rendered to Thomas his only feeling of sadness.
"So long, old buddy. Come see me in Healy sometime!" Hooter blinked and turned its head as if to say, "good luck."
Every inch of that wooden room, inside and out, was burned into his memory forever. He did not need a moment to take in one last look. He gripped the handles of his trekking poles, snowshoes firmly in place, he set off into the morning.
[2] Spring melt
13
At that time there were around eleven hours of daylight. If Thomas walked for ten of them he figured himself capable of crossing around nine miles, providing the worst conditions. That meant that on the sixth day of walking, somewhere around noon, he would run right into highway three and be able to hitch a ride back home. His training helped him establish a good rhythm and he walked at a steady pace.
He followed his old route to the lake and waved to the mound of snow sitting over his fishing log. When the edge of the lake began to turn left, Thomas checked the sunlight and turned right, as due east as his senses allowed. He broke off into a new direction, into the first new scenery that would grace his eyes in nearly six months. The land sprawled out from beneath his snowshoes and changed from snow into trees and layers of mountain peaks that swallowed up half of the sky.
He imagined Healy glowing in the distance like the Emerald City—a landlocked lighthouse beckoning him forth. He was going home.
Thomas would frequently stop and pull off his outer glove and draw his magnum from its holster. He scanned the terrain so often that his neck grew sore and stiff.
"That's good for you!" His father told him as they walked around a ridge impeding his journey east. "Keep your head on a swivel! If Charlie gets you at least it won't come as a surprise."
Thomas stopped and drank from a whisky bottle he had filled with water and kept tucked into his jacket. After he drank he bent down and used his gloves to fill it with more snow. He shook it and zipped it back up into his outerwear, ignoring the pain of hunger in his stomach. In his workaday world, dressed to the gills with protective equipment, working instead of eating was more money in his pocket. Once the body adjusted and began burning its reserves, time skipped along rather quickly and the mind had very little energy to complain.
After the grizzly attack, his sled aligned to the left like an old car and put a very small strain on his right shoulder. That strain grew as the hours wore on until it was all he could think about. He turned around and inspected his sled many times but could not imagine a way to correct it. The sun began to set and the falling snowflakes grew in size.
He checked the horizon and the foothills in every direction, turning slowly and allowing his eyes to be still. Birds zipped between the trees. Behind him the long swath of his sled snaked through the snow. He followed the trail with his eyes until it vanished into a line of timber from which he had emerged, and there, stretching its long, muscular arms against a tree trunk, was Charlie.
"No…" Thomas whispered to himself. His adrenaline surged and he no longer felt hungry. Charlie clawed into the bark and lowered itself, pawing at some plants and smelling places in the snow. The giant bruin sniffed the air and wandered back into the woods.
"No need to worry just yet," the old man was leaning against the tree that would harbor Thomas's shelter. "He'll only come for you at night."
Thomas looked east into the dimming distance and decided he could go no further. He unshouldered his rifle and peered down its sight at the brown mass of Charlie rummaging for food. Even with the snow falling Thomas could probably shoot it twice, but hitting the vital areas would be difficult.
"It would be a miracle." Thomas's father was wearing a nicer button-up, completely black and well-ironed. He still wore corduroy and water-stained brown loafers, and in his hand, as always, was a half-drunk bottle of Ten High.
"Better to wait. Charlie isn't following you, he's following your food. To him you are a hunter like every other carnivore out here, and he wants you to kill something so he can take it from you. If his nose takes him to your fish, he will take them from you. If it takes him to the smell of old meat in your pockets, he will take those, too. If he smells old fish on your skin, he will gladly eat it off of you and haul your bones away."
"These are my bones," said Thomas, unfolding his shovel. "And those are my fish." His father took a long, slow drag off of a cigarette.
"For now."
Thomas dug next to the tree with his shovel. He dug down until he touched the ground, then he cleared a circle around the tree about five feet in diameter. The hill he was on created a slight slope so the edges of the circle were lower than the center. This would allow moisture and cold air to escape, an affect which he augmented by digging a shallow trench along the circle's circumference. Above the shelter Thomas used his last nails to pin two tarps to the tree to block wind and snowfall.
With his knife he cut down side branches and laid them on the ground until they were thick enough to keep him off the frozen dirt. The sun had disappeared completely and Thomas used his headlamp and parachute chord to raise four of his instant meals into the branches of a tree one hundred feet away. After the tins finished clattering in the air above him, Thomas leaned forward and listened for motion in the darkness. The only sound he could hear was the ringing in his own ears. His body ached and his head hurt from lack of food, but he was not afraid.
"That's my boy!" His father struck a match and his face glowed and floated like it had no body. The old man's hair was combed nicely, parted on the side and back behind his ears. "A real Jeremiah Johnson!"
The bush of Thomas's beard pushed out against his balaclava. He scanned the area with his headlamp. He saw no glassy green eyes nor any great beasts wandering near his equipment. Nothing. A moment later he was in his shelter with a tarp laid over the floor of pine needles and his sleeping bag laid over that. On the other side of the trunk Thomas put two logs and one of his instant meals of seasoned fish and rice.
"You're going to heat up fish and eat it in the same place you're going to sleep?"
"Drink up, old man. My clothes are saturated with fish smell like you said so it doesn't much matter at this point. I'll put it all outside later and try to keep this fire smoking."
"Well, I'll keep smoking, too." His father sat and leaned his back against the wall of snow and Thomas's nose burned in the thick plume of cigarette smoke. He cut small pieces of wood from one of the logs with his hunting knife and stacked them in a small teepee over the damp clump of grass. He struck his flint many times, illuminating the small space with many quick flashes of light, but the grass he had collected outside was still too wet to catch.
Thomas sat in the darkness. His father's rhythmic smoking made the small enclave glow red and then fade to black again.
"No lighter fluid, I'll bet."
"None."
"And why is that?"
"I used it all."
"He used it all, he says. And how is rubbing sticks coming along?"
Thomas fingers ached from the cold and from striking the flint so many times. He leaned his head back against the wall of snow behind him and felt his beard scratch his neck. Then he lifted his balaclava up to his forehead and grabbed his beard with a tight fist and began sawing just below his chin with his hunting knife. A moment later he put a fistful of wiry beard hairs below the damp clump of grass and tried to light it on fire.
Sparks flew in the small space as he struck the flint several times. A tiny, evanescent ember arched from his flint to the ball of beard hair and attached itself to one of the coarse strands. It crawled across it and an instant later erupted into a small flame and the acrid stench of burning hair filled the shelter. Thomas held the damp grass above it and let the hot fire singe his fingers while the grass smoked. The grass popped and sizzled and small flames crawled around its exterior. Then the flame in the hairs went out and Thomas cupped the smoking grass in his hands and blew very softly. A second later the grass was quiet and smokeless. Thomas was very hungry.
"Come on, Boy!" His father's breath reeked of whiskey. "You may as well put hot sauce on your ass because you're about to become worm food!"
A soft wind blew and tiny snowflakes rapped against the tarps overhead. Thomas's toes were very cold and he shivered beneath his layers. He wrapped his cold and shaking fingers around his rifle and pulled the bolt back twice, dislodging the unspent rounds. He unscrewed the tops of them and emptied the gunpowder into the grass and placed it beneath the small tower of sticks. He struck his flint a single time and the warm, violent hissing illuminated the shelter with bright light and the grass was engulfed in a tiny fireball. The wood above caught fire quickly. He cut more pieces from the logs and stacked them onto the fire until, at last, the warmth of it kissed his face.
He added wood until the fire produced enough coals to sustain itself. He continued splitting away little sticks from the logs until he had enough to burn for at least an hour. Then he grabbed his tin meal and placed it next to the fire and listened for the sweet sound of sizzling fish fat.
The smell of it greeted him with a pleasant memory of when he had sat outside of his cabin and enjoyed the sight of sunshine. He rotated the tin to warm it completely and heard the joyous sound of tiny bubbles.
Finally, Thomas held the tin below his nose and opened it. Steam opened his pores and he almost fed himself with his fingers. His fork was on the sled so he dug into the tin with his hunting knife and carefully used it like a sharp shovel until the food was gone. He felt his strength return in a rush. He thought about how far he had come that day and how far he would have to go tomorrow. Maybe he had gone twelve miles instead of only nine. If he could keep that pace he would arrive a day earlier than expected.
"Don't you do it!" Whiskey flew from his father's bottle as he pointed it at Thomas. "You're already on borrowed time! Now you get that fishy pot out of here and lay down and hold that magnum like it was your last lover. Charlie knows you're here and when that fire goes out we'll see what he plans to do about it!"
Thomas moved through the tarps and left his father cursing in the snow pit. He walked in the blistering cold with the spotlight beaming from his forehead and untied another meal from its tree. He stoked the fire in his shelter and left again to saw more dead grass from its roots. He returned and turned his meal counter clockwise and set the grass nearby the fire to dry. He added more sticks to the tiny blaze and drank the rest of his water.
The second meal lasted half as long as the first. He ate in great, gulping swallows and nicked his mouth with his blade. When he finished eating he leaned back, took two deep breaths with a warm, swollen belly full of food, and nearly fell asleep. His dad's screaming voice made him jump.
"Complacency! Complacency is going to do you in, you lazy, self-righteous little twat! You want the whole world to see you as a hero and there you are falling asleep on watch. You think Charlie is going to poke his head in here and come back another time so you can get your beauty rest?" Thomas scrambled to get his pots together and went back out into the snow, his father screaming after him, "Charlie is an animal!"
Thomas walked back to the tree and set the empty tins atop a low hanging branch. If Charlie came by for a snack, which it certainly would, Thomas might have a chance of luring the bear away from the shelter and trick it into making some noise. Next to his fire Thomas's head swam with exhaustion. He removed his boots and slipped his feet into his sleeping bag. He filled his bottle with snow from the walls and prepared more sticks for the night ahead.
The smell of pine drifted up from the floor of his shelter and he felt the weight of the magnum in his hand as the fire cracked and the heavy air of sleep fell over his body.
---
About the author: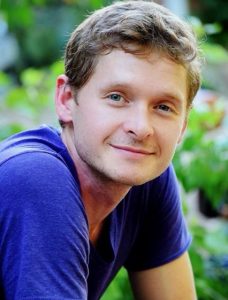 Karsten is a world traveler, veteran, and outdoor enthusiast who has traversed the mountains of Japan, the Ozarks, and the Colorado Rockies.