Content: In this episode, we talk with novelist Vernor Vinge about his Zones of Thought series, Writing, Telepathy, and the Singularity. Heavy stuff!
Cast
Hosted by Adam Berg, with Dean Karpowicz
About Vernor Vinge
Vernor Vinge was born on October 2nd of 1944 in Waukesha, Wisconsin. Fascinated by science and particularly computers from an early age, he has a Ph.D. in computer science, and taught mathematics and computer science at San Diego State University for thirty years. He is known in the sci-fi world as the author most closely associated with the idea of "technological singularity," which is the event or sequence of events that will occur when technology surpasses human intelligence and society ceases to be recognizable to today's humans. 
Mr. Vinge has won five Hugo Awards, including one for each of his last three novels, A Fire Upon the Deep (1992), A Deepness in the Sky (1999), and Children of the Sky (2011), as well as Rainbow's End (2006). Other awards include the Prometheus Awards for Marooned in Realtime, and two Nebula nominations for A Fire Upon the Deep and A Deepness in the Sky.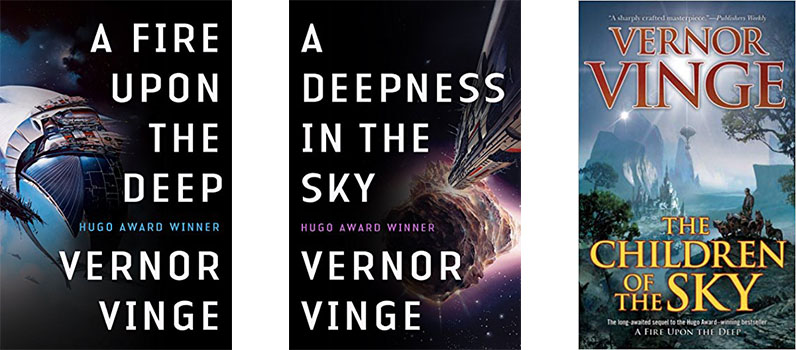 One of the things that he is best known for is his rigorous hard-science approach to his science fiction. Mr. Vinge currently resides in San Diego, California.
To listen to the episode, click below, and if you want to listen on your phone, we're available on Spotify, Google Play, and Stitcher. You can also find more episodes of The Pub right here on Straylight.
Podcast: Play in new window | Download