Twins Rusty and Dusty Buckamo, along with their cousin Billy Gray and his wife, Sadie, founded the mega-popular Christian rock band, SugarCoatIt, in the late 90s. Their debut album, "Jesus Is More Than Just Alright," was considered the cornerstone of what Christian music should be: catchy tunes with strong visceral messages of burning bushes, parting seas, and walls tumbling down. 
It was easy for their fans to be inspired; to be reassured that they were on their way to salvation. SugarCoatIt were heroes to their legend of followers; true superstars dedicated to Jesus Christ while preaching the word of God who, it was rumored, was so fond of their music that he often danced the night away up in his kingdom of Heaven. 
Yet for all the accolades, the truth was that the members of SugarCoatIt were in it strictly for the money. They didn't believe a word of what they wrote or what they sang. They realized early on that they could not compete with their real idols, the rebellious rock and rollers of their generation, so they took the heavenly path that resonated to the heartstrings of the religious youth. 
In fact, Rusty and Dusty considered themselves born-again Atheists, although they did not have a clue as to what that term actually meant. Their parents, once hopping followers of the Hare Krishna, had turned to Judaism in their later years and moved to Miami Beach. 
Billy Gray called himself an agnostic, although like his cousins, he was not sure what that word entailed. He simply thought the term made him sound more intellectual and spiritual than he actually was. 
Sadie's religious background was more complicated. In the early 80s, her mother was living in a commune in eastern Oregon where she was a dedicated disciple of the commune's mysterious leader. It was there that Sadie was born, but she was never to know her real father's identity. She could have been conceived during any one of the numerous sexual encounters her mother had while living in that open society. Sadie's round black eyes led many followers to believe that the commune's leader, a bearded man with penetrating dark, puppy-dog eyes, was indeed the father.
SugarCoatIt played their farewell concert at a storm-shortened event in the parking lot of a Calvary Church in San Bernardino, California, on March 17, 2007. It was a terrible shock to their fans when the band broke up, but for its members, they knew it was time to move on.
For the next several years, Billy and Sadie performed at small venues throughout the West but the act never caught on. Rusty and Dusty went on to become successful record producers for mainstream rock artists, relinquishing their hold on Christian music for good.
Whenever March 17th rolled around, you could find Rusty, Dusty, Billy and Sadie at the Bob's Big Boy restaurant in Toluca Lake, California, for their once-a-year reunion. They would relive old times, laugh at their misadventures on stage, and moan and groan over their countless travels back and forth across the country while staying in one Holiday Inn to the next. They'd sit at the same table The Beatles sat at when the Fab Four visited America for the first time during the summer of '65.
As was the custom at these reunions, Rusty would reach into his backpack and pull out an oversized, hollowed-out Bible that was filled with many of the trinkets the band had accumulated from their years on the road–St. Christopher medals, rosary beads, small Jesus bobbleheads, even some random Mass cards–religious paraphernalia that had been tossed onto the stage by their loyal fans. 
During their most recent get-together, a young girl, no more than fifteen, shyly approached their table to ask if they were really who she thought they were. When they admitted that they were, the girl burst into tears, telling them how much her mother had loved their music and if God hadn't taken her to be with him, it would have been the highlight of her life to have met them. 
After finishing lunch, Dusty, Billy and Sadie got up and filed out the front door. Rusty gathered his belongings and headed towards the door. Something caused him to turn around and search out the young girl. She was with a couple of friends, and Rusty joined them at their table. He pulled out the Bible and placed it in front of the girl. She opened the book and gazed in amazement at its contents, passing it around the table for her friends to see. From the sincere joy Rusty saw in her heart, he knew she was the right person to be the book's new guardian. 
As he walked towards the front door, Rusty heard the girl's sweet voice God-blessing him. He turned, smiled, and flashed her a peace sign. It was the only response he could come up with that he believed to be genuine. 
---
About the author: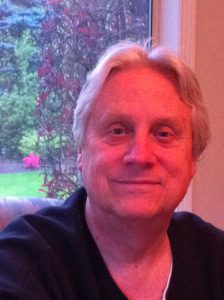 Fred Vogel has been published in Literally Stories, Subtle Fiction, Straylight, Clever and elsewhere. He lives in Oregon.