The statement echoed—as did the realization this would be the natural assumption, even if the news wasn't reporting a seizure of cash. Hell, for all I knew, those in the shadows might even think a cop (or cops) had stolen the cash, hence no mention of it in the news. The dread eased back a bit. In my periphery, a waitress approached the table. "So I'm guessing you'll be needing a coffee? Just finished that A.A. meeting, right?"
The question had an edge of mockery to it I had not heard in a long time. Sara Coleman. A pleasant surprise on a dark day. I'd dated her for a month but broken it off shortly after meeting Cheri Coke. Sara had been introduced to me as a friend of Patty's, and Terry and Patty had been merciless about the breakup, insisting upon bringing Sara to one of our parties just to torment Cheri. It was impossible not to notice Sara in a bikini, and consequently, she'd ended up the subject of more than a few of our spats. Looking up at her into her disconcertingly blue eyes framed by that dark hair, our breakup was an action I could assure you I regreted. Besides, she was a writer and a talented one at that. Sara had published a couple of well-reviewed short story collections and a batch of poetry. In our discussions on the art, we were often extremely critical of our contemporaries, the most serious venom saved for Canadian writers. Our rage against the talent of those our age who were successful made for the marrow of many any evening. I'd had no idea she was working at Yesterday's, but even her dull waitress uniform became a sexy gown around her tight frame. This was the first time I'd encountered her in months.
"Uh, sure."
Her eyes glistened at the fact she'd startled me.
I said, "When did you start here?"
"I've been here for a couple of weeks." In a graceful movement, she took a mug from another table and set it in front of me, pouring coffee from a pot I hadn't noticed her holding. "Which you'd know if you ever bothered calling."
The scent of fresh coffee mixed with her perfume.
She gave me a fake pout.
"I've been going through some stuff."
She tossed Patty a glance. "So I've heard." She turned and walked away with my eyes following. "Give me a ring sometime."
I avoided Patty's smirk. Terry was saying, "I'm kinda surprised to see you up and about, Ryan. You were some shit-faced last night. Did you end up drinking all that beer by yourself?"
Patty added, "Hey," as if she was just remembering. "That's right. Since when do you turn down an opportunity to hang out?"
The questions caught me off guard. Where had I come across them? And what beer?
"You saw me last night?"
Terry gave me another knowing grin. "What, we're that forgettable?"
Patty giggled. "I knew it."
A flash of the moment, Patty smiling up at me from the passenger seat of Terry's
Monte Carlo SS. Terry was leaning over her and mouthing words at me. It was dark.
"You were in your car."
I rubbed my eyes hard enough to see stars. Terry said, "That's right. I caught you at the end of my headlights down by the marina. You looked like you were walking home—"
Patty laughed. "More like staggering home."
"—and carrying a bag. Or at least trying to carry it. You were smashed, and it was heavy enough it was pulling you all over the road."
My blood ran cold. Who else, if anyone, had I ran into this condition? Had I drunkenly said something incriminating? Terry continued, "You kept kind of dancing, more like shuffling really. And walking in circles. You were on about Cheri Coke—"
Patty rolled her eyes. "As usual."
"—and you kept yelling, 'No problems now,' or some such shit. We gave you a ride home. You said you'd share the beer with us another time. Said you didn't want to hang."
"What beer?"
Terry blinked. "The beer you said was in the bag."
One of the virtues of the people I lived among is that none of us was ever surprised by a friend's inability to remember a vivid hour. Other bits of the night started tumbling back at me on the heels of the memory. I remembered clutching the duffle in the back of Terry's car and Patty yacking at me from the front seat. It was suddenly all tangled up with the loop I'd been running of Carl's truck, of the house on McQuillan. The orange glow from its curtained windows had seemed so warm on the dark November night. Then, from behind the drapes, I'd been startled by two flashes in rapid succession…another flash. The music so loud I couldn't hear…gunshots?
"Who made who, who made you? If you made them and they made you…" A mind bomb detonated…and the memory was there.
Befuddled, I'd left the truck. The flashes of light had confused me. I'd made my way up the path and climbed the three steps to the door, the music fading. The night had been remarkably silent, save the tinny, faraway sound of Cardiac Carl's half-ton. The door had been unlocked.
I'd entered a small but elegant foyer. The hardwood floors had been immaculate, and framed abstract art decorated the walls. Quality art, one of the pieces had actually caught my drunken attention: a print of a Mondrian and on the wall opposite, something I didn't recognize. A vase of dried flowers had rested on a cherry wood entry table against the wall. There'd been bland music coming from around a corner, and I could see an open style kitchen lit only by a dim light on the stove.
The nightmare unfolded as I rounded the corner into the living room. I discovered the mind latched onto the strangest things in such moments. For instance, I remembered a cigarette burning in a marble ashtray on a glass coffee table with some sort of fancy stone base. Carl's multi-coloured packsack rested on the table next to the smoke. Another memory, olfactory in nature, the acrid smell of cordite, and below it, a faint metallic odour similar to rust. Perhaps my mind refused the information being telegraphed, but I find it fascinating the two bodies had not been the first thing I noticed.
Cardiac Carl had lain on the floor, the upper half of his body slumped against a white sofa rendered garish by streaks of blood. It appeared as though he'd been shot twice in the chest, a nine millimeter semi-automatic clutched in his dead hand, his life leaking onto a Turkish rug. Across from this macabre scene, I'd discovered another: Glenn Allan, the kindly owner of a local clothing store, seated in a black and white Art Deco armchair. He'd been shot in the head, the better part of his grey matter dripping down a wall behind him. A chrome-plated revolver had winked at me from the floor, the familiar duffle bag resting on the rug at his feet. The memory faded, the image track slowly going black. Patty was staring at me. "Are you okay?"
---
About the Author: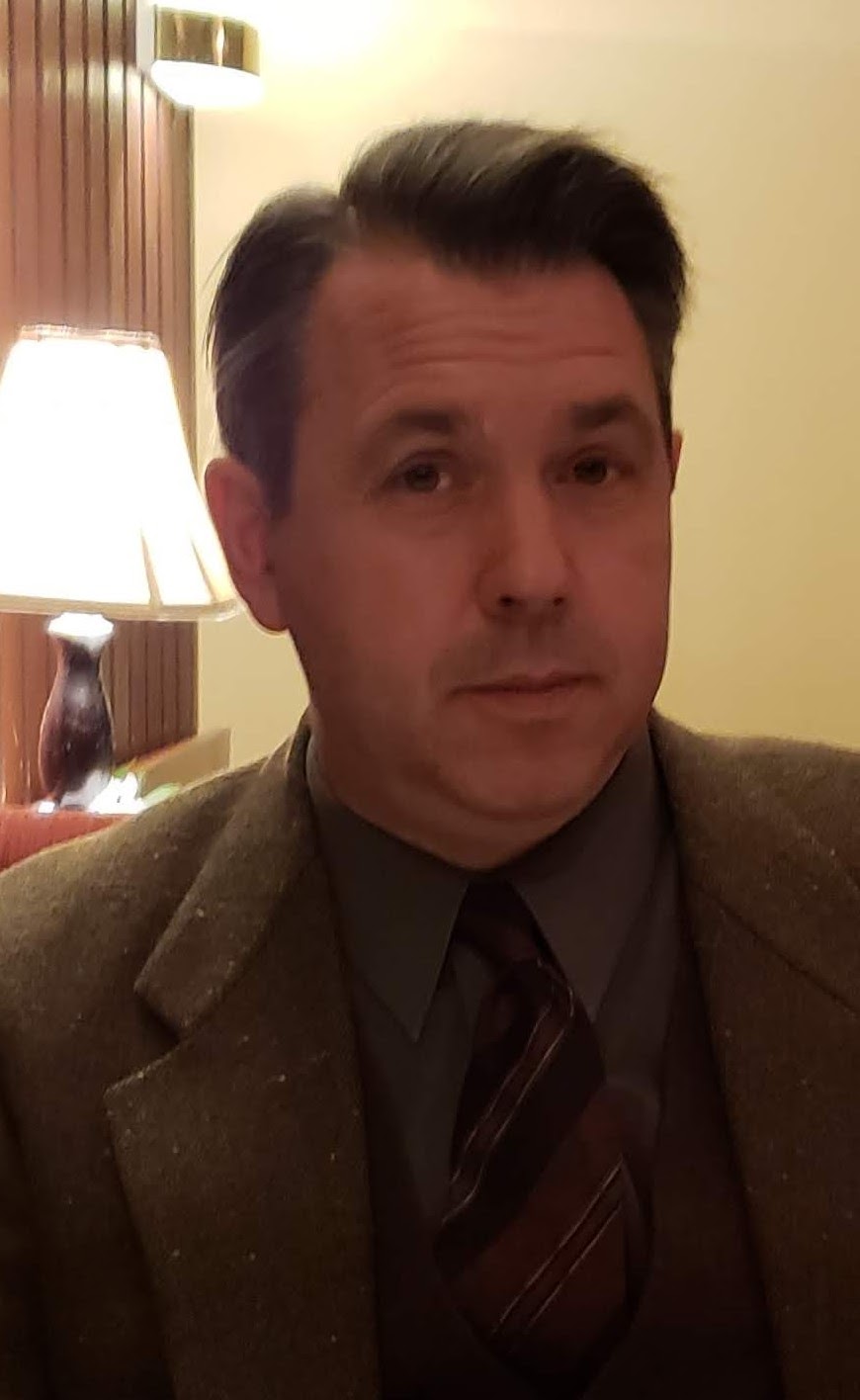 James C. Stewart began his career as a journalist working at newspapers in Northern Ontario. He currently resides in North Bay, Ontario.