My love for you is stronger than intelligence.
Jeremy thought he had seen the words on a greeting card. It may have been in Denver while he was at the airport waiting for a flight to take him home. Or maybe he had read them in a book of poems when he still read poetry. Wherever it was, he found the words interesting, in a brokenhearted sort of way.
Home was Sacramento, California. He lived with his father, a preacher who evangelized his gospel on Friday and Saturday evenings, and twice on Sundays, exulting his congregation to be on the lookout for the evil trappings of those doing the devil's work while the devil himself sat comfortably atop his flaming throne.
Jeremy's mother died from a stroke while she was serving cake and ice cream at his seventh birthday party.
Jeremy and his father never saw eye to eye. Jeremy once dyed his hair lime green just to spite the old man. In turn, his father changed the locks on the family home and neatly piled his son's clothes on the front lawn, next to the year-round nativity scene.
Jeremy spent the next several months sleeping on a friend's couch before heading to Denver after securing a sales position with a dry goods company.
He met Megan in a Denver grocery store while he was juggling oranges. She found both his juggling skills and green hair fascinating. The relationship ended when she left him for an equally talented performer—a mime she had met while working at the city zoo.
Jeremy quit his job and went to work for the Finnegan sisters. The three feisty redheads were successful pot growers who conducted their business from numerous warehouses in east Denver. All three were attracted to their new hire and decided it would be only fair to share him, not the first time they had devised such an arrangement.
At first, Jeremy thought he had won the lotto but, like many lotto winners before him, the luck of the draw turned out to be no luck at all. He lost himself in a never-ending game of Jeremy Yo-Yo. After enduring a month as a plaything, he needed a break. He was exhausted and pretty darn sure he had used up the last of his sperm. The sisters posted a help wanted ad and sent him off with a generous severance check.
He spent the spring learning to ski. He was amazed at how uncoordinated he was, considering what a great skateboarder he had been as a tween. His instructor was Soledad Chance, a lady with all the beauty and grace of a Westminster Dog Show champion, in the most complimentary of ways.
There was a mutual attraction between the two, but having recently been dumped for a mime and rough-housed by redheads, Jeremy wasn't sure he was ready to jump into another relationship. When Soledad told him she loved him, he thanked her and tried his best to change the subject. It was then that she realized the two were skiing down different commitment paths.
Jeremy got word that his father was nearing the death stage of his life and flew to Sacramento. He made a pit-stop at a local salon to have the green washed from his hair. It was his way of extending an olive branch, but it turned out to be a futile gesture. By the time he arrived at the hospital, his father was well on his way to his own little slice of heaven.
He was not surprised to learn that the family home, along with all other assets, had been left to members of the congregation. As a final dig, the only item willed to him was the old front door lock, as useless to Jeremy now as it had been whenever he had unlocked the door to his unhappy childhood.
In turn, Jeremy gathered up the nativity scene from the front yard and tossed it into a neighbor's Rubbermaid trash bin. "That should wipe the smirk off your nasty face," Jeremy barked to the passing clouds.
He called Soledad to let her know he was on his way back to see her and that it most definitely was in Denver where he had fallen in love.
---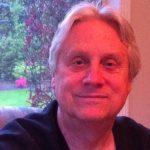 Fred Vogel's stories have appeared in Literally Stories, Crack the Spine, Subtle Fiction, Literary Orphans, Straylight, and elsewhere. He lives in Oregon.