On My Ancestors' Backs  by Holly Burgess
I never felt the whip crack
I never felt the crushing of my windpipe by a lynch rope
Or the German Shepard's bite
Or the power of a fire hose
I never felt a jury of my foes turn up their nose
Or lost loved ones to dope
I can sit where I please
With a sense of ease
Knowing that I am one of the lucky ones
What happens to the fallen ones without motion pictures?
Or the ones without honorary lectures?
Are their names forgotten in our collective memory?
Banished for centuries?
Or do they exist in the eyes of their loved ones
Who become numb when your name slips from their tongues?
What is the cost to be both black and great?
What does it mean when an activist has sealed her fate?
I never felt the pride of the Panther
I never felt police tamper
With evidence
I have felt the stammer of the First Black President
As he struggled to articulate the meaning
Of hate
Struggled to condone the actions
Of his oppressors
Stating that we are not lesser
That "We go high"
I have heard Angela say that "High isn't enough,"
When we can't break through the ceiling of glass
Because we are not a part of the higher class
I never felt the whip crack
But I have paid the toll
I've faxed the black tax
To join white spaces
Where the sound of silence from friends is demise.
---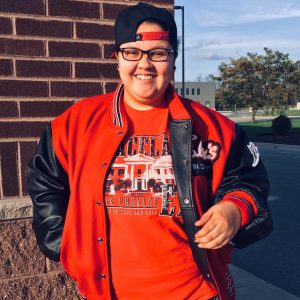 Holly Burgess graduated from the University of Wisconsin–Parkside with a BA in English in 2015. She received her M.A. in English from Marquette University in May of 2018. She is currently an English doctoral student at Marquette University.