Laura
Blood spurted in an almost comic arc as the girl's bread knife plunged into the boy's chest. He moaned, staggered, fell, and then dissolved into giggles at the eighth thrust. The girl blinked and stared out into the audience.
Laura Hershlag sat in the middle of the auditorium, every seat to herself. She exhaled loudly and jabbed her forehead with her fingers, the eight bracelets on her arm clacking together with disapproval. "Jake?"
"I'm sorry, it tickles," said Jake as a techy lifted Jake's shirt and looked at the blood packs, most of which had deployed.
"The blood okay?" the techy shouted.
"It's a little… maybe pull it back twenty percent. Nancy, can you try to stab him some place he isn't ticklish?" asked Laura.
Sam had been watching the rehearsal, rapt, for the last fifteen minutes. The play took place in a Nicaraguan Village where a slimy C.I.A. operative was trying to recruit people to the Contras. He gave them illustrated handbooks on how to ice pick fuel lines, make Molotov cocktails and torture and kill anyone loyal to the Sandinistas. The C.I.A. scumbag, whose name was Dale and who was covered with burns he'd received doing something nefarious in Chile, attempted to rape a sixteen-year-old Nicaraguan girl who then stabbed him to death. Sam did not think it was a very good play, but he marveled at the lavishness of the production.
"She's not doing it right," Sam said.
Laura snapped her head around so quickly one of the four large hoop earrings hanging from her left lobe nearly hit Sam in the nose. Sam nudged his chin in Nancy's direction. "She needs to keep the blade horizontal if it's supposed to slip through his ribs, which it would need to, a knife that size, a girl her size, to cause the kind of blood you're showing. More believable would be if she hit an artery in the neck."
"Who are you?" Laura asked.
"My name's Sam Gregory. You Laura Hershlag?"
Laura took in Sam's buzz cut and build. "Oh, god, what are you, like, some sort of asshole from the government here to shut us down?"
Sam blinked, baffled. "You think the government's worried about a high school play?"
"Laura?" said Jake, eyeing Sam nervously.
"I can handle this," Laura said, not taking her eyes off Sam. "You don't scare me. When people find out about all the torture and killing and other illegal shit Reagan's been funding in Central America, he's getting impeached."
Sam shrugged. "Doesn't sound like the kind of thing a president gets impeached for but I'm not here about your play. I'm here about your video."
Laura's eyes flashed. "What?"
Sam held up the videotape and saw the color drain from Laura's face.
"Any chance you can cut rehearsal short?" Sam asked.
Laura did, then quickly gathered her things and speed walked to her room. Sam followed her in silence. She stood nervously in her doorway wind-milling her arm for him to hustle inside, two dozen homemade bangles hula-hooping about her wrist. Sam entered and she quickly shut the door after him.
Laura folded her arms and stared at Sam for a few moments, fuming. Her eyes flicked at the videotape. "What is that?" she said.
"Uh… " Sam hedged demurely. "I guess the most polite thing to call it would be a home movie."
"Why do you have it and what do you want?" Laura said.
"I have it because I'm looking for a kid named Dale Lauferson," Sam said. "It was in his room. He was not. I want to know where he is."
"I don't know," said Laura.
"You sure?" Sam asked, jiggling the tape. "This makes you two look kind of close."
She made a grab for the tape but Sam pulled it away. "I get some answers you get the tape."
Laura wrapped her arms around herself, stormed over to a couch and sat. "I don't know where he is! We broke up months ago! Honestly, I don't care if he's dead!"
"I don't blame you," Sam said, holding up the tape. "This why you broke up?"
"No," she said. "I just found out about that the other night."
"You saw Dale the other night? What did he want?"
Laura clawed at her left arm and looked around the room.
"Help with this paper we have to write," she said.
"Really?" said Sam, fascinated. "On what?"
"Paradise Lost," Laura said. "It's this poem by Milton about the Fall of—"
"So Dale," Sam interrupted, "the campus drug dealer, was so worried about the grade he was going to get on his English paper that he decided to blackmail you for help on it with this sex tape?"
She shrugged and cleared her throat. "He's a weird guy."
Sam sighed and headed for the door. "I'm just going to give this to the headmaster—"
"Please!" Laura said. "Please, no!"
"A few days after getting his idiot friend to steal a rare book for him," Sam said, "Dale shows up and tries to blackmail you into doing something for him. It wasn't his homework. Are you hiding the book for him?"
"No."
"Your daddy some rare book collector willing to buy it off him on the sly?"
"No."
"Well, what the hell did Dale want?"
"A necklace, all right!"
Sam blinked at her, baffled. "Huh?"
"I make jewelry," she said. "Dale made me make a necklace for him."
"What kind of necklace?" Sam asked.
"I don't know! It was something he found in that fucking book he stole, okay?" She began rooting through her drawers.
"What?" Sam asked.
"The book has instructions on how to make this necklace. He sure wasn't into any of that witchy shit when we were dating."
"Witchy shit?"
"Whatever it is. I mean, he said some weird spell over it while I was making it."
"Spell?"
"What it sounded like."
"And you have no idea why he's doing this?"
"Don't know, don't care." Finally, in one of the drawers, she discovered a clay mold for a necklace which she handed to Sam. "Here's the mold I made for it. I don't know or have anything else. I swear. Can I please… Please?"
Sam gave her the videotape. She took it and continued to look anywhere but directly at Sam. "I'd appreciate you not telling anyone about this," she said.
"Don't worry," Sam said. "And don't be so embarrassed. Not like you're the first girl who's fucked a loser to get back at her dad."
Laura straightened and folded her arms across her chest. "I did not have sex with Dale to get back at my father."
Sam shrugged and lit a Kent. "Look, when I wanted to rebel against my dad I went to war," Sam said. "At least you didn't kill anybody." With that, he was gone.
---
About the author: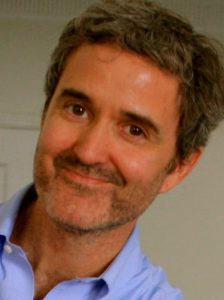 An Emmy-nominated television writer with over forty produced scripts, Stephen Lloyd lives in Los Angeles with his wife, daughters and dog. This is his first novella.