Trick or Treat
It was one of those crisp, cloudless, late October mornings in New England which clarifies all the appeal of the place.  It made you want to go apple picking, visit cider mills, play touch football, jump into leaf piles, and it made Sam want to swallow his gun and accent the vibrant colors of the foliage with his brain matter. The energy of the rosy-cheeked children crunching over brilliant red dogwood leaves, the smell of split maple tree logs and balsam firs, the bracing chill, the crystal clean air— it all set his teeth on edge. A silent, wan figure, marching across the quad in a long dark coat, combat boots and sunglasses, a cigarette clenched in his lipless frown, he felt like a creature of the underworld, sent by death on some terrible errand to this ghastly realm of sunshine and life, and no more comfortable in it than a snail in a salt mine.
It had been a bad night. Despite the meds, he kept waking up in cold sweats, more and more of the bedding flung wild by his thrashing, until finally, at about 4 A.M., he seized awake, his pulse about one-twenty, on a completely denuded mattress. He gave up on sleep after that.
Once the sun was up, he showered, dressed, and headed to the cafeteria.
"I.D.?" the cashier said.
He didn't even slow down. Just hopped the turnstile, ignored the cashier's monotone threat to call security, wordlessly filled a twenty-two ounce soda cup with coffee and left. He was nursing the dregs of it now as he trudged across the quad looking for the address Jimmy had given him.
So absorbed was Sam in his brooding that he didn't at first notice the small figures breathing heavily into masks stalking him. As they drew closer, though, he felt them and turned.
Six ten-year-olds stood before him. Each wore a grotesque papier-mâché mask and a black cloak. Each cloak had a different word stenciled across the back: greed, sloth, pride, lust, envy, and gluttony.
Pride strode up to Sam. He took a giant chocolate bar out of a shopping bag and thrust it at Sam like a priest trying to subdue a vampire with a crucifix. "Would you like to buy some chocolate?"
Sam stared slack-jawed at this confusing tableau. "Huh?"
"We're trying to raise money for our play," the boy said, "The Seven Deadly Sins."
"Oh.  Uh… I try not to eat chocolate. Sugar's bad for you."
"Cigarettes are bad for you," Gluttony said.
"Yeah, well, you kids start selling cigarettes, I'm in," Sam said. "Can you tell me where Hastings House 314 is?"
"Yes," said Pride. "Are you sure you don't want to buy some chocolate, sir?"
They stared at each other. Sam sighed and got out his wallet. "Shaken down by ten-year-olds. That's staying out of the report."
Pride took Sam's money, handed him a giant chocolate bar and pointed to a red brick building a hundred feet away next to a clock tower. "That red building.  314's on the third floor."
"Thanks," said Sam. "Hey, where's the seventh?"
"Seventh what?" asked Sloth.
"Sin," said Sam.
"Missing," said Lust.
"Missing?" said Sam.
"Our friend, Gabriel. Nobody can find him," Greed said.
"He might have run away," said Envy.
"Run away where? You're on an island," Sam said. "You tell your teachers this?"
"Yeah," said Pride. "They said—"
The boy's head jerked back and a hole opened in the forehead of his mask.
Sam whirled around looking for the shooter.
The boy staggered but did not fall. He shook off the blow and removed his mask. A welt was rising just below his hairline which he began to rub. He then looked at the mask, saw a hole right between the eyes and began to scream.
From a window on the third floor of Hastings House, Sam spotted the glint of an air rifle.
"Hey!" Sam shouted toward the window.
The rifle disappeared. In seconds, Sam had darted into the entryway and was charging up the steps.
Sam burst into a dorm room and saw the tall, skinny kid with the Ronald Reagan button he'd seen get slapped the day he arrived. The kid was affecting such intense, eye-popping absorption in the textbook he was reading that he couldn't bother to look up when a strange man slammed open his door so forcefully that it bounced off the wall. The kid was 6'3" easy but looked to weigh no more than 120 pounds. He wore a dark suit so short that Sam could see an inch of painfully white calf peeking out over his argyle socks. His glasses were aggressively large with thick black rectangular frames. His hair had what looked to be some sort of industrial grease in it and was angrily slicked over his forehead to cover a large constellation of acne.
"The fuck's wrong with you?!" Sam roared at him.
"Who are you? What are you doing in my room?" the kid said.
"Are you fucking nuts?! You almost put that kid's eye out!" Sam shouted.
"You know, I don't appreciate that language. But I didn't shoot at those kids who were unharmed and deserved it anyway," the kid said licking his index finger and turning a page so violently he almost tore it from the book.
"Give me the BB gun," Sam said.
"How dare you?" said the kid. "I don't know who you are. I didn't invite you into my room. Now, please leave before—"
Sam caught the kid by his very prominent Adam's Apple and lifted him out of his chair. He locked eyes with him as the kid sputtered and gagged and clawed at Sam's hand, his face purpling and his eyeballs straining in their sockets. "Give. Me. The. Gun."
Sam dropped the kid back into his chair. The kid gasped and tried to get to his feet. Sam leaned into him and the kid thought better of standing. The kid grabbed an air rifle from under his desk and threw it at Sam.  "Here!  Maniac."
Sam caught it by the barrel and planted the butt on the ground at parade rest. 
"Who are you?" asked the kid.
"I'm a detective for an insurance company," Sam said. "Know anything about a rare book, just got stolen?"
The kid pressed his glasses up the bridge of his nose and folded his arms. "I'd like to see some identification, please."
Sam raised the air rifle and shot the kid in the kneecap. The kid pitched forward, his mouth open in a silent howl, and began rubbing the hole in his dress pants.
"Know anything about a rare book, just got stolen?"
"No!" the kid squealed.
"What's your name?" asked Sam.
"Charles… Dunder… man," said the kid.
"I'm in your room. I can find out your name," said Sam.
"Bernard Sandoval," said the kid.
"You know Dale Lauferson?" asked Sam.
"He lives across the hall," said Bernard.
Sam crossed the hallway and rapped on the door. There was no answer and the door was locked.  
"Any idea where your buddy Dale is?" asked Sam, returning to Bernard's room.
"He is not…" Bernard said, whipping over a page of his book for emphasis, "my buddy."
"Why's that?" asked Sam.
"Because he's a menace," answered Bernard, "because he constantly uses my prescription face soap even though he says he doesn't, he's always painting penises on my scholarship awards and he keeps buying chocolate from those little monsters and leaving it in plain sight just because he knows I have a medical condition which prevents me from eating it."
"He buys chocolate from little kids?" Sam said. "Wow, the guy does sound like a dick."
"He shouldn't even be here," Bernard muttered into his book.
"Why's that?"
"He's one of the charity cases like those animals selling chocolate down there."
"Dale's one of the foster kids here?"
"They don't pay and that jacks up tuition for the rest of us."
"Your parents having trouble swinging your tuition, Bernie?"
"No, and it's Bernard, and it's just, it's… I don't see why we have to pay for them. Sorry to break it to you but the sixties are over! Your generation may have wrecked the country with orgies and drugs and sit-ins and all that bleeding-heart-hippie crap, but we believe in responsibility now."
"So you looked at this haircut and assumed I was a hippie?" Sam said, thumbing at his high and tight.  "Wow…  You should be the detective, Bernard." Sam looked at the kid's Reagan button, thought about him getting slapped, thought about him shooting BB's at orphans and contemplated the special terror of being invisible. This kid's only hope of being noticed was to attack everything that was denied him.  No one wanted to party with him so partying was the enemy. No one wanted to have sex with him so sex was the enemy. No one liked him so compassion was the enemy. His reactionary stance was nothing more than an outcast's sour grapes, his obnoxiousness the only alternative to being utterly ignored. If he hadn't just caught him plinking a ten-year-old in the face, Sam might have felt sorry for the kid.
"Prescription face soap?" Sam said as he headed for the door.
Bernard continued pretending to read. "I would appreciate your not making light of my medical condition."
"What medical condition?"
"I have overly active sebaceous glands."
Sam snorted. "So, zits."
In the hallway Sam heeled Bernard's door shut. He looked around and took a small leather pouch out of his pocket. He selected one of the picks inside, coaxed open Dale's lock, stepped within and quietly closed the door behind him.
It was not the room of a poor kid. He had a high-end turntable, a giant color Trinitron, ColecoVision video game console and a Betamax.
Oddly enough, he also had a large canister vacuum cleaner. The room was certainly tidy. Immaculate, in fact. On a recently Lemon-Pledged bookshelf Sam found a yearbook and looked up Dale Lauferson. Skinny, handsome in kind of a sleazy way. Ice blue eyes and a mop of curly, brown hair. His interests and activities included nothing. Sam began going through Dale's drawers and desk, kicking through the closet, patting the floor and walls for any loose slats, looking under the bed, under and in the mattress. No book.
Then Sam's eyes fell on a large pyramid of giant chocolate bars carefully stacked on a bookshelf next to a bible.
The top three bars were, in fact, chocolate. The next ten contained vacuum-sealed bricks of pot carefully covered with gold foil and re-sleeved with chocolate wrappers. None of them contained a stolen book.
Two, however, contained unmarked videocassettes wrapped in cellophane.
Sam turned on Dale's TV and Betamax and popped in one of the tapes.
The camera panned and tilted until it settled on the painting of Alderhut over the safe in Ms. Lee's office. Dale entered frame and deliberately skewed the painting. Then Dale began dusting.
Sam heard a door open and close. Ms. Lee entered frame, sat at her desk and pointed at the camera. "What's wrong with it?" she asked.
"I don't know.  I took off the hose, there's no blockage. Maybe a fuse," Dale said.
"Well, it can't be the only one on campus," Ms. Lee said, "and I want this room clean so talk to Mr. Speck."
"Yes, ma'am," Dale said. He grabbed her waste paper basket and emptied it into a janitor's bin which he trundled away. Sam heard the door open and close again.
After a minute or so, Ms. Lee looked up with a frown and turned her head to see the painting of Alderhut. The sight of it so noticeably off-kilter made her jump slightly. She looked around nervously, removed the painting and opened the safe. Sam saw the combination clear as day. Ms. Lee did a quick inventory of the books within then shut and locked the safe. She put the painting back, leveled it, and worried her chin with her hand for a bit as she looked about fretfully. Finally, she settled back into her chair and resumed her business. 
So. Dale had scooped the combo then outsourced the burglary to Jimmy. Pros and cons to that for Dale. On the pro side, the dirty work was done by Jimmy and if he got caught the problem was all his. Sam had looked into Dale's whereabouts the night of the burglary and discovered he'd signed up to work a faculty party at the headmaster's house; forty people had seen him. And if Jimmy said Dale put him up to it, well, Jimmy's word against anyone probably didn't carry much weight since he was a stoner and an idiot. And that, of course, was the con side. The problem with needing someone to be stupid enough to steal something for you is that you have to rely on someone who's stupid enough to steal something for you.
Sam popped the second tape into the VCR. It appeared to have been made here in Dale's room and featured him having sex with a pretty brunette. It was clear from the unselfconscious way the girl gave herself to the various acts, to the love in her eyes and to the obvious indifference she had for the frame, that she was unaware of being videotaped. And it was clear from Dale's deliberate positioning and to his rather mannered performance that he was very much aware he was on camera. Sam thought at first that Dale was covered with tattoos which had been hidden by clothes in his yearbook shot. Then he realized they were scars, burn scars, over most of his body. Whatever had happened to this kid, it was a miracle he was still alive.
Sam tracked the position of the camera to the vacuum cleaner, opened the canister and saw a Betamovie video camera seated inside it, the lens of the camera lined up with the vacuum hose port.
Sam returned to Dale's yearbook and flipped back to his picture. Written next to it was a gushing love note full of inside jokes and signed "Laura." Sam began scanning the yearbook for Lauras and found Dale's co-star:  Laura Hershlag.
She'd been easy to find.  There were pictures of her playing the piano, directing plays, editing the newspaper, making jewelry, winning debates… the activities section was more or less a collage dedicated to her over-achievement. Sam ejected the sex tape and pocketed it.
"The second Dale comes back to his room," Sam said, pressing his card to Bernard's forehead where it stuck, "you call me. You do not tell Dale. You deviate from these instructions, I have a little word with the headmaster about your target practice."
"I only hit one of them," Bernard whined.
"You're an angel," Sam said as he grabbed the air rifle and headed out the door.
---
About the author: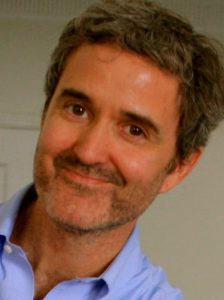 An Emmy-nominated television writer with over forty produced scripts, Stephen Lloyd lives in Los Angeles with his wife, daughters and dog. This is his first novella.