Jimmy's Room
Jimmy hung up the phone and took another bong hit. Even through the mellow from his nicely decelerated synapses he was beginning to wonder if calling that cop dude had been such a hot idea.
But you know what, fuck Dale, he thought. Jimmy had tried to do right by him, give him a heads up, split most of the money with him, but Dale decided he was some sort of badass, stepping to him in the woods and talking a bunch of shit about him dying. Fuck that guy.
As long as he could remember, Jimmy had taken shit from people. Whether it was his mom making fun of his "shit-brown eyes," his older brother lifting his shirt up and jiggling his belly in front of everyone at Sebago Lake (that hot girl from the Clanderson family he had a crush on nearly pissed her tennis whites she was laughing so hard), Señor Jiménez stapling his puka shell necklace to the desk when he fell asleep in Spanish class (a fucking teacher did that!), those self-righteous shit heads at NA, that cop dude…
But Dale? Who the fuck was Dale? If they knew for one second the shit Dale was up to, if Jimmy breathed one word of it, Dale would be out on his ass and where the fuck would that be? He had no family, so what did that leave? Juvey? The fucking street? And he thought he could get in Jimmy's face like that? Well, fuck that guy. Fuck him twice. Fuck him, eat him, and shit him out like the turd he was.
Jimmy took another bong hit and sat down to study. Yes, study. Maybe everybody thought he didn't care about his grades but he did. There was a quiz tomorrow in biology and he intended to get an A. He uncrumpled the test results he'd paid ten bucks for and started to memorize the answers: A, C, D, A, D, A, B, B, B…
There was a loud thump. Jimmy looked up. No more thumps followed however, so Jimmy returned his attention to the test answers.
After a moment, though, there was another thump. It came from Jimmy's closet. He frowned, threw his pot into a desk drawer and opened the closet door.
On the floor of the closet was a large heap of clothes. To Jimmy's horror, the heap was moving. Jimmy closed the door, put his back to it and tried to think. He was entirely unsure how to proceed. He didn't know why his clothes had suddenly started to move, wasn't even completely sure he'd seen what he thought he saw, but he was pretty sure he should investigate further. He grabbed a lacrosse stick, re-opened the closet door, and visually confirmed that the heap of clothes was indeed moving. Not much, just a little, slowly pulsing up and down as if it were breathing. Jimmy choked up as far as he could on the lacrosse stick and gingerly prodded at the heap. He missed with the first two prods but connected with the third.
Something lashed out of the heap with a yowl. Jimmy jumped back, one foot landing in a waste paper basket, and clattered to the floor, crushing a ukulele.
Ms. Lee's cat, Crowley, stared at him.
"The fuck are you doing here?" Jimmy said and then paused, as though genuinely expecting a response. "Get out of my room!" He threw the mangled ukulele at Crowley. The cat darted out of the way, turned to growl at him, then hissed and jumped out Jimmy's window.
Jimmy shook the waste paper basket from his foot, stood up and closed the window. Behind him, something large and dark silently crossed his room. Jimmy felt it and turned, but it was no longer there.
Something was giving him the creeps and it was killing his buzz in a way he did not appreciate. He closed the window, locked it, double-checked that he'd locked it, unlocked it, thinking he was locking it, then double-checked and locked it again. He went through the same routine with his door, then went back to his window, and was back at his front door again when he heard a scraping sound coming from his bathroom: claws on tile.
"Who the fuck's in there?"
No one answered. Jimmy grabbed the lacrosse stick and tip-toed toward the bathroom. He took a few deep breaths then lunged inside with a war whoop.
Shielding his face, he flailed about with the lacrosse stick like a musketeer slashing at opponents on all sides. After dashing most of his toiletries into the sink and ripping a World Series of Rock poster above his john, he opened his eyes but left the lacrosse stick raised and ready.
He saw that the shower curtain was closed. He girded himself with a few more deep breaths and batted at the curtain until it opened.
The tub was empty but the faucet was leaking, its slow echoing splat the noise which had drawn him in. He twisted the tap shut and noticed that the window above the tub was open. He looked out the window, saw nothing but an empty roof, slammed the window shut and locked it.
He was about to leave the bathroom and make sure he'd locked his front door again when something in the toilet caught his eye. It appeared to be a writhing snake. He was shuffling out of the bathroom, his back pressed against the wall farthest from the toilet, like a mountain climber on a six inch ledge, when he realized that the thing in the toilet wasn't moving. Nor was it a snake but merely his electric razor knocked into the toilet during his dervish-like brandishing. He pulled the razor out of the john and stared at its vaguely fang-like blades, its cord twisted behind it like a tail. He beheld the razor like an archaeologist studying a shard of Sumerian pottery just pulled from a dig, tilting it this way and that and watching, fascinated, as water spilled from its innards. "I got to stop partying," he told the razor.
He would not get the chance. The bathroom door creaked open, and before Jimmy could look up, something had opened him from love handle to love handle. He tried to keep his intestines from spooling out with his hands while something lifted him and sent him crashing into the tub. He clawed his way to his feet, his face pressed against the window above his tub, as he was slashed again and again and again.
The last thing he saw, perched on the roof outside his window like a gargoyle locked in permanent witness, was Dale.
---
About the author: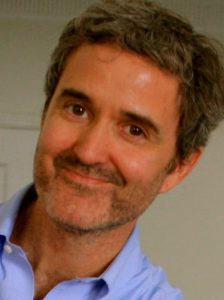 An Emmy-nominated television writer with over forty produced scripts, Stephen Lloyd lives in Los Angeles with his wife, daughters and dog. This is his first novella.