Jimmy's Call
Hot. So fucking hot. Hard to believe it's planet Earth. Shit, maybe it isn't. How can it be raining and this hot? Sommers is screaming at a kid. Farmer. Maybe fourteen. Frozen, staring at Sommers, his mouth wide open, too scared to drop the basket he's holding. Sommers has his M16 in the kid's face, keeps screaming at him to drop the basket, but it's not like the kid knows English, Woods says. Woods tries to pull Sommers off, and now it's a fight, but Cooper finds it funny for some fucking reason. Then the flash of something metal across the river. Half of Sommers's face explodes in a frothy pink and white mist and a giant red blossom opens across the front of Lieberstein's pants and Lieberstein screams and I hit the dirt and the kid takes a grenade out of the basket and pulls the pin as I leave a smoking hole in his forehead and he arches in a backward swan dive as the grenade rolls from his hand and it explodes in a geyser of mud and limbs and Cooper shouts into a radio and then the earth caves in and I'm swimming in mid-air falling towards a horizonless ocean of orange magma and—
Sam flinched upright at the sound of the phone on his nightstand ringing. He wiped the sweat off his face and hands and scrambled for the phone.
"Sam Gregory."
Across the quad, Jimmy, his phone to his ear, paced a small circle in his room, stepping on and off heaps of dirty clothes, empty chip bags, cassettes and unused textbooks. "Come on, answer," he whispered.
"I did answer," Sam said.
Jimmy almost twisted his ankle falling off a stack of sweatshirts. "What? Hello? Somebody there?"
"This is Sam Gregory. Can I help you?"
"Oh, hey, it's Jimmy Butler. You're the guy from today with… outside the… you grabbed my fingers?" Jimmy took a bong hit and looked at the bag of pot Dale had given him, now considerably lighter.
"Evening, Jimmy."
Jimmy sifted through his pot on top of a Spanish grammar workbook with a creaseless spine and refilled his bong. "I was thinking about your offer. The one you said expires at midnight?"
Sam looked at the clock radio by his bed. "It's 2:05." 
Jimmy straightened, startled. "Really? Fuck."
"You have the book?"
"No, but I know who has it," Jimmy said.
"Who?" Sam asked.
"I still get the money, right?" Jimmy asked. "I mean, I tell you where it is, that's pretty much like handing it to you, right?"
"If it's where you say it is and I get it without any hassle, sure, the money's yours," Sam said. "So, who has it?"
"You can't tell him I told you, though, right? 'Cause we're sort of friends and he's, like, really crazy."
"Fine. Who are we talking about?"
"The guy I gave the book to," Jimmy answered impatiently. "Are you even listening to me?"
Sam took several breaths before saying anything. "For the fourth fucking time, Jim, what's his name?"
"Dale. Lauferson. He's in Hastings House 314."
Sam flipped open his notebook and wrote. "Why'd you give him the book?"
"He wanted it, I don't know why. He won't tell me. You said no questions asked."
"Pretty sure I said something about putting it in my hands, you're just giving me an address," Sam said. "That entitles me to a few questions. Like 'why'd you give him the book?'"
"He said he'd give me some pot if I boosted it for him. I did. And that's all I know. Seriously. I don't know anything else. When do I get paid?"
"I'll check him out in the morning. If I get the book, you get your money."
"Why don't you check him out now?"
"'Cause it's 2:07."
Jimmy straightened, startled. "Really? Fuck."
"Good night, Jimmy."
Sam hung up and unplugged the phone. He lay wide-eyed on the twin bed of the room they'd given him and stared at the ceiling. After twenty minutes of that, he got out of bed and opened the Dopp kit tied inside two sweaters and buried at the bottom of his duffel. From the panoply of grade-A pharmaceuticals within, he selected a combination of meds he'd found effective of late, downed them and got back in bed. He was no longer dosing strictly as directed and this did occasionally give him pause, but he reminded himself that he was not after a recreational mood swing. He was just after sleep. He was just after slowing his mind, to the point where his thoughts did not race violently and vividly from image to image but drifted lazily: like vapor, like clouds, like feathers in a breeze, like notes from harp strings plucked with fingers made of starlight…
---
About the author: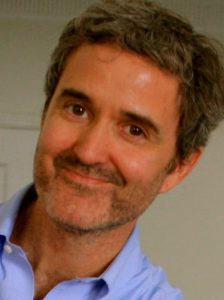 An Emmy-nominated television writer with over forty produced scripts, Stephen Lloyd lives in Los Angeles with his wife, daughters and dog. This is his first novella.