Dale
The soccer field was ablaze with the lowering autumn sun. From the shadows amid a rise of white pines behind the bleachers, Dale watched the players dart and kick, their breath pluming in great misty clouds. Dale was particularly interested in this scrimmage because he'd hurled a few pinecones onto the field before practice. He saw a forward step on one and collapse, clutching his ankle. Dale smiled.
For as long as he'd been at Danforth Putnam, Dale had been told how lucky he was. This place had been his home since his father had fallen asleep in a drunken stupor on the sofa with a cigarette in his mouth, started a fire, and killed everyone in the family but Dale. He was nine years old, sixty percent of his body covered with burn scars, his whole family charred like roasted marshmallows, and all anyone ever told him was how fucking lucky he was. Lucky to scrub the toilets, mop the floors, bus the trays, wash the dishes and all but wipe the fucking asses of the rich little pricks here who were too good for that sort of thing. 
One of those little pricks was sitting across from him.
Craig, he said his name was. He was fifteen, apparently, but looked twelve. His short hair was plastered to the side and he wore a crisp Oxford shirt, dress pants and penny loafers, all of which were too big for him. He looked like a forty-year-old who'd been zapped with some magic ray that made him a little kid again but left his clothes and hair all grown up.
"It's all about the statement you want to make about yourself as a man," Dale told him. He saw Craig give a little nod. The kid liked someone referring to him as a man. "The choice you make, it says something," Dale went on, opening his eyes wide and inclining his head as if he were sharing something important with this kid. "Says something to your peers, says something to you. Now…"
Dale took a quarter-ounce bag of pot out of his backpack. "This is the Toyota Corolla. Nothing wrong with the Corolla, it's reliable, it'll get you where you want to go, but it's going to be an uneventful ride and will impress no one."
Dale took another quarter-ounce bag of pot out of his backpack and placed it next to the first. "This is the Beemer. Smooth, clean, a cut above the Corolla to be sure. But then there's…"
With palpable reverence, Dale lifted a third quarter-ounce bag from his backpack and placed it lovingly next to the first two. "The Ferrari. Some men can't handle all that speed and power, but the ones who can, this says something about them. It says confidence. It says only the best for them. And girls… wow… you take a girl on this ride with you…" He broke into an intense whisper. "You won't be able to pry her off you with a stick."
Craig licked his lips and swallowed. "How much?"
"Fifty," Dale answered.
"I got thirty-five," said Craig.
"The Beemer's good," Dale said, chucking the other two bags into his backpack.
As Craig reached for his wallet, the sound of twigs snapping and something lumbering toward them through the woods brought the exchange to a halt.
"Hey, buddy," Jimmy said.
"Shit!" Craig said and bolted off like a frightened deer, leaving one of his penny loafers behind but not, Dale noted with disappointment, any of his money.
Dale leapt to his feet and gave Jimmy a shove. "The fuck are you doing?" he shouted.
Jimmy staggered back, his hands held high. "What? Sorry. Didn't mean to scare the kid." He laughed.
Dale didn't. "What do you want?" he asked.
"Um…" Jimmy rubbed his thighs and looked around. "I was wondering if I could get that thing back from you."
Dale frowned. "What thing?"
"That, that book you wanted me to get," Jimmy mumbled.
Dale blinked at Jimmy for a few seconds then smiled. "Why would you wonder that?"
"It's just… people are looking for it now," Jimmy said.
Dale straightened, looked around, and got a little closer to Jimmy. "What people?" he asked quietly.
"Just, you know, word's out it was stolen and I think we should give it back before we get into some serious trouble," Jimmy explained.
"Ah," said Dale. "And are we planning to give me back the weed I gave you to get it for me?"
"Well, I mean… look, a guy from the insurance company said he'd give me two hundred bucks for it," Jimmy said.
"What?" Dale asked, his voice dropping an octave.
"I'll totally split it with you," Jimmy said quickly.
"You told some guy you stole it?" Dale asked.
"No, he just thinks I stole it," Jimmy answered.
"Why?" Dale asked.
"I don't know," Jimmy said, "but he said if I give it to him—look, he's not a cop, he doesn't give a shit, he just wants the book back. He said, it's like, he gets the book, he's gone, no one's in trouble, we just get two hundred dollars."
Dale stared at Jimmy for a long time, then smiled. "Sweet," he said.
"I mean, not bad, right?" Jimmy said, encouraged.
"I can never quite believe how stupid you are," Dale said.
"What?" said Jimmy.
"You honestly believe that?" Dale asked with quiet wonder. "You honestly believe you're going to be like 'Oh, yeah, sure, I busted into the library and stole this shit. Here. Where's my money?' How retarded are you?"
"Look, what do you want the damn thing for anyway?" asked Jimmy.
"Why, gosh, I don't see that's your business, James," Dale said and took a step closer to Jimmy. "Did you give him my name?"
"No," said Jimmy shuffling backwards.
"Good," said Dale, "because—and I want to be clear about this, Jim, so tell me if this is at all fuzzy—if you do, you'll die."
"What?" asked Jimmy.
"If you tell him my name, if you tell anyone I asked you to steal that book for me, you'll die." Dale repeated calmly, stepping closer and closer to Jimmy. "And not in a nice peaceful way where you fall asleep and never wake up. I mean violent, horrible, painful stuff where you're actually begging for death and it can't come soon enough."
"Okay, okay!" said Jimmy, now backed up against a tree and nearly nose to nose with Dale. "Jesus Christ, you don't have to be psycho about it! Forget I said anything!"
Dale stared into Jimmy's eyes for a few seconds, then smiled and stepped back. "Hey, we're friends, right? No need for it to be like this." He unzipped his backpack and tossed Jimmy a bag of weed. "On the house."
Jimmy stared at Dale warily. Dale smiled magnanimously and delicately swept the air with the back of his hand in a gesture of dismissal. Jimmy shook his head and crunched back off through the woods the way he came, examining the bag of pot. "Oh, man, the Corolla?" Jimmy muttered as he disappeared.
The soccer practice in the distance was disbanding, the embers of the fall foliage cooling as the sun vanished and the field joined Dale in shadow. This cop dude, whoever he was, would have to be dealt with. And Jimmy too, fucking wake and bake waste of space. Frankly, they would all have to be dealt with. He smiled as his eyes caught the last orange kiss of the sun and thought about this place and everyone in it burning. Every last one of them, he promised himself, would burn.
---
About the author: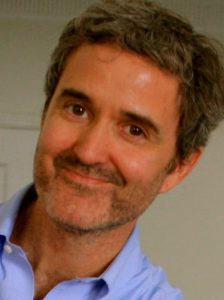 An Emmy-nominated television writer with over forty produced scripts, Stephen Lloyd lives in Los Angeles with his wife, daughters and dog. This is his first novella.