The Friends of Bill
"YOU'RE ONLY AS SICK AS YOUR SECRETS" was written on the chalkboard. There was a Rubbermaid tub full of sodas at the back of the room and a tray of cookies. No coffee, unlike any other N.A. meeting Sam had attended, and no smoking either (the tolerance of which had been, for Sam, N.A.'s most appealing feature).
The faculty moderator did not appear to be around, just a handful of fidgety teenagers sitting in folding chairs watching a handsome kid at the front named Scott talk about rolling a tennis ball in weed so he could train his German Shepherd to sniff out his stepbrother's stash.
A dry crunch brought everyone's attention to a plump, freckled kid with a mop of red hair biting into a stack of ten cookies. Scott stopped his share and addressed the redhead. "The cookies are for after, man."
"Sorry," said the redhead. His hand went out and back three times as he tried to decide whether to return the stack of cookies from which he'd taken a collective bite. In the end, he divided the spoils, returning half of the partly eaten cookies to the communal platter and jamming the other half into the pockets of his cargo shorts. Wrapped tightly around his right hand was a thick, filthy bandage.
The redhead brushed the crumbs off his tie-dyed t-shirt and took a seat in the back row next to a skinny blonde kid with large, moist eyes who stared straight ahead with the intensity of a bomb defuser. Sam quietly moved to a seat behind them.
The redhead looked at the fidgety blonde and smiled. "First meeting?" he whispered.
The blonde kid darted him a surprised look, then laughed and nodded. The redhead smiled kindly. "We've all been there. Jimmy, by the way." Jimmy extended his good hand.
The blonde kid shook it. "Edward," he said.
"How long you been clean?" Jimmy asked, fishing some broken cookie out of his cargo shorts.
"What time is it?" said Edward.
Jimmy chuckled with an understanding nod. "Why'd you quit?"
"Don't want to get expelled," Edward explained.
"Yeah, yeah," nodded Jimmy. "What's your thing?"
"Uh… weed, mostly," Edward answered.
"No kidding?" Jimmy said, looking around and edging a little closer. "'Cause um, I got the sweetest hook up."
"Huh?" said Edward.
"Expensive, but totally worth it," Jimmy explained. "And not expensive at all for how good it is. I can get you a half ounce for –"
Forty-five seconds later, Jimmy was bodily ejected from the meeting. 
"Jesus, I was just joking!" Jimmy said. "Would you guys relax?"
Scott shoved Jimmy in the chest, causing him to stagger backward and sit on the cookies in his rear pocket. Scott pointed at Jimmy's bandaged hand and said, "Come to this meeting again, the rest of you is going to need bandages."
"Wow, you know, nice," said Jimmy. "Maybe you should look into a program for your rage issues."
"I'm telling Mr. Forester, you fat shit-head," said Scott.
"And I'll tell him you assaulted me," said Jimmy, "twelve-step Nazi prick."
Several fuck yous volleyed back and forth before Scott and the rest of the faithful returned inside. Jimmy got to his feet and loped away muttering to himself. So preoccupied was Jimmy by his wound-licking and revenge fantasies that he walked right into Sam and bounced off him. "Jesus," Jimmy said.
"Not even close," replied Sam.
Jimmy stared at Sam puzzled and looked around for some qualifying presence, a tour group, a work crew, anything to provide a context for this buff, scary-looking guy with a crew cut. He found none. "Yeah, well… whatever, man," Jimmy said and bustled past Sam. To Jimmy's chagrin, Sam followed.
"You're lucky you tried that shit in a meeting for private school kids," Sam said. "Anywhere else, a couple Hell's Angels would be stomping on you right now, arguing over who got to keep your teeth."
Jimmy snuck a glance over his shoulder at Sam and quickened his pace. "Yeah, well, I don't know you or what you think you heard, but there was a misunderstanding. And that meeting's confidential anyhow, so how 'bout you stop following me now and go about your business of whatever the fuck you're doing here and leave me alone."
"How'd you hurt your hand?" Sam asked.
"Punching some weirdo who wouldn't leave me alone," Jimmy said. "Look, I don't know if you're gay, or crazy, or what the fuck, but I'm not—"
Sam caught up to Jimmy, grabbed his index finger, and with no perceivable effort twisted him into a painful joint lock. Jimmy gasped and fell to his knees. Sam peeked under the bandage on his hand. "Hmmm… Nah… You punch somebody wrong, you might hurt your wrist or your fingers. It wouldn't slice your hand like that. You slashed this on something jagged, like glass."
"Help! I don't know this guy! Help!" Jimmy yelled to the deserted alley behind the meeting hall.
"You hear about this burglary the other day?" Sam asked casually. "Somebody smashed through a window in the library and made off with a real valuable book. Looked like they cut themselves. Also, they had your size shoes."
Jimmy stopped wriggling and froze. "So fucking what? It wasn't me."
"Well, that's a shame, 'cause I'd give you five hundred bucks for it," Sam said. "No questions asked."
Jimmy twisted his head up to look at Sam, startled. Sam's face was upside down from Jimmy's inverted position, his grin twisted into a toothy frown. "Sure you would," Jimmy said. "You a cop?"
"Nope, I work for the insurance company," said Sam. "And that's super lucky for you because it means I don't give a shit about anything but getting that book back. It ends up in my hands, the person who got it there gets half a grand, end of story."
Sam released him and Jimmy staggered sideways, taking his shoulder into a brick wall. He groaned and rubbed it and shook out his hand but he didn't run. He just stared at Sam. "Jesus, you, like, sincerely fucked up my finger. I should sue your ass."
"Good luck," Sam said as he began writing the room and phone number for the guest quarters he was staying in on a business card. "I get the book back, you get the money, I leave. I don't get the book back, you don't get the money, I keep hanging around here seeing all sorts of shit that I may or may not tell the cops about. And they're not interested in making you any richer." Sam stuffed the business card between the cookie crumbs in Jimmy's pocket. "This offer expires at midnight."
---
About the author: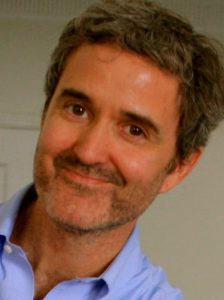 An Emmy-nominated television writer with over forty produced scripts, Stephen Lloyd lives in Los Angeles with his wife, daughters and dog. This is his first novella.