The Infirmary
A poster in the medical center read, "Don't Be A Butthead!" The poster showed a man with a cigarette filter for a head, crossed eyes, and a large mouth with smoke billowing out through his gapped teeth. Sam fought the urge to strike a match against it and spark up a Kent.
Sam wasn't sure the high school he'd gone to had a medical center. If it did, it was probably one drawer in the teacher's lounge filled with aspirin and Band-Aids. This place was more like a small hospital. Now, true, they were a boat ride away from a major city, so they had to be able to handle some stuff, but damn: two stories, eighteen beds, a pharmacy, a full-time staff—
Yet, no one had the time to talk to Sam.
"Dr. O'Megaly is with patients but as soon as she has a moment we'll let you know," the receptionist said.
"Can you tell her it's a little time sensitive but that I won't take long?" Sam asked.
"Sign in and we'll be with you as soon as we can," the receptionist answered in the irritating way receptionists have of not answering you.
Sam drummed his fingers on the desk in front of her for a moment then went and sat. The Asian kid with the orange Mohawk was in the seat next to him. He did not notice Sam at first, absorbed in whatever was pumping through his Walkman.
"What are you listening to?" Sam asked.
"The Germs," the kid said.
"They good?" Sam asked.
The kid shoved his earphones at Sam daringly. Sam put them on and heard Darby Crash sputter, "I'm a lexicon devil with a battered brain/And I'm searchin' for a future — The world's my aim/So gimme gimme your hands — Gimme gimme your minds/Gimme gimme this — Gimme gimme tha…"
Sam took the phones off and politely returned them. "Sounds like they don't know how to play their instruments."
"They don't," said the kid. "Well, they didn't. Smear does. I guess." Then, defiantly, "it's punk, man.  Sorry not everything's disco."
"Yeah, that's my scene," Sam said. "Disco."
"Not everyone wants to listen to stupid love songs all the time," the kid went on. "There's other stuff going on."
"I've heard," Sam said. "What brings you to the infirmary?"
"My tongue stud's infected," the kid said.
"Gross," Sam said. "Well, peer pressure's made me do stuff to myself, too." He extended his arm and showed the kid a tattoo of a snake wound about the words Semper fidelis. "My whole unit got these, snake and all."
The kid frowned. "I didn't get this 'cause of peer pressure."
"I'm not judging you, kid. It's only natural to want to fit in. I mean, I hope it was peer pressure. Otherwise, you just like driving spikes into yourself. Also, I'd come clean to the doctor, I was you."
"Huh?" asked the kid.
"Your tongue stud's not infected," said Sam, "but judging by the way you keep wincing and shifting your weight, I'd guess the one in your pecker is."
The kid almost leapt out of his chair.
"All I'm saying is, you try to spare yourself some embarrassment by saying your tongue stud's infected in the hopes she gives you some antibiotics that work on your dick, suppose she gives you the wrong kind?" Sam asked. "You don't want them having to cut the thing off. Or maybe you do. Shit, you jammed metal through it, what do I know?"
"You were asking to see me?"
Sam looked up to see a brunette in a lab coat staring at him with her arms folded. Her silky brown bob curled under her chin and a few wisps on the right brushed her mouth. Sam envied them. She had plump lips, high cheekbones, olive skin and huge brown eyes flecked with fire and smoke. "You're Doctor Fran O'Megaly?" he asked.
"Yeah, and you're…?"
"Sam Gregory," he said, standing and putting out his hand. "I'm an insurance investigator, here about that stolen book."
Dr. O'Megaly frowned and cocked her head. "Oh… from Ms. Lee's office?"
"That's it."
"What can I do for you?" the doctor asked.
"Just have a few questions, shouldn't take much time."
She sighed and looked at her watch. "I'm a little booked up but if you don't mind sticking around for a half hour or so I can try to squeeze you in."
"No problem," Sam said grabbing a magazine. "I can catch up on my Weekly Readers."
"Enjoy," the doctor said. "Haruki," she said looking at the punk rocker who quickly gathered his things and trotted after her. Haruki looked nervously back at Sam before he disappeared into one of the examination rooms. Sam gave him a thumbs-up and what he hoped would be interpreted as an encouraging smile. Despite his best efforts, Sam usually came across as snide even when he didn't mean to.
***
Dr. O'Megaly paged through a folder. "Jock itch, ringworm, Osgood-Schlatter, water on the knee, flu, poison oak reaction, twisted ankle, pink eye, yeast infection, and strep." She closed the folder. "No lacerations of any kind this week. Though, honestly, if I had stitched somebody up I couldn't tell you who. Doctor-patient confidentiality and all that."
"Even if he cut himself committing a crime?" Sam asked.
She shrugged. "Kid walks in here with a bullet lodged in him, I gotta call the cops. Kid walks in showing obvious signs of abuse, I have to contact a social worker. Kid walks in pregnant, I need to inform the parents. Beyond that, for the most part, I'm supposed to keep my trap shut."
"Who do you call if a kid walks in pregnant with a bullet wound, showing signs of abuse?" Sam asked.
"A career counselor," she said, brushing her hair back, "'cause I'm outta here. Nice tat." She nodded at his arm. "Youthful rebellion?"
"Rank conformity," Sam said pulling back his sleeve to show the Semper Fi, "my whole unit got them."
"Why'd you join the marines?" she asked.
"Youthful rebellion," he answered.
Amid several posters about the importance of hygiene and flossing and of avoiding drugs and sex, Sam's eyes fell on a poster with four concentric circles: red, blue, green and yellow. The yellow circle in the center had what looked like crosshairs over it and circumscribed the letters NA. Below it was a phone number. "There's a Narcotics Anonymous meeting here?" Sam asked.
"Yeah," said Dr. O'Megaly. "You looking for a meeting?"
Sam had lost a couple years after he returned from Vietnam to all manner of controlled substances and the recovery program at the V.A. came with a twelve-step. He stopped going when he couldn't take the higher power bullshit any longer. Sam didn't know if there was a higher power, but if there was it sure as shit didn't care what he was up to and he resented pretending otherwise. "Just surprised to see this at a high school."
She shrugged. "Teenagers take drugs."
"School doesn't boot 'em out for that?" Sam asked.
"A lot of kids show up before they get caught. They just want some help."
Sam bit his lip and looked at the poster. He thought about the burglary. Guy has the combination. He (or she) can bide his time, wait for Ms. Lee to call in sick, leave her door unlocked when she goes to the can, give him some opening, but no. He busts through a glass window, doesn't even take enough precautions to stop from cutting himself, tracks blood and mud all over the carpet—that sounded like the reckless impatience of an addict. Sam knew it well. "Are outsiders welcome?"
---
About the author: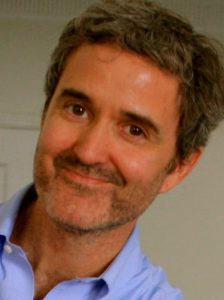 An Emmy-nominated television writer with over forty produced scripts, Stephen Lloyd lives in Los Angeles with his wife, daughters and dog. This is his first novella.