Fallen
Rich kids, he thought. Must be nice. He ducked as a Frisbee nearly clipped him, and the headmaster, Thomas Arundel, scowled at the thrower who grimaced, drew his shoulders up to his ears and skulked away.
"What makes you think it was a student?" Sam asked the headmaster.
"Just a hunch," said the headmaster, "but form your own opinions. You're the investigator." The headmaster nodded at a smoking hot thirty-year-old brunette in a white lab coat crossing their path through the campus. "Doctor," the headmaster said.
"Headmaster," she said in a smoky voice that snaked down into Sam's guts. She gave Sam a crooked smile and was gone. Damn, thought Sam. Hope I get to talk to her.
"And the reason you called a private eye and not the cops?" Sam asked.
"Discretion," answered the headmaster. "The video makes it look as though our pastor is casting some sort of spell over one of our seniors, who then, in a trance, performs a sexual act on him. The West Cabot cops are as likely to post the damn thing on the Internet as they are to find out who made it."
A short, stout woman with a collection of pink, jiggling chins, strutted past them followed by a line of young kids, too young for high school, Sam thought, and dressed kind of shitty for a place this swank. "Any of you guys seen Brian?" one of them whispered to another. Ms. Lee stopped abruptly. They bumped into her like a compressed spring, and she hushed them loudly.
"Even if they did, how much damage could it do you?" Sam asked. "I mean, how real does it look? People really going to think your pastor can cast spells?"
"It's more an issue of publicity we just don't need," the headmaster said. "We like to keep things contained."
"Well, I guess I should start by talking to the pastor," Sam said, lighting a cigarette. "Man, I can't remember the last time I was in a church."
The headmaster chuckled. "I'll lead the way."
A soccer ball strolled into their path, and Sam kicked it back to its owner.
"I understand you had a pretty tough go of it in Afghanistan," the headmaster said.
Sam shrugged. "War is Hell."
The headmaster nodded. "Indeed. And how long have you been doing what you're doing now, Mr. Gregory?"
Sam gave a weary sigh. "Sometimes it feels like forever."
The End
---
About the author: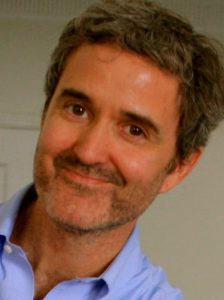 An Emmy-nominated television writer with over forty produced scripts, Stephen Lloyd lives in Los Angeles with his wife, daughters and dog. This is his first novella.