The Gathering
When Sam came to, he was sitting in the middle of a pentagram. Dale's pentagram had looked like the child's version of this one. The candles dotting each angle were three feet tall, set on thick silver sticks filigreed with golden fractals and inlaid with rubies. The pentagram wasn't raked into the ground with a stick but chiseled into a giant stone slab, its crevasses overflowing with a mélange of exotic spices. Gouged into the stone were what appeared to be great claw marks.
Surrounding Sam was a throng, all wearing hoods, all chanting, their heads bowed. One of them stepped forward and lowered his hood. It was Thomas Arundel, the headmaster. He smiled at Sam, gentle and sad.
"Hello, Sam," he said.
"What the fuck is this?" Sam asked, standing.
"A faculty meeting of sorts," the headmaster said. "We've been having them here since the school was founded over three hundred years ago."
"Uh-huh. And what are you meeting about?" Sam asked.
"You," said the headmaster.
"How did Ms. Lee…" Sam started, then trailed off. "Who are you people? What's going on? How did you…"
Sam stared into the headmaster's wide, friendly face—a face with which the headmaster had learned to evince warmth over the centuries. But deep in the eyes still smoldered a giddy, supercilious cruelty. It was Mason Alderhut, Sam realized.
Sam tried, desperately, to pull himself together. This was a trick. This was all some trick. The stuff Ms. Lee had done in the forest, the way they'd summoned waves to crash his boat, the headmaster looking like Alderhut, this was all just a fucking magic trick, and he was not going to fall for it.
"I can kill some of you," Sam shouted. "Maybe not all, but if you come at me, some of you are going down. You all want to take that chance?" He gathered some of the spices in one hand.  He thought maybe he could blind whoever came at him first and make a run for it.
"We're not going to kill you, Sam," the headmaster said.
"Oh. Right," Sam said, glancing at the claw marks. "You're gonna have your demon do it. That's what I'm supposed to think?"
"You don't understand, Sam," the headmaster said.
Sam eyed the thick silver candlesticks, thought maybe he could use one as a weapon. "I understand you're a creepy group of psychos, and I also understand there's no such thing as demons!" Sam shrieked. "I don't know how you're pulling this magic shit, but I know it ain't real!"
"You don't understand, Sam," the headmaster said again.
"Come on, bring on the demon! What, does one of you wear a costume? You got a giant dog you dress up? What kind of Scooby-Doo bullshit is this?"
"Sam," the headmaster said kindly, "you are the demon."
Sam stared at the headmaster. "What?"
"There is no Sam Gregory," the headmaster said. "We created him. We had to. Without giving you the tether of a mortal ego, you would be impossible to control, even for us."
Sam stared at the headmaster, slack-jawed. "Right…" Sam said. Sam edged a little closer to the headmaster, thinking he might be able to get him in a chokehold and that if he threatened to snap his neck, maybe the others would back off.
"I know," said the headmaster. "You think you know who you are: Sam Gregory. Insurance investigator. Veteran of a war where you got that tattoo."
The headmaster pointed at Sam's snake tattoo. In the undulous candlelight, it looked as if the snake were slithering.
"In fact, you are a veteran of a war, Sam. The first war of all time." The chanting grew louder. "It was between God and Lucifer. And your side lost."
One more foot, Sam thought, just get one foot closer to me, you crazy fuck, and I can…
A searing pain shot through Sam's shoulder blades and he dropped to his knees gasping. "The fuck did you do to me?" Sam rasped.  
"Nothing, Sam," the headmaster said quietly. "You are as God made you."
Sam wailed in agony as the skin around his toenails and fingernails split and blood ran down his feet and hands. His gums cracked and blood filled his mouth. Unendurable pain rippled through every muscle in his back. Something was clawing its way out of him. He heard a slow, booming, flapping sound and smelled feathers wet with blood. The candle flames around him flinched and faltered in a rhythmic breeze, and Sam realized with horror that the breeze came from him. He turned his head and saw, over each shoulder, a mass of leathery sinew and black feathers eight feet high. He stared at the razor sharp whip of a tail coiled around his cloven feet and the black talons which had sprouted from his fingertips. He tilted back his head, parted his fangs, and howled in terror.
"Time to go home, Sam," the headmaster said.
This isn't happening, Sam thought. They'd given him something to make him hallucinate. Or this was just another nightmare. Or… he'd finally snapped. He knew he was on the edge. He remembered the way the doctors had looked at him when he got back from the war, how he'd lied to get released, didn't tell them about waking up in the corner of his room with his gun in his hand, or pissing his sheets, or the meds he went to four different pharmacies to fill. Maybe he'd finally fucking lost it. Who knew if any of this was real? Who knew if—
Then he began to remember. He remembered Jimmy screaming as he gutted him in his shower, his intestines spooling out like a garden hose. He remembered Laura looking up at him with childlike surprise as blood soaked her clothes and her skin turned to chalk. He remembered Bernard moaning, his face in tatters, as Sam spun his head around till his chin rested on his back. He remembered splitting Evan in half like a piece of firewood, and being elbow deep in Dale, his viscera every color of the rainbow, spattered in a prismatic arc which violently clashed with the subdued autumn earth tones of the surrounding woods.
Sam was on his knees, his face in his hands, screaming and sobbing and pounding his forehead against the cold stone slab.  "God," he said…
…and then he remembered. The most beautiful creature he'd ever seen, who'd opened his eyes and filled him with such hope and purpose. Tall, and golden, and proud, with wings of stardust, saluting them all with his great flaming sword and the crest of the serpent. And Sam in the crowd, his eyes wet with love, raising his own sword and his own serpent crest, in salute to Lucifer.
Sam ground his forehead against the stone slab, the fight gone from him. "Please…" Sam begged.
But he remembered. He remembered the shout that was all words at once blasting them from the celestial city like motes of dust. He remembered screaming and reaching out toward the heavenly light as it grew smaller and vanished, and he remembered plummeting into the endless, swallowing dark.
The chants grew louder, and the stone at Sam's feet turned to mist. The mist began to swirl and sink, trapping Sam's feet and dragging him down. As Sam fought to hang onto this world, his great claws found the familiar grooves he'd worn down deep into this stone slab over the centuries and screeched down them as he was pulled into the vortex.
"We return you now, to your master in Hell," the headmaster said.
Through the swirling mist, Sam could see the fires of Hell.  He began to fall toward them. He fell. And fell. And fell…
---
About the author: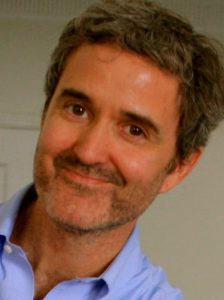 An Emmy-nominated television writer with over forty produced scripts, Stephen Lloyd lives in Los Angeles with his wife, daughters and dog. This is his first novella.