The Library
Sam rapped on the door of the librarian's office.
"Enter," a voice commanded. Sam obliged and found himself before the same woman who'd glowered at him for smoking on the quad. There were five feet to her, tops, carried mostly in her enormous bosom and bullfrog neck. She looked unnaturally white, with wet black eyes pushed deep into her pale, doughy face beneath eyebrows that seemed frozen in angry arches. She looked like a snowman which had been brought to life and was none too happy about it. When she saw Sam, her mouth twisted into a citrus pucker. "May I help you?" she asked in a voice that could freeze pipes.
"My name's Sam Gregory," he said, "I'm an insurance investigator for SATCO Mutual. You're Ms. Lee, the head librarian?"
"I am," Ms. Lee said with a slow blink, fingering her necklace.
"You recently reported the loss slash theft of a twelfth century manuscript, is that right?" Sam took out a notebook and pencil.
"There was no loss slash, just theft, and would you mind refraining from that disgusting habit while on school grounds?"
Sam looked from her to his notebook. "Writing?"
"Smoking," Ms. Lee said. "Children live here."
Sam smiled. "Yeah, ones I saw on the quad with you looked a little young for high school." He looked around. "Ashtray?"
She took his cigarette between thumb and forefinger, holding it at arm's length as if it were the tail of a dead rat, and stubbed it out in a teacup saucer. "They were from the lower campus," she said. "That's for grades three to seven."
Sam frowned. "You have third-graders at a boarding school?"
"There are women who marry men with children from previous marriages they don't want to be reminded of," Ms. Lee explained. "There are wealthy foreigners who want their children well away from the dangers of their homeland. And then there are the foundlings."
"Foundlings?"
"Orphans," said Ms. Lee, pronouncing the word slowly and loudly as though for someone new to English. 
"Danforth Putnam isn't merely an expensive playground for spoiled snots. It also runs the oldest, continuously operating home for orphans in the United States. Since 1654, boys and girls as young as eight have been boarded and raised and taught here for free. Danforth Putnam is first and foremost a philanthropic institution."
Sam nodded. "Your cat is drinking your tea."
Ms. Lee turned to see a black cat, having noiselessly leapt onto her desk, now whiskers deep in her Earl Grey. "Crowley, down!" she said, shoving the cat airborne.
Sam tapped his notebook with his pencil. "Report says the book was in a safe?"
Ms. Lee sniffed, grabbed a cane propped against the wall behind her and walked over to a large portrait of a Puritan with a broad, flat nose, square jaw, shoulder length brown hair, and the smuggest smile Sam had ever seen. The smile seemed wildly out of place on a Puritan. Sam had assumed Puritans spent their whole lives scowling with disapproval.
Ms. Lee removed the portrait revealing a wall safe which she opened. "I'm not sure how they cracked it but I plan to write a very strongly worded letter to the manufacturer."
Sam glanced at the safe then returned to writing. "What you have there, Ms. Lee, is an Etson 5000 series. It has nylon wheels, false tumbler notches, and a bunch of other neato stuff that means it can't be cracked without explosives. And since parts of it aren't strewn all over your carpet, whoever opened it had the combo which ain't the manufacturer's fault. So, who knows the combo?"
"Well… just the headmaster and I," said Ms. Lee.
"You write it down someplace someone might have seen?" asked Sam.
"Why yes, Mr. Gregory," said Ms. Lee, "that's exactly the kind of careless boob I am. Normally, I just leave the combination on a Post-It note stuck to the safe. That's, of course, when I bother to close it. Generally, I just leave it wide open with a hand painted sign over it that reads 'rare books inside: please steal.'" She slammed the safe closed. "I didn't give anyone the combination, Mr. Gregory, mistakenly or otherwise, and neither did the headmaster."
Sam kept writing. "They take anything else?"
"Not that I've noticed," said Ms. Lee. She nodded at the window behind him. "That's how they got in."
"Tried the door first," Sam muttered as he made notes.
"Excuse me?" asked Ms. Lee.
Sam looked up as though noticing she was still there. "There are scuff marks around the spring latch in your office door from a screwdriver." Ms. Lee moved over to the door and bent to squint at the bent lock strike.
Sam gestured behind him with the eraser on his pencil. "Same scuff marks are on the window latch."
Ms. Lee drifted over to examine those as Sam went on.
"When he couldn't pop the window," Sam said, "he lost patience and punched through a couple glass panes which you had replaced." Sam indicated some slightly newer looking glass panes. "Lucky for us, he cut himself doing it. I can see where you tried to get his blood out of the carpet. I say he, but might have been a girl with big feet. What's left of the muddy footprint you mostly got out of the rug came from a man's 9½ shoe."
She stared at him quietly. "Anything else?" she asked, pouring herself some tea.
"Well, I think we can assume it's someone who's got a pretty personal beef with you," Sam said, "since they pissed in your tea pot."
Ms. Lee gagged on her tea and recoiled, letting the cup and saucer crash on her desk.
"Just joking," Sam said as he rose and closed his notebook. "Which way's the infirmary?"
---
About the author: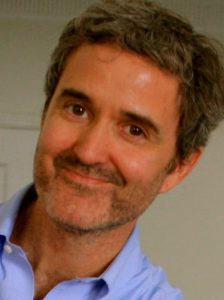 An Emmy-nominated television writer with over forty produced scripts, Stephen Lloyd lives in Los Angeles with his wife, daughters and dog. This is his first novella.