Ashes to Ashes
Sam wandered for a good while until he saw the V-shaped poplar again. This time, he realized it was actually two trees—one white, the other black—but growing so close together they appeared to stem from a common trunk split at the roots.
There was no longer any body in the dense brush behind the tree, and the ground was no longer slick with Dale's insides. But the soil, he could tell, had been turned. And there was a conspicuous tidiness to the area. All around it there were fallen leaves, bird droppings, squashed berries, broken twigs, but here nothing but fresh swept earth as though the wind had decided to blow only this one spot clean.
A fly buzzed by Sam's ear, and he crushed it against his neck. He began circling the area in a growing spiral hoping to pick up tracks.
Suddenly he heard a great flapping, and a shadow fell over him. He looked up to see a giant crow tilt above him and take a branch, a worm in its mouth. The bird stared at him, its eyes glossy gold in the moonlight, its head inclining here and there with a clockwork twitch. Sam knew little about birds but he thought crows were smaller than this, and as he drew closer he wondered if this might be a raven. "Nevermore," Sam said.
The worm in the bird's mouth caught Sam's eye. If Sam knew little about birds, he knew even less about worms. Still, he was fairly confident they didn't have fingernails and what was left of a knuckle. The bird swallowed the finger in its beak and flitted off. Sam followed, hoping it might lead him to the source of this grisly fare.  
Shortly, the flies grew thicker, their buzzes gathering in a dull roar. The swarm was focused on the contents of a freshly dug pit. Sam drew his gun and silently edged toward it.
Within the pit, lying in a grotesque tangle of limbs, were the remains of Jimmy, Laura, Bernard, Evan, Dale, and a very young boy who Sam gathered was the missing friend of the masked chocolate sellers. Sam heard a twig snap and rolled into a defensive crouch behind a tree.
Someone was humming cheerfully. A hooded figure walked to the lip of the pit carrying a canvas bag. The cat, Crowley, darted about the person's feet.
Sam primed his gun. "Freeze."
The hooded figure turned abruptly in his direction but otherwise obliged.
"What you got in the bag, Ms. Lee?" Sam asked.
The librarian pushed the hood of her cloak back and smiled at Sam. She shook Jimmy's head out of the sack and into the pit.
"There a reason you killed all those people?" Sam asked.
"They saw the book," she said. "Except Gabriel. His death served a different purpose," Ms. Lee said.
"And what was that?" Sam asked.
Ms. Lee's mouth twitched. She appeared to be suppressing a laugh.
"Summon a demon?" Sam asked.
She nodded.
"Do you have any idea how bat-shit, fucking crazy you are?" Sam asked.
"You served your purpose, Mr. Gregory, recovering the book and leading us to all the uninitiated who'd seen it, but now it's time for you to go."
"Us? Who's us?" Sam asked.
She clutched her medallion and began mumbling in Latin. 
"Ms. Lee, you are three or four abracadabras away from me emptying my .45 into you, so why don't you knock this shit off and tell me who the fuck—"
She flicked one of her fingers. Sam's gun sailed out of his hand as though she'd tugged at it with an invisible string. It clattered against the trunk of a tree fifty feet away.
"Please watch your language," she said. "This is, after all, a school for children."
Sam stared at her, frozen in shock. Ms. Lee pushed her palm toward Sam, and an invisible force knocked him head over heels.  He scrambled to his feet and saw her grinning at him with all the wide-eyed wonder and warmth of a baby. Then she lifted off the ground and beamed down at him, the moonlight behind her. He tore off toward the mouth of the combe, her rolling, delirious laughter chasing after him.
---
About the author: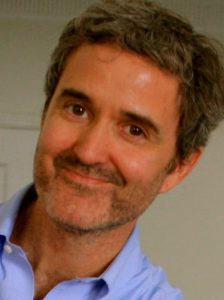 An Emmy-nominated television writer with over forty produced scripts, Stephen Lloyd lives in Los Angeles with his wife, daughters and dog. This is his first novella.