Mission Accomplished
Men were wearing hooded cloaks and mumbling in Latin, their heads bowed in prayer.
One of the men pushed back his hood. It was Mason Alderhut.  One of the other men pushed a small, mangy boy wearing rags for clothes before Alderhut. The boy stumbled and fell, his hands trussed behind him with rope.
Alderhut drew a large knife from his belt, and the boy began to quake. Alderhut cut the ropes tying the boy and helped him to his feet. He smiled at the boy, gently brushing the dirt and tears away from his sunken cheeks with the back of his massive fingers. Then he grabbed the boy by the hair and slit his throat, quickly bending him over a basin which caught his blood as he jerked and flailed.
The blood flowed from the basin into several cups. Alderhut raised one of the cups and drank. His adherents followed suit.
Alderhut turned to Sam, raised his cup and said, "Welcome to the New World."
Sam's eyes snapped open and he jackknifed awake, gulping for breath like a man pulled from a riptide. Dr. O'Megaly eased him back onto a cot, saying "you're okay, you're okay." Behind her, Headmaster Arundel stared at Sam with concern.
"What happened?" Sam asked.
"Security guards found you passed out in the Devil's Combe," the headmaster said. "What were you doing out there?"
"I…" Suddenly, Sam remembered. "Somebody killed Dale."
"What?" said the headmaster.
"Somebody killed Dale," he repeated. "His… wait, the guards didn't see his body?"
"His… no," said the headmaster, flummoxed. "Who killed Dale?  When?"
"It… I… Hold on, I passed out two feet from his body. I was covered in his blood. No one saw that?" Sam asked.
Dr. O'Megaly and the headmaster shared a concerned look.
"Sam… there was no blood on you." The headmaster pointed to a mirror. Sam looked at his reflection and was shocked to see that not a trace of Dale's gore was anywhere in evidence. "They found you just like that," the headmaster said.
Sam stared at them, at a loss. "I was…  How…"
Dr. O'Megaly shone a penlight into Sam's eyes and began moving her finger back and forth. "Follow my finger with your eyes," she said. "Can you tell me who the President is?"
"Stop," Sam said, pushing away the penlight. She'd begun feeling his head and hit a tender spot. "Ow," he said, pulling away.
"How'd you get that lump?" Dr. O'Megaly asked.
"I don't know," Sam said.
"You don't know?" Dr. O'Megaly said.
"I've been hit in the head a few times," Sam said. "But I didn't imagine…" Sam frowned, remembering something. "Wait…" he said. He looked around and saw his jacket hanging off a chair.  "Hand me that," he said. Dr. O'Megaly obliged. Sam reached into his jacket pocket and removed the small leather book. "I'm not imagining this, am I?"
The headmaster stared at the book for a moment in utter shock, then reverently took it. "How… how long have you had this?" he asked.
"I got it from Dale just before he got killed," Sam said.
"You saw him get killed?" the headmaster asked.
"No," Sam said, "but when I came to–"
"When you came to?" Dr. O'Megaly asked.
"I… The kid hit me in the head with a rock and knocked me out. When I came to, I saw what was left of him."
"And that made you pass out again," Dr. O'Megaly said.
"No," Sam said, "it didn't make me… it startled me and I slipped in… Dale and hit my head on a tree."
"So, that's twice you've been hit in the head hard enough to knock you out in the last twenty-four hours," Dr. O'Megaly quietly pointed out.
Three, if you counted Evan's shovel, Sam thought, but he didn't think mentioning that would help his case.
"Is it possible," Dr. O'Megaly said gently, "you got the book from Dale, he knocked you out and you woke up here?"
"That's not what happened," Sam said.
"You touch any plants while you were out there?" she asked.
"Well, yeah," Sam said.
"There's a species of Angel's Trumpet that grows wild out there. It can cause hallucinations if it gets into your bloodstream," she said. "In fact, there's a lot of poisonous stuff out there. We might want to do some blood work, make sure you're not–"
"Just send someone out there to look again," Sam said. "The kid's still missing, right?"
"Actually, he's not," said the headmaster. "His aunt called to say Dale showed up on her doorstep saying he'd dropped out."
"What?" said Sam. "How'd he get off the island?"
"The caretaker at the boathouse said someone stole one of the motorboats," the headmaster explained.
Sam just blinked at them, looking from one to the other and hoping one of them would say something which vaguely conformed to his perception of reality. Nothing about finding Dale's body felt like a dream or hallucination. There was nothing discontinuous about it, no odd suspensions of the laws of space and time, and it stuck to his memory the way dreams did not. Sam's dreams never lingered; they tiptoed out of the bedroom first thing in the morning and by the time he got in the shower, he couldn't remember anything about them. He remembered every second of what happened with Dale. Still, given everything they were telling him… it was possible, he guessed, it had all been in his head. He sure as shit wished it were.
"I'm going to get something to help you relax," Dr. O'Megaly said and crossed away.
The headmaster smiled at Sam. "Seems like we caused you quite a bit of trouble, Sam, and I'm sorry." He raised the book.  "But thank you for finding this. It means the world to us to have it back. Now, you get some rest, give the doctor a chance to make sure you're okay. Then we'll send you home." He gave Sam a reassuring pat on the shoulder and left.
Dr. O'Megaly returned with a pill and a glass of water.
"What's that?" Sam asked.
"Valium," she said. "And after the day I've had, if you don't take it, I will."
The meds Sam was on, she may as well have been handing him a lifesaver, but he took it anyway. "Thanks," he said.
"Now let me see that cut above your eye," she said. As she leaned over to examine the cut, Sam saw the chain of a necklace visible under her collar.
"What's under your blouse?" he asked.
"Feeling better already, I see," she said.
"No, the…" Sam delicately lifted the chain with his index finger and brought the necklace outside her clothes.
Dr. O'Megaly smiled. "Saint Catherine of Alexandria, one of the patron saints of nurses. Can't hurt, right?"
Sam was suddenly feeling very tired. He wanted to surrender to the hospital mattress beneath him and let this pretty nurse, who smelled fantastic, take care of him. Instead, he heard himself ask, "Dale's got an aunt?"
"Guess so," Dr. O'Megaly said as she cleaned the cut over his eye.
"But he's here, a ward of the state," Sam said.
Dr. O'Megaly shrugged. "Not all family's, you know, family," she said.
"Family enough that she's this kid's first stop after he gets off the island," Sam said. "And she's the uptight, upright type calls Dale's school the second he shows up? He's got that kind of family in his life?  Anybody heard of this aunt before now?"
"Don't know," Dr. O'Megaly said. "Don't know who talked to her."
"And what were security guards doing out in the Devil's Combe?"
Dr. O'Megaly shrugged. "I think if there's a short in the electric fence, they know someone's tampered with it and go check it out."
"Dale had this workaround with jumper cables," Sam said.  "He's been going in and out for months. It stopped working tonight?"
"Your first time going through tonight, right?" Dr. O'Megaly said. "Maybe you nudged something."
"And this motorboat thing," Sam said, pushing himself up on his elbows. "I went to the boathouse and every boat was locked up tight. I told the guy there's a kid might be looking to nick one of the boats. That's when he decides to get lax with security?"
Dr. O'Megaly smiled. "Guy who runs the boathouse, Flynn, drinks a fair bit. Not what you'd call reliable after lunch."
It was a nice smile. Sam liked that smile. He wanted to stay here and bask in it. Wanted to see if this hot doctor, who had to be starved for adult companionship, would enjoy the company of a bright, handsome, world-traveled marine. Making time with this sweet, sexy brunette with a smoky voice and a prescription pad, that sounded like heaven. He waited until she was at the other end of the hall, then he spit out the Valium and left.
"Your problem," he told himself as he headed back out into the Devil's Combe, "is that you can't leave well enough the fuck alone."
---
About the author: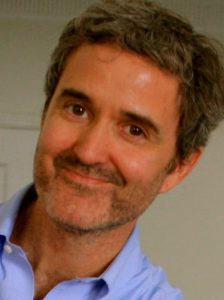 An Emmy-nominated television writer with over forty produced scripts, Stephen Lloyd lives in Los Angeles with his wife, daughters and dog. This is his first novella.