The Devil's Combe
Despite Evan's barely coherent directions, Sam found the Devil's Combe and the section of electrified fence Evan and Dale had bypassed with jumper cables. He crawled under and began hacking his way through the overgrowth, down into a deep hollow.  Fog rolled into the hollow off the Atlantic marine layer and billowed out into the moonlight so that Sam felt as though he were disappearing into the maw of a giant, panting hound.
Visibility was not good, and Sam stumbled around in the fog for an hour finding nothing. He was about to give up and try his luck come daylight when he heard someone muttering. He slowly moved toward the sound and began to make out a teenage boy— naked, sitting on the ground, his back to Sam.
The boy was muddy, covered with scratches and sitting in the middle of what appeared to be a pentagram, raked into the earth with a stick, its angles marked by burning candles. Surrounding the pentagram were the carcasses of several small animals and a discarded box of salt. The boy muttered to himself quietly and made smacking noises with his lips.
"Dale?" said Sam.
Dale turned at his name, a relaxed smile on his face. His face was covered in blood, and he held the remains of what appeared to be a squirrel in his hands. The necklace Laura had made him jangled against his chest.
"Very angry," Dale said in the tone of someone telling a story at a cocktail party. "I hugged him… he became my dad.  'Shocked?' he asked. I was, for whatever reason. He was naked, hairy, his skin a bit grey, even mottled, like a leper or zombie…" Dale took a dainty bite out of the squirrel.
"Dale," said Sam, walking up to the boy.
"A tiger entered and began eating eggs the jester had been playing with," Dale continued cheerfully, "conjuring from magic tricks or having been laid by his bird…"
Sam crouched down by the boy. "Dale," he said again, staring into Dale's unfocused eyes. The kid was out.
"I tried to focus on the tiger, to summon its energy," Dale continued.
"Dale!" Sam shouted, trying to wake him.
"Miss Anna, Miss Anna, Miss Animus, animus, animus, animus, animus nocendi…" Dale babbled on.
Sam clapped loudly in front of Dale's face until he finally came to. Dale slowly focused on Sam, then jumped, wondering how'd he gotten where he was.
"Wakey, wakey," Sam said.
"What… what," Dale started to say, then noticed the squirrel in his hand. He dropped it and began screaming hysterically. Sam reared back and slapped him, twice. Dale stared at Sam, petrified.
"Nice to finally meet you, Dale," Sam said. "Big fan of your work."
"What… I'm… who are you?" Dale asked.
"I'm here to get the book back that you stole," Sam said.
Dale stared at Sam. "You're that cop dude."
Sam sighed impatiently. "I'm not a… just… where the fuck is the book, Dale?"
Dale shivered. "I can't tell you."
"Wrong answer," Sam said.
"I need it," Dale whined.
"For what?" Sam said. "Cast spells to make better tasting squirrels?"
"To protect myself," Dale whispered.
Sam kneaded his forehead wearily. "From what, Dale?"
Dale shivered. "The demon."
"The demon," Sam sighed. He lit a cigarette. "Summoned a demon, did you?"
"No, I didn't," Dale said.
"Really don't have time for this, buddy," Sam said.
"It was probably whoever Evan and me saw in the woods that one time."
"Oh, right," Sam said. "You and Evan saw someone using a magic book to make sapphires or some shit out near your pot crop."
"I think it was rubies," Dale said.
"Fine, and now you think this wizard slash jeweler summoned some sort of demon to come after you?" Sam asked.
"Yeah!" Dale screamed. "And not just me! Anyone who knows about the book, and that includes you, fuck face!"
"Well, gosh," said Sam, "better get that book and start casting some demon go-back-where-you-came-from spells but quick. I'll grab it for you. Where did you put it again?"
"You think this is a joke?" Dale rasped. "I saw it."
"Good for you," Sam sighed. "Is the book here? I mean, obviously it's not on you. Nothing's on you. And speaking of which, want to put on some clothes, champ?" Sam looked around for a hiding spot. The hollow of a tree maybe? Under a bush? He really didn't want to start rooting around in the dark since he remembered the warnings on the fence and didn't feel like getting bitten or stung or infected with poison oak or whatever other crap they had out here.
"I saw it," Dale said, fighting tears. "I went to talk to Jimmy about what he told you and how we were gonna–" Dale swallowed hard. "This thing was ripping his insides out."
"You saw what?" Sam asked. Dale told him about the monster gutting Jimmy in his bathroom.
"I talked to Jimmy last night—late last night—and aside from his brain, he seemed very alive," Sam said. "Also, no one's mentioned a kid getting disemboweled in his bathroom. Seems like something would have hit the grapevine."
"I saw it," Dale said.
"At night. From a roof. Through a window," Sam said. "And forgive me if I'm making assumptions about a pot dealer sitting naked in the woods with a half-eaten squirrel, but were you stone-cold sober at the time?"
"It happened!" Dale shouted. "I mean, like, I could throw up thinking about it!"
"Well, that's saying something for a guy with your diet," Sam said pointing at the squirrel. "And a pentagram filled with salt is supposed to protect you from this thing?" Sam asked.  "Why, it have high blood pressure?"
"I'm just doing what it says in the book!" Dale yelled.  "You think this is what I wanted it for? I wanted to do cool magic shit, like make rubies out of stuff, and hypnotize girl! I didn't want to be sitting out here in the fucking jungle, sacrificing little animals and hoping it wouldn't end me!"
"So that's it?" Sam asked. "Your plan is to just sit here butt naked until, what, the monster gets bored and goes away?"
"No, I think… I think I worked out how to control it," Dale said.
"Well, that's a relief," Sam said. He noticed that a low-hanging leaf was starting to blacken near the flame of one of the candles in the pentagram. "Hey, how 'bout we put out the candles before you start a forest fire." Sam grabbed some dirt and started dousing the flames.
Dale squealed in panic. "What are you doing! Stop it!  Jesus! I need that to help control the monster!"
"You are really working my nerves, kid," Sam said as Dale pulled a book of matches from somewhere and started to relight the candles. "Knock it off," Sam said, shoving Dale away with his boot. Suddenly Sam saw a corner of plastic sticking out of the dirt. He stooped to touch it and Dale scrambled to stop him. Sam casually caught Dale by the face and pushed him onto his back. Sam tugged at the plastic and unearthed a sealed baggie. Inside the baggie was an ancient leather book. "Hallelujah," Sam said. He stuffed the baggie in his jacket pocket and headed away.
Dale hobbled after him. "Wait! Stop! Where are you going?"
"To return this book and then the hell away from this fucked-up prep school," Sam said.
"I need the book!" Dale shrieked.
"No, Dale," Sam said, marching toward the mouth of the hollow as Dale scuttled after him. "You need a shower, some clothes and a couple days in the infirmary, probably, for exhaustion, dehydration, exposure and whatever squirrel blood has done to you. You do not need–"
Crack. A rock connected with the base of Sam's skull. He stiffened, then crumpled to the ground, lights out. Dale scooped up the book, the candles, and the rest of his necromantic paraphernalia and bolted deeper into the combe.
He found what he gleaned was a suitable spot and started remaking his pentagram. He was lighting the last candle when he heard its wings.
Dale took the book out of the baggie but was trembling so much he dropped it. The flapping grew louder. Leaves and branches snapped right behind him. He heard a low guttural hiss. Dale grabbed up the book and thumbed through it until he found the incantation he was looking for. Clutching his medallion, he said what he hoped were the magic words.
The flapping stopped.
Dale slowly turned. There it was. Staring right at him but not moving. Not attacking. Not doing anything. Dale let out a long, slow, shuddering breath and started laughing. Tears filled his eyes. He was safe. He had beaten this thing. Better…
It was now his. And, boy, did he have plans for it. There was a long list of people he was going to introduce to his new pet. Starting with–
Dale's face exploded in a tangle of blood, bone and flesh.
***
He was falling again.
His legs jerked him awake. He opened one eye, then the other. Oh, that fucking kid, Sam thought. He was going to kill that fucking kid.
He staggered to his feet way too quickly, grabbed a tree to stop the earth from tilting out from under him and puked. The pain started where Dale had hit him in the back of the skull and radiated all the way down to his shoes. "Dale!" he shouted as he headed into the woods.
Twenty minutes later, Sam was still swatting his way through bush and branch, yelling Dale's name and cycling through every curse he knew. His boot hit a slick patch and he went down on his ass. He lay on his back, stared up into the heavens, and thought about all the other things he could do with this life besides chasing naked teenagers with stolen books.
Then he saw it, splayed open, spine up, lying in the dirt:  the book. Sam stood and grabbed it as something wafted past him: the plastic baggie. "Dale?" Sam called upwind.
Sam shoved the book into his jacket pocket, started in the direction the bag had come from and almost slipped again. He looked down and saw that the ground was covered with a red mulch, much of which had gotten on him when he fell. The mulch was streaked as though something had recently been dragged through it. Sam followed the drag marks to where they disappeared into dense brush just behind a V-shaped poplar. Sam tentatively parted the brush with his hands.
Dale's mutilated body stared up at him, one eye gone, his lower jaw missing and his entrails ripped out. Sam realized, with horror, what the red mulch was that he'd slipped in.
Suddenly a snake darted out of Dale's eye socket and hissed at Sam. Sam sprang back, slipped again on Dale's innards and slammed the back of his already punished head against the V-shaped poplar.
---
About the author: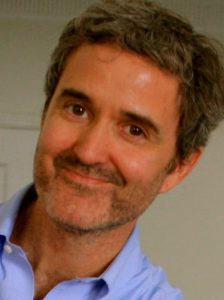 An Emmy-nominated television writer with over forty produced scripts, Stephen Lloyd lives in Los Angeles with his wife, daughters and dog. This is his first novella.