Penitentia
It was early evening in Danforth Putnam, and all was quiet outside Cabot House, one of the freshmen girl dorms. A hedge in its empty courtyard began to shudder and from it emitted the sound of gnashing. This was Bernard, feeding. He lifted his face to the moonlight which slid glossily across the sticky remains clinging to his maw. Half a dozen crumpled wrappers were strewn at his feet. Bernard added another to the pile and tore into the last of the candy bars Dale had bought from the orphans, adding to the riot of chocolate on his face, his pimples and everything else in this world be damned. 
Through a second story window, Bernard could see two girls jumping up and down on a twin bed, their budding breasts bouncing beneath their pajamas.
Bernard's sense of who he was had disintegrated. Dale had jiggled it and Sam had popped it, like a great soap bubble, massive and shining within Bernard's psyche—all its vast dimension revealed to be surface, angstroms thick, and concealing no inner structure, no depth, nothing. He was hollow, had always been hollow, and now felt it, his ego having blown apart like dandelion spores in a child's breath. He had no convictions left, no pride, just feral will, grunting in the bushes as he wolfed down chocolate and masturbated to two fifteen-year-olds hopping on a mattress. 
He watched numbly as a sudden burst of wind picked up the candy wrappers and set them swirling about his feet. He looked up at the school flag and noticed, with surprise, that it lay limp and unmoving. He looked back at the wrappers still settling by his shoes.
One of the girls pulled down the shades of the second story window. Cursing, Bernard fought his way out of the hedges and began trudging back to Hastings House.
He avoided walking through campus and took instead the long way through the woods. He wanted to be cloaked in dark and untamed nature, wanted the embrace of the wild and pathless. He closed his eyes and fancied himself a jackal or wolverine, the predator unseen, stalking and fearless. With a teary smile, he bayed at the moon.
As if in response, the wind picked up again. It carried the sound of large, flapping wings. Bernard lifted his head and spun in circles looking for some enormous bird or bat but saw none.
Ahead of him, a maple was swaying, red leaves falling from it in clumps. As he neared the tree, he realized that it was not swaying, but shaking in spasms as though a creature were astir in its highest branches. Coming closer, he heard the snap of twigs, that same flapping sound and a faint serpentine hiss. When he got to the foot of the tree, he craned his head, squinted at the upper limbs, and screamed.
He sprinted back toward campus but did not get far before something landed directly in his path. Bernard stared at it, into the eyes of it, as urine coursed down his leg. His hand was shaking so severely that he could barely work it into his pocket to remove the silver cross his mother had given him. He held it before the thing and began to shriek tremulously, "Adjúro ergo te, omnis immundíssime spíritus, omne phantásma, omnis—"
Something sliced out, shearing through the cross, Bernard's fist and both his cheeks. Bernard howled, his cheeks parting in a grotesque, yawning smile. He loped away, trying to hold his face together with his good hand while blood spurted from the other. Before long, his knees buckled and he began to crawl, sputtering. He felt the ground fall away as something lifted him up into the fiery reaches of the red maple. No one saw the branches of the tree shake. No one heard Bernard's muffled shrieks grow hoarse and finally cease. And no one heard the sound of those terrible wings.
***
A werewolf snarled, the full moon hanging low behind it. A woman screamed and ran. The image began to roll, and Evan whacked the set until the picture settled. He smiled, satisfied, and took an extremely long drag out of a skull-shaped bong. He'd broken out his private reserve and was on track to make quite a dent in it. "Yeah, you're tough, right? Fuck you, tough," Evan mumbled as he performed a little air karate and took a pull from a pint bottle of Jack. "Fucking kill you, man. Don't know who you're messin' with. DEA fuck."
There was a loud thump outside Evan's shack. The pint bottle slipped from Evan's hand and he bobbled it for several seconds, emptying most of the bourbon onto his t-shirt. He stared at his door for a long time. His heart was just beginning to slow when he heard an even louder thump outside his shack. He stood up so quickly his feet left the ground, and one of his Birkenstocks fell off. He grabbed a kitchen knife and stepped out of his shack.
His hammock was swaying. In the hammock was a dark lump. Evan sucked down what was left of the whiskey and chucked the bottle. He put the bread knife in his belt, pulled the shovel out of the dirt where Sam had left it, and approached the lump.
As he got closer, Evan could see that the lump was a wad of clothing. He put the tip of the shovel beneath the clothing and slowly lifted it. As the clothing unfurled, Evan could see what was left of a shredded shirt spattered with blood.
As Evan stared, unblinking, at the bloody shirt, Bernard's glasses fell into the hammock. Evan looked up into the tree from which the glasses had fallen. He saw something else fall and land with a wet slap on one of the tree's lowest limbs. It was Bernard, what was left of him, hanging in strips. Evan screamed.
Then he heard something with huge, powerful wings descending.
Evan turned and saw it land. It was so still. Only its wings moved, and they, slow and noiseless as a resting butterfly's. It was boring into him with those horrible eyes— windows to nothing—just red-hot coals. Evan swung his shovel at it. The thing caught the shovel and tossed it, with Evan attached, twenty feet. Evan landed on his shoulder which separated with a crunch. His eyes filled with tears and he couldn't catch his breath. He took the bread knife from his belt and limped away, caroming from tree to tree.
The thing landed in front of him. Evan threw his knife at it. Almost as soon as the knife left his hand, it was flying back at him and with splintering force pinned his hand to a tree trunk, hilt deep.
The thing just stared at him as Evan tried to pull the knife from his hand. Evan eventually gave up, and then dangled from it, semi-crucified, as he slipped into shock.
Evan stared back at the thing, his lids getting heavy, all of him growing cold and numb. The world was losing its color. "You just going to leave me like this, or–"
There was a sharp whipping sound but Evan never heard it. Blood began to bead along a seam running down the middle of his forehead, through the bridge of his nose, then his chin, then his Adam's Apple. His left half gently cleaved from the right and slipped, neatly severed, to the ground.
---
About the author: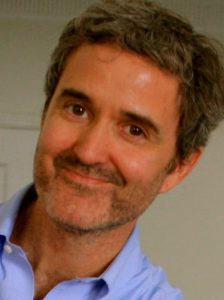 An Emmy-nominated television writer with over forty produced scripts, Stephen Lloyd lives in Los Angeles with his wife, daughters and dog. This is his first novella.