Evan
Sam went to the student jobs office and looked up Dale's work service record. He'd spent a lot of time doing janitorial assignments but had also logged a fair amount of time landscaping. His supervisor during those occasions was a groundskeeper named Evan Stahl. With the shadows lengthening, Sam picked his way through the forested acreage surrounding the campus, looking for Evan's cabin.
Eventually, Sam discovered a small shack. A hammock was strung between two poplars outside it. A shovel leaned against one of the trees next to a pyramid of beer cans. "Evan?" Sam called, rapping on the door to the shack. He poked his head inside, and the stench nearly dropped him. It wasn't just the reek of pot which had settled indelibly into the shag rug, the curtains made from a bed sheet, the small sofa kept together with duct tape, and everything else in the room; It was the collision of this aroma with Aqua Velva, Brut, Old Spice, English Leather and a flight of other drugstore aftershaves presumably deployed to mask the scent of weed. Sam left the shack, calling out into the woods, "Evan!"
Out of the corner of his eye, Sam noticed that the hammock was swinging. He also noticed that the shovel was missing. He heard a twig snap behind him, turned and met the shovel square in his face…
… and he was back in Vietnam. He was wearing fatigues and holding a rifle. Gunfire and shouting all around him. Something exploded thirty yards from him and he narrowly rolled out of the way as what was left of a jeep flew over him. The lieutenant was signaling a retreat. As they fell back, fissures began to open in the ground. Sam saw the members of his platoon swallowed up, one after the other, by the suddenly appearing chasms. Sam broke into a sprint, desperate to outrace the crumbling earth, but a mortar blast knocked him headlong into a widening crevasse and he fell, down, and down, and down, toward an endless river of lava…
Sam jerked awake. He was on his back outside Evan's shack. His hands were trussed behind him with an extension cord, his feet lashed together with a belt. He guessed from the throbbing that there was a nasty cut above his left eye.
Staring down at him was a skinny, leathery man with long, matted hair and a Creedence Clearwater Revival Bad Moon Rising t-shirt so faded it mocked its formerly psychedelic hues and, like the man wearing it, seemed on the verge of falling apart. He hopped from foot to foot, shaking his shovel like a shaman's rattle. "What are you, like, the fucking DEA?" the guy asked.
"No," Sam said calmly. "I am not the fucking DEA. You're Evan, I'm guessing."
"You're the fucking DEA, aren't you?" Evan asked.
"Again. No," said Sam.
"Kid sold me out, didn't he?" Evan said, his voice rising in pitch. "Well, you got nothing, man! Go ahead, search, there's nothing!"
For a long moment neither of them said anything.
"Kind of hard for me to search when I'm hog-tied, Ev," Sam said finally. "And what is it you think I'm looking for?"
"Kid said you DEA guys," Evan went on, "you need a big profile bust for your quotas and you'd hang me out to dry for nothing, and those plants, you know, who knows who planted them.  Back in the day they used to grow 'em for rope, they grew wild anyway, people planted them or not, and this place has been around a long time, no saying those plants are mine."
"I don't care what you're growing," Sam assured him.
"I ain't growing shit!" Evan protested. "Jesus! Why you putting words in my mouth?"
"Hey, come on, let's calm down, okay?" Sam said.
"School property and all," Evan continued to ramble, "they're going to string me up, the kid said.  I should probably kill you, bury you out here, who's even going to know, kid said."
"This kid we're talking about," Sam said, "he got a name?"
"You know, I got a nervous condition," Evan continued. "You would too, things I've seen. And how a man unwinds, you know, privacy of his own, not hurting nobody, I don't deserve to get fucked for that, just 'cause you have a quota."
"I'm not a cop, Evan. If I were, I'd have a badge. Do I have a badge?" Sam asked.
"Well, I don't know what's in your fucking pockets, man," Evan answered.
"Take a look," Sam suggested. "Not like I can stop you. You'll see a business card says I work for an insurance company.  I can't arrest anybody. What's more, you help me out, I'll see to it you get paid for your trouble."
After a few moments consideration, Evan tentatively approached Sam and knelt down to empty his pockets. Sam jackknifed up and headbutted Evan in the nose, then pulled his knees up and kicked Evan in the chest with both feet. Evan tumbled backward and dropped the shovel. As Evan staggered to his feet and groped for the handle, Sam worked his tethered hands down his body, brought them under his feet, then rocked forward and jumped up, ducking just as Evan's shovel sang through the air above his head. His hands still tied together, Sam lunged forward, grabbed Evan's shovel by the shaft, twisted it out of Evan's grip and smacked him on the head with it. Evan teetered for a moment, then sunk to his knees and fell face first in the leaves.
Evan came to a few minutes later and realized with alarm that he was tied up. He realized with greater alarm that Sam was standing over him, holding the shovel, and that he looked really, really pissed. Evan's eyes began to well up. "Oh, man. I am so fucked," he said.
"Nuh-uh," Sam said, shaking his head. "This is barely first base. Fucked is a long way around the diamond."
Evan began to cry. "I don't deserve this, man. I'm a good person."
"Sorry, what?" Sam asked, clearing out his ear with a pinkie. "My ears are ringing a little from when you hit me in the face with a shovel. Last thing I heard clearly was you saying you should kill me and bury me in the woods."
"I never would have, man, I never would have!" Evan insisted.  "I'm peaceful, I'm all about that. I just… It's panic, man. I been way on edge lately and that fucking kid got under my skin, convinced me you guys were going to lock me up and throw away the key, and I'm not going to be able to handle, like, an incarceration deal, I'm just not, it's going to be like a fucking disaster to my mental health, and my—"
"Shut. The fuck. Up," Sam said.
Evan stared up at him silently, eyes wide.
"I got some questions," Sam said.
"Oh, man, everything," Evan quaked. "Everything. Whatever you want to know. And I know I'm in no position to ask for shit, but one of the brews from my fridge would really help me not freak out right now."
Sam wasn't feeling particularly charitable toward Evan at the moment, but the guy looked about one loud noise away from crapping himself, and that was not going to make the afternoon any better, so he pulled a Bud from Evan's mini-fridge, popped it and held it to Evan's lips.  Evan drained it so quickly Sam thought the can would crumple in on itself. Evan smiled gratefully and burped. "S'cuse me. Um… you want to do a bowl?"
"No," Sam said.
Evan looked at Sam hopefully. "Can I?"
"This kid got you all worked up and fixing to kill me," Sam said. "What's his name?"
"Dale," Evan said. "Don't remember his last."
"Don't need it," Sam said. "What's your relationship with this kid exactly?" Sam asked.
"I'm, like, his supervisor when he pulls gardening detail."
"That it?  You never see him outside his student job?"
Evan fidgeted. "Well, you know, we got to be friends doing that. Now he comes around, once in a while, have a beer," Evan said.
"He's seventeen," Sam said.
"Yeah. What? I mean, I have a beer. He has, you know, juice. Or, like, Ovaltine," Evan said.
"You hang out with a lot of seventeen-year-olds, Evan?"
"Well, who else am I going to hang out with? I live on, like, high school island."
"Right, why does Dale hang out with you?"
Evan stared at Sam and swallowed with a frown.
"I'm… you know… a good conversationalist."
Sam smiled, drove the shovel into the dirt and rested his arms on the handle. "Really? Show me."
"What?"
"Here, I'll be Dale," Sam said. "I'm tired of the boring, immature shit my classmates usually say. I want the rich, deep thoughts I get from the brain-dead hippie who lives in a tool shed with his beer can collection. Share."
"You're freaking me out, man," Evan said, his eyes beginning to water again.
"You grow pot and he sells it," Sam said. "That's the answer to 'what's your relationship with this kid, exactly?'"
Evan turned pale. "It was the kid's idea, man, I fucking swear," Evan almost yelled. "I mean, cards on the table, I had a few plants, purely for personal consumption. He's the one comes and says he's going to turn me in unless I start growing product for him. I mean, look around, man, I look like some sort of kingpin? I look like a guy with a lot of disposable income? I don't even have a color TV…"
"Okay…" Sam said.
"I got a sixteen-inch black-and-white…" Evan said, nodding with disgust at his TV.
"Okay…"
"…doesn't even get UHF, it's like I'm in the Flintstones or–"
"Stop talking!" Sam said. Evan did. "Dale mention a book?" Sam asked.
"A book?" Evan repeated.
"Yeah, an old, valuable book got stolen from the library, had stuff about witchcraft in it, maybe Dale said –"
"No shit," Evan said, impressed. "He got their book?"
Sam stared at Evan. "What do you know about this book?"
"Well, I mean, not much per se," Evan said, "but I seen someone say spells and shit."
Sam blinked. "Say that again?" said Sam.
"Look, I told you I seen some weird stuff, and now we're on the subject, it's that you DEA guys should be looking into and not me," Evan said.
"What do you mean you saw someone say spells and shit?" Sam asked. "What did you see?"
Evan explained that since, prior to Dale's extortion, he had never grown pot for anyone but himself, he was ill-equipped, operating out of his humble shed, to fill the demands of Dale's growing business. Dale had insisted, consequently, that Evan transplant his smokeables to the Devil's Combe.
The Devil's Combe was a dark, overgrown hollow on the east side of the island, so named because Alderhut had burned people there. Several protected plant and animal species flourished in the Devil's Combe which made it a legal headache for the school to cultivate, so the whole area grew wild. Some of those plants and animals were also poisonous, so the school had simply cut off the combe from the rest of the island with an electrified fence festooned in warning signs.
The off-putting natural hazards of the combe, its jungle-like density and its threatening fence, made it a place one could grow rows and rows of cannabis with little fear of detection, Dale had argued, so they'd located a section of the fence that was particularly remote and almost completely hidden by brush, made a workaround circuit with jumper cables and cut through. A few months later, they were harvesting their first crop.
The whole operation had played havoc with Evan's already fragile nerves. He lived in fear of being caught, of being thrown in prison, of being raped in prison, and worst of all, of being without pot, the one thing he'd come to rely on quite heavily, he admitted, to quell his anxiety. He'd started biting his fingernails down to the quick, his hair had started falling out, and every morning his hands were numb from squeezing them into fists while he slept. He hadn't thought he could get any more tense and then, one night, while he and Dale were doing a little moonlit gardening, they'd heard someone in the combe with them.
Evan had wanted to run as fast as he could out of there but found that his legs would not oblige him. The next thing he knew, Dale had yanked him to the ground. Dale had put his finger to his lips, grabbed a shovel and begun belly crawling toward the sound. When Evan did not follow, Dale had prodded him with the shovel and jerked his head toward the intruder. Evan was scared of a lot of things, but none more than Dale.
Dale had gently pushed away some leaves and in a clearing, twenty yards away, they'd seen someone in a hooded robe arranging candles in a five-pointed star and lighting them. The hooded figure had read something strange and foreign to Evan's ears from a small, distressed leather book, its spine and face covered with weird, "witchy-looking" symbols. Then the hooded figure had tossed a few pebbles into the center of the flaming pentagram, pulled a bullfrog from its pocket, and slit the bullfrog's throat, spilling its blood over the pebbles. The hooded figure had then bent, touched "this weird necklace it was wearing" to the pebbles, and the pebbles had turned into rubies.
"After that," Evan concluded, "all Dale could talk about was getting his hands on that book, 'cause he wanted as many rubies as there were pebbles and he sure didn't mind killing a few frogs."
Sam listened quietly to Evan's tale and when he was certain it had concluded gave Evan a patient smile. "You and Dale saw this?"
"You're fucking right we did," Evan said.
"And Dale went and stole what he somehow deduced was the, uh, spell book for this unidentifiable, black arts type who for some reason kept this magic book in the library?"
"Kid's on janitor detail in the library," Evan explained.  "Said he saw the headmaster take it out once to show it to these, like, big visiting mucky-mucks from China. Knew right away it was the same book. Didn't tell me he was planning to steal it, but fuck, I'd like to know how to turn rocks into rubies. Wouldn't you?"
Sad nodded thoughtfully. "So, when they're warning kids at this school about the dangers of recreational drug use, do they just show them you?"
"Hey, don't tell about what we seen," Evan begged. "I don't want any trouble."
"With the witch, warlock, D&D dungeon master, whatever the fuck it is you 'saw' in the dark after God knows how much drug consumption?" Sam asked. "Yeah, don't worry. Your secret is safe with me. Not sure I can say the same about your idiot teenage partner once I find him. At least now I got an idea where to look. Which way to the Devil's Combe?"
---
About the author: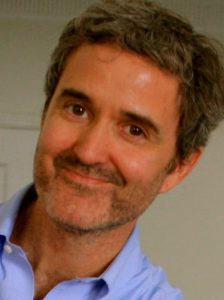 An Emmy-nominated television writer with over forty produced scripts, Stephen Lloyd lives in Los Angeles with his wife, daughters and dog. This is his first novella.