Story Time
Ms. Lee sat in a chair in the children's section of the library. She had arranged third and fourth graders in a circle around her and was reading to them from a collection of nineteenth century children's tales. " 'If you wet the bed again'," Ms. Lee read in a cheery, singsong voice, " 'the Cellar Man will get you. But little Conrad did not listen. That night, as he lay in his bed, dreaming of creeks and warm summer springs, he wet the bed for a third time. Sure as night, the Cellar Man burst in!  He was nine feet tall, wearing a frock coat made of ash and white gloves spun from spider webs. He sang:
God in Heaven, what's that reek?
This little cask has sprung a leak!
Then the Cellar Man plugged the little boy up with cork! The boy began to swell like a feasting tick. He grew larger and larger and finally exploded all over the room! Little Conrad, now just a head, stared in horror at all the parts of him splashed across the floor, ceiling and walls. The Cellar Man laughed and danced a jig, the rat bone buckles of his shoes gleaming in the moonlight, the tail of his powdered wig bobbing behind him. He sang:
A bit of bird seed, that's the trick!
The crows will clean this mess up quick!
With that, the Cellar Man threw a handful of corn into Conrad's remains. Then the Cellar Man opened a window and whistled mightily. A murder of crows flew in and ate every scrap of the naughty little bed-wetter. The last thing Conrad ever saw was the crows plucking out his eyes.' " Ms. Lee closed the book and polished her reading glasses with a handkerchief. "I hope the moral of this story isn't lost on all of you. I'm looking at you, Roger Henderstock."
From the back of the room, Sam quietly said, "Wow."
***
"Missing?! Ridiculous," Ms. Lee said after ushering Sam into her office and shutting the door.
"So he's here?" Sam said.
"No, not currently," Ms. Lee said.
"Where is he?" Sam said.
"And what does this have to do with the missing book?"
"Where is he?" Sam said.
"I don't like your tone."
"Well, I suggest you get over that on the soonish side, Ms. Lee, since your insurance claim will be rejected if you don't comply fully with my investigation."
Ms. Lee sputtered and rolled her eyes. "Basic manners are, I suppose, too much to expect from the likes of you."
"Look, I'm sure you'd rather be reading some story about a kid who stutters getting his tongue nailed to a tree stump, but—"
"He's on the mainland being fostered by a couple considering adoption."
"How come his friends didn't know this?"
"Presumably because he didn't tell them."
"Why not?"
"I have no idea. Maybe he was afraid they'd be jealous. Maybe he was afraid he'd jinx it. Maybe he just thought it was nobody else's business. It certainly isn't yours."
"Can I talk to this couple?"
"If you can find them."
"You don't know where they are?"
"We operate in the purview of the Massachusetts Department of Children and Families. They arrange placement with foster couples, not us. You are more than welcome to descend into that bureaucratic morass and see if they'll help you."
"Who picked him up?"
"No one. Flynn delivered him."
***
Sam returned to the boathouse. Flynn was whistling merrily and polishing one of the boats with a chamois leather cloth. Flynn looked as though he hadn't removed the sweater he was wearing in a week. Parts of at least three different meals clung to his beard, and his fingernails looked as though he'd just clawed his way out of a collapsed coal mine. But here he was spit-shining his boats as if they were about to be on display at a royal wedding. Flynn caught sight of Sam. "Can I help you?"
"Hope so," Sam said. "You recently took a ten-year-old named Gabriel to the mainland to meet some foster parents."
"Yeah."
"Can you tell me anything about them?"
"No."
"Why not?"
Flynn stared at Sam for a moment without blinking. Then, suddenly, he turned and made a beeline for one of the spear guns mounted on the wall of the boathouse. Sam drew his piece and took the safety off.
Just beneath the spear gun was a battered filing cabinet, the door of which Flynn gave a violent tug. Sam put the safety back on and quietly re-holstered his weapon before Flynn noticed he'd drawn on him.
A Mr. Coffee rested on top of Flynn's filing cabinet. Old coffee residue had so adhered it to the top of the cabinet that even Flynn's vigorous rummaging around in the files did not dislodge it. After a few minutes, Flynn emerged with a document which he showed to Sam.
"Never saw the foster parents. This is the name and license number of the social worker who took the kid from me."
"Can I have this?"
"Fuck no, you can't have this," Flynn said snatching it back. "You can make notes, you can call whoever you want to double-check it's legit, but this stays with me. You're lucky I'm even showing it to you."
Sam got out his notebook and wrote down the information from Flynn's manifest, more for show than anything else. In truth, he would probably not follow-up. This felt like a dead end. Everything felt like a dead end. He was nowhere with this job and it was beginning to wear on him.
"When was the last time you cleaned that thing?" Sam asked about the Mr. Coffee.
Flynn glanced at the coffee maker. "You doing the Health Department's job for them, too?" Flynn said, windexing the mirrors on one of the boats.
Sam began to trudge away, then stopped and slowly returned.  "You keep those boats awful clean."
Flynn glanced at Sam but kept working. "My job, isn't it?"
"It's just, you don't seem like a neat freak."
"Yeah?" Flynn said with a bored sigh.
"I'm looking for this other kid. Dale. Guess he's sort of the school's pot supplier."
"Uh huh," Flynn said, frowning at a stubborn spot on a hood ornament he was addressing with a soft toothbrush.
"One thing been bothering me," Sam said. "Where's this kid's pot coming from? I mean, how's he getting it on the island?"
Flynn stopped working and looked at Sam. He rested a forearm on the boat and raised his eyebrows looking comically imperious given his ragged state.
"Boats, obviously," Sam said. "If they were my boats, though, boy, I'd keep 'em operating-room clean. I mean, it all goes to shit, Dale points the cops my way, I want to know they're not going to find so much as a seed."
Flynn stared at Sam for a moment then roared with laughter. He took a swig from his flask and laughed again, the whiskey coming out his nose.
"First off, that big land mass over there," Flynn said waving toward the mainland, "that isn't Mexico. There's no customs or drug-sniffing dogs or shit. Which is why anyone wanted to smuggle anything on or off this island'd just use the ferry.  Second, bringing pot over from the mainland's not the only way to get it here. Look down. That stuff below your shoes? It's called dirt. Last I heard, marijuana's a plant."
---
About the author: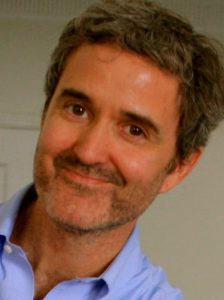 An Emmy-nominated television writer with over forty produced scripts, Stephen Lloyd lives in Los Angeles with his wife, daughters and dog. This is his first novella.