Et ne nos inducas in tentationem
His sophomore year, Bernard went with a church group to oppose a gay rights march in D.C. He saw two men holding hands, screamed "this is what god thinks of you!" and hurled his bible at them.  He missed so spectacularly that they were unaware he'd even thrown something. The bible landed in the street where a car ran over it, defoliating its middle. Bernard retrieved the abridged bible and returned to his squad's tent where no one had noticed any of what had transpired.
The bible remained on Bernard's bookshelf, the missing pages replaced with a private diary Bernard stashed there. At first, the diary had just been a list of names. These were Bernard's enemies whom he meant to punish once he was in power. The list began generally ("feminists, liberals, popular kids"…), but eventually began to name individuals, their infractions, and the punishment he deemed suitable: "Robert Soter, wore a Carter T-shirt, waterboarding"; "Stephanie Fazekis, rejected invitation to dance, electric shocks"; etc.
Of late, the diary had been augmented with photographs.  These photographs were of girls Bernard knew. The girls did not, however, know Bernard. They might vaguely recognize him as a skulking, morose presence at the back of a classroom or in the cafeteria having lunch by himself, but they'd be hard-pressed to put a name to the face. Yet he had picture after picture of them here in various states of undress: showering, drying their hair, talking, putting on makeup, struggling into and out of bras and panties…
"Sluts," Bernard whispered to himself with a hard "t" as his hand drifted into his pants.  Filthy, filthy, whores, he thought.  These were exactly the types of jezebels his mother had warned him about. Beneath him in every way. They disgusted him. These pictures disgusted him every time he looked at them, which was several times daily. Bernard's face grew ruddy with excitement, his breathing rapid, his—
"Bad time?" Sam asked.
"JESUS!" Bernard said, lurching backward and toppling out of his chair. He tried to stand but his pants, bunched about his ankles, tripped him up and he sat heavily on the floor, crab walking away from Sam until he collided with a bookshelf and a few textbooks rained down on him.
Sam picked up the diary and began paging through the pictures. He gave a deep, sad sigh and shook his head, tsk-tsking. "For shame."
"You're… how'd you get in my… what are you… get out of my room!" Bernard squealed. "I'm calling campus security! I'm calling them right now!"
Sam smiled at Bernard and tapped the diary. "These girls are underage, Bernard. That makes this, among other things, child pornography. Still want to call the cops?"
All the color left Bernard's face. He looked as though he'd swallowed a handful of spider eggs and they'd just hatched.  "Dale gave them to me!" he whined. "He put a hidden camera in the girl's locker room when he was on janitor duty! He's the perv!"
"And why would Dale give you these?" Sam asked. "You made it pretty clear you weren't buds."
"I don't know," Bernard said. "I don't know why he does anything. He's a pervert."
Sam smiled. "Remember that stolen book I was looking for?"
"I don't know anything about that book, I told you," Bernard said.
"See, my mistake, I thought this kid Dale just stole it to sell it," Sam said. "Turns out, he stole it to use it. Crazy-ass kid thinks there's magic in it or something."
"Fine. Okay. Whatever," Bernard said.
"Bit of a snag for Dale though—book's in Latin."  Sam picked up the books which had fallen on Dale and returned them to the bookshelf. "According to Mrs. Schroeder, the head of the Classics department, Dale doesn't take Latin." Bernard folded his arms and nodded, his gaze darting everywhere as though he were following a fly buzzing about the room.
Sam lifted a trophy off the bookcase and squinted at it.   "This one of the scholarship awards you said Dale drew a penis on?"
Bernard said nothing.
Sam polished the trophy with his sleeve and squinted at it.  "Oh, yeah, guess it is.  You cleaned it up real good. I can only kind of make out the image of a dick on it."  Sam read the engraving. "'Latin. First Prize. Honor virtutis praemium.'  What's that mean?"
Bernard looked at the floor. "Honor is the reward of virtue."
"Not too many kids take Latin here, Mrs. Schroeder tells me," Sam said, "but you, you're like Dorkus Maximus. Top marks, reading and writing it like you're Julius Caesar."
Bernard remained totally still for a moment, then made a mad dash for the diary. Sam blithely interceded, cuffing him in the Adam's Apple. Bernard staggered back and fell to the ground, clutching at his throat and gasping for breath. "You lied to me, Bernard," Sam said, "and that has put a strain on our relationship."
Bernard rolled over, coughing hoarsely, and swallowed with a wince. "I think you bruised my windpipe."
"These girls here," Sam said, "they won't give you the time of day. But then Dale says he's got pictures. And you can have them. All you got to do is a little extra Latin homework—translate this book—and for you, that's like Christmas, so why not?"
"You're crazy," Bernard said.
Sam shook his head with a sigh, calmly picked up the diary and started out the door with it. "The headmaster is going to be so disappointed in you. Your cellmate, on the other hand, you'll probably make his day. And if you think your overactive glands give you grief, wait 'til you're bunking down with some hard cases in a West Cabot Juvey. My guess, in the joint, you're going to be the head master–"
"Okay! All right, I… just… just stop. Please? Just stop.  Just stop. Please."
Sam returned with the diary and sat. "Where's Dale?"
Bernard slumped into a corner, kneading his skull with his fingers and rocking himself. "I don't know."
"You're getting on my nerves, Bernard," Sam said.
Bernard shook his head and talked into his chest. "I don't know! I swear to god, I don't know. I would tell you if I did, but I don't. I swear, I don't know!"
"What's he doing with this book?" Sam asked. "What is this book?"
"It's like… Satan-worshiping stuff. It's got spells and…"  Bernard began to take deep breaths. "I think I'm going to be sick, can I please go to the bathroom?"
Sam kicked a wastepaper basket toward Dale. "You can puke in that. Book says you need some special necklace to cast its spells, right?"
"Yeah," Bernard said, surprised, "How'd you–"
"Anything else it say you need?" Sam asked. "Like some sort of special plant, or dirt, or scenic view, or album played backwards or any other bullshit might point us in the general direction of where Dale took himself? I'm getting super tired of looking for this kid, and you'd go a long way toward improving my mood you gave me one fucking thing might be useful in finding him."
"I… I don't, I mean… huh," Bernard said, frowning.
"Huh?" Sam said. "Huh what?"
"One of the spells," Bernard explained, "there's one that's supposed to summon a demon… you need to drink the blood of a small child."
A chill snaked up Sam's spine. The little kids in masks that made Sam buy chocolate, they said their friend was missing. "Did it occur to you to worry how Dale might get a small child's blood?"
"I didn't think that he… that he seriously…"
"What?"
Bernard remained silent in the corner, broken and slack, staring at nothing.
---
About the author: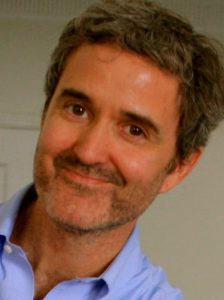 An Emmy-nominated television writer with over forty produced scripts, Stephen Lloyd lives in Los Angeles with his wife, daughters and dog. This is his first novella.