Mason Alderhut
Ms. Lee seemed surprised, but not displeased, when Sam asked for a few books about the school's founder, Mason Alderhut.  Alderhut appeared to be some sort of personal hero for Ms. Lee and she was delighted, or as close to that as she was capable, to share his accomplishments with Sam. Sam sat on the edge of a high-back, leather chair thumbing through the five tomes she'd spread out on the table before him.
Accounts of Mason Alderhut's beginnings varied. Sometimes he was raised in a colony of Marian exiles in the Netherlands before coming to America. Sometimes he was a child of the Earl of Devon, whose wealth and position he disavowed while attending Oxford where he adopted his Puritan beliefs and took them to the New World. Sometimes he was an orphan raised by Franciscan monks, who may have taken liberties which turned him violently against Roman Catholicism.
At all events, he thrived in New England, becoming a celebrated theologian, minister, educator and eventually the Lieutenant Governor of Massachusetts.
He was also an avid witch hunter. Just loved it, apparently. He presided over a record thirty-eight trials in Essex and Suffolk, and in each case the victim burned.  One of the books contained an illustration. Alderhut—a bible gripped in his hand, that same creepy smile, that same creepy necklace—stared without pity at a poor, terrified girl who was lashed to a stake. The flames lapping at her reflected in Alderhut's eyes.
"You can almost smell it, can't you?"
Sam turned to see Ms. Lee nodding proudly at the illustration. "The crackle of flesh, the charring bone, the melting eyes… blood and marrow and bile boiling…" She smiled and took a deep breath as though recalling a childhood picnic.
Sam squinted at Ms. Lee for a long moment, his lips slightly parted. "Ms. Lee," he said, swiping Crowley off the table with his forearm, "I once woke up at the VA hospital to see the guy from the next bed standing over me with bloody pliers. When I asked him what was up, he said he'd just yanked all the fingernails out of his left hand. When I asked him why he'd just yanked all the fingernails out of his left hand, he told me he needed the ones on his right to play guitar. That conversation freaked me out less than this one."
Ms. Lee grinned. "Surely, as a soldier, you understand that violence is sometimes necessary to maintain order. Massachusetts was intensely prosperous during Alderhut's term and the crime rate was virtually zero."
"Well, unless you count setting innocent people on fire as a crime," Sam said.
"Who said they were innocent?" asked Ms. Lee.
"I think we can agree they weren't witches," Sam said.  "That's what they were on trial for."
Ms. Lee chuckled. "Mr. Gregory, I have raised many children abandoned by West Cabot County.  Do you know what West Cabot County is? A cesspool. It is a dunghill of human excrement. And do you know why they rape, and take drugs, and steal and murder there with such abandon? Because they don't fear authority. You want to turn West Cabot around? Chain a few of those animals to stakes in the middle of town and set them on fire. And don't waste time asking if they're guilty of any one thing in particular because, Mr. Gregory, they're all guilty of something."
"I bet you don't get a lot of overdue books, Ms. Lee," Sam said. "And, I'm not a soldier, I'm a marine." He flashed the tattoo. "Semper Fi."
"Well, here's another Latin phrase for you, Mr. Gregory:  Oderint dum metuant. 'Let them hate, so long as they fear.'" 
Latin…
Something was tapping a window at the back of Sam's mind.
"Caligula said that," Ms. Lee continued, "and though I can't endorse everything about his leadership style–"
"Who's the head of the Classics department?" Sam broke in.
---
About the author: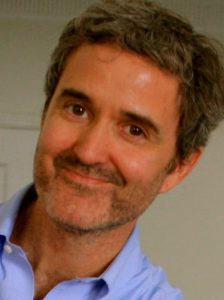 An Emmy-nominated television writer with over forty produced scripts, Stephen Lloyd lives in Los Angeles with his wife, daughters and dog. This is his first novella.