The Practice Room
The fuck do you know, you piece of shit, Laura thought. She'd been fuming since her encounter with Sam and marched down the steps into the basement of the music building, sheet music balled in her fists like a warrant she was about to slap in someone's face. She kicked open the heavy metal double doors to the lower corridor and let them slam behind her as she barreled through. Invade my privacy, throw it in my fucking face, blackmail me with it and then act like you know me?! You're a scumbag with a sex tape, you fucking filth! You know nothing! You are nothing!
She was not a patient person under any circumstances and Sam had worked her into a lather, so this was a particularly bad time for her to open the practice room she had reserved and find Bernard squinting at some ancient sheet music, his lips wrapped around some bizarre, black woodwind instrument.
"Do you mind?" he asked without looking up. "I'm trying to practice the crumhorn."
"What?" Laura asked.
Bernard gave an exasperated sigh, then slowly and deliberately said, "The… crum… horn. The double-reeded fifteenth century instrument?" He rolled his eyes at her ignorance.
"I have this room reserved, Bernard," Laura said.
"Uh… you had this room reserved," Bernard corrected. "You were a no-show, so the room goes to whomever is waiting and that was I."
"What do you mean 'no-show'?" Laura asked. "I'm right here."
"Now, maybe, but the room was reserved for"—he swung his arm in an exaggerated arc and examined his watch—"three minutes ago, GMT. You didn't arrive by the designated time, ergo, the room is mine."
"Every other practice room on this floor is empty," Laura said. "Why do you have to use this one?"
"It has the best acoustics," Bernard said, picking up his crumhorn and braying into it.
"It's the only one with a piano, which I need and you don't," Laura said.
"Tell it to the crumhorn, sister," Bernard said, then returned to his plangent honking.
Laura slowly licked her teeth with her tongue, then took a deep breath and smiled.
"You sure I'm late?" she asked.
Bernard laughed and tapped his watch. "Uh… yeah! This is only a Swiss watch? From Switzerland? Which they're only incredibly famous for?"
"No way," Laura said. "Let me see."
Bernard extended his wrist. She held it, grabbed a heavy wooden metronome off the piano, and shattered the face of his watch with it.
"I don't know," Laura said, frowning at his watch. "I think it might be losing time."
"What the hell is wrong with you?!" Bernard shrieked. "My grandfather gave me that!"
"The crumhorn's next, shithead," she said, hefting the metronome.
"Don't you even think about touching my crumhorn!" he said, hugging it protectively.
"No one ever thinks about touching your crumhorn, Bernard."
"Okay, you're disgusting. All your friends are disgusting. Everything about you and everyone you know makes me sick and –"
"Bernard. Several grave infractions have been committed here. Can you really afford to waste precious seconds not alerting the authorities? You're letting society down."
"You do not know whom you're messing with," Bernard hissed, grabbing his music and his crumhorn and stomping out. "You do not know! Bi… bitch!"
"Yeah, so long, sheriff," Laura said, then lazily swung the door shut after him.
Laura uncreased her music, took a few calming breaths and started to play. Her fingers faltered and this only increased her anger at Sam's parting shot. You think I slept with Dale to get back at my dad? Shows what you know. 
She had slept with Dale to get back at her mom. Her mom who had audibly apologized to everyone in her row every time Laura, her seven-year-old daughter, made a mistake during her first piano recital; her mom who started "forgetting" to pick her up from school when she heard one of the other kids call her chubby so that she'd have to walk the five miles home; her mom who told her to "laugh off" the passes the drama teacher made at her when she was thirteen until after she was cast as the lead in her elementary school's production of "Oklahoma"; her mom who pitted her accomplishments against those of every other child in the world and who deducted affection for every non-perfect score, non-perfect performance, non-perfect game—
Laura hit another wrong note and began pounding the keys with her fists. She picked up the metronome and threw it across the room with a battle cry. She grabbed her sheet music, tore it into tiny pieces, threw it in the air, then batted it to the ground and stomped on it. She sat at the piano again and rested her head on her arms, panting. Dale. The first time she'd noticed him, a couple of Lacrosse players were throwing plastic cups at him while he was bussing trays in the cafeteria. He looked as though he didn't even notice the cups bounce off him. A week later, an anonymous tip caused security guards to do a random search and they found steroids in the lockers of those Lacrosse players. The Lacrosse players were given a chance to atone, to attend meetings and to lead authorities to the source of the steroids, but they swore up and down they'd never seen the drugs before, didn't take them and didn't know where they'd come from, so they were expelled.
The next time Laura noticed Dale, he was cheating off her math test. He saw her see him and just smiled at her.
"I could have busted you for that," she said after class.
"Yeah, thanks," he said, then kissed her full on the mouth. She looked around in shock, wondering if anyone else had witnessed this startling embrace, but they were alone in the hallway.
He winked at her. "I got to go clean some toilets," he said and sauntered off, striking a match against a locker and lighting a cigarette. In the middle of the hall! He was gone before Mr. Paulson emerged from his office, snuffling with alarm. "Who was smoking?" he asked her. She shrugged.
She remembered the first time she saw Dale naked, those horrible scars coiled about him from ankle to neck, lapping at his face but leaving it untouched. He had not prepared her and stood staring at her with his ice blue eyes, daring her to be repulsed. She was not. In fact, his scars only made him more exotic, even mythical, like some Ifrit, a creature of sex and danger made flesh from smoke and flame.
One of the best days of Laura's life had been when she brought Dale, unannounced, to the beach club. Her mother noisily rattled her iced tea while Dale talked about a fingernail infection he'd gotten from cleaning bathrooms. And when Dale took off his shirt – oh, when he took off his shirt! Laura kept her eyes locked on her mother's face, drinking in her change in color from peach to light green to a mottled blush, her lower lip disappearing and her eyes bulging with aneurysmic intensity as Dale's scars were displayed for all to see.
The way she had looked at her mother that day, she realized, her heart twisting in her chest, was just how Dale had looked at her when he'd showed her the sex tape. He'd taken the same hateful satisfaction in her shocking exposure that she had in his. She could not fathom what she had done to warrant this hate. She had been the wronged party when they broke up. On the night he showed up at her dorm with that videotape she'd half-assumed he'd come slithering in for a long overdue apology. But he had not apologized—was probably, in fact, incapable of remorse, something she had not realized until she stared into his smiling, awful, spiteful eyes that night. She had never been more than a thing to Dale. No one in the world was more than a thing to Dale.
Laura rested her left cheek on the piano keys with a discordant thrum and let out a mighty sigh. She stared at her right hand and began walking it through a blues progression. She wondered why she was right-handed. Rather, she wondered why people had, for the most part, a dominant half. Why was it so rare for even the sides of someone's own body to share power? It was depressing to realize that life was so inherently agonistic  that it even pitted one half of yourself against the other half and declared a winner.
The lights overhead began to flicker. She stopped playing and glared at the lights for a long moment, daring them to continue being just one more thing to fuck with her today. The lights stopped flickering and she felt unreasonably glad at having won the stare down.
Moments after she resumed playing, however, the lights flickered again and died. She squeezed her eyes shut and pounded the keys with her forehead. "Un-fucking-believable," she whispered.
Something drifted by in the corridor outside her room, just a dark sliver of it visible through the small window in the practice room door. "Bernard?" Laura said. No answer. She stood and opened the door. The hallway was empty.
She could call Maintenance about the burned-out light, but that would take forever and burn through all her practice time. Fortunately, the supply closet was unlocked so she gathered a few light bulbs, a stepladder and returned to the practice room. She could get in trouble for this. Yep, you're a real rebel, she thought as she screwed in the new lights, then smiled, then remembered breaking Bernard's watch, then laughed, then remembered the sex tape, and cried. She slapped herself across the face and finished screwing in the light bulbs.
The lights blazed to life and she looked away momentarily blinded. It looked… it looked for a second as though something were in the room with her, but when she blinked away the spots and looked again, the room was empty. She brought the stepladder back to the supply closet and returned to the practice room.
She sat down to play but stopped almost instantly. Something was off. The notes were muffled and out of tune as though something were pressing down on the strings. She stood, opened the piano, and stared into the lifeless eyes of Jimmy's severed head.
She screamed and dropped the lid. As it crashed back into place every light in the basement went out. She slapped both hands over her mouth to muffle a shriek as tears streamed down her face. She took her keys out of her pocket and threaded them through the fingers of her right fist. Around her left, she wrapped a heavy metal bracelet. She felt her way to the door and opened it.
She kept her back to the wall and scuttled as fast as she could toward the double doors leading up. About twenty feet down the hall, she gave into the impulse to run and bolted down the corridor heedless of the dark. Her toes caught on something and she sprawled headlong, her ankle wrenched, her keys skittering out of her grip, and the parquet floor knocking the breath out of her. In scrambling to get up, her hands found what she'd tripped over. It was a body: a body which ended abruptly just above the shoulders in a stump of sticky gore. From this she deduced it was the rest of Jimmy.
She began to shake in a way she could not control. She felt close to fainting. She dragged herself down the rest of the corridor, found the double doors and pushed through them. She scrabbled hands and feet up the steps toward the light poking through from outside and burst out into the woods surrounding the music room.
She filled her lungs with air and was about to cry for help when she heard a sharp whipping sound. The scream left her noiselessly. She tried to draw breath again but found she could not. She heard a delicate tinkling sound, like a wine glass tapped before a wedding toast. She looked down and saw the beads of one of her necklaces chinking to the ground, each one speckled with crimson. There was something warm and wet pooling over her chest. She teetered and the rest of her necklaces spooled to the ground. A flapping sound filled her ears. She turned, her vision blurring, and sank to her knees. She stared at death, his wings folded about her, and she disappeared into his horrible embrace.
---
About the author: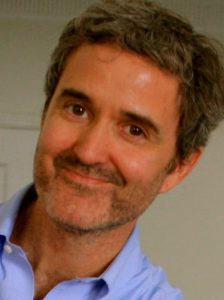 An Emmy-nominated television writer with over forty produced scripts, Stephen Lloyd lives in Los Angeles with his wife, daughters and dog. This is his first novella.